Maxsa Innovations 40341 Motion-Activated Outdoor Night-Light, White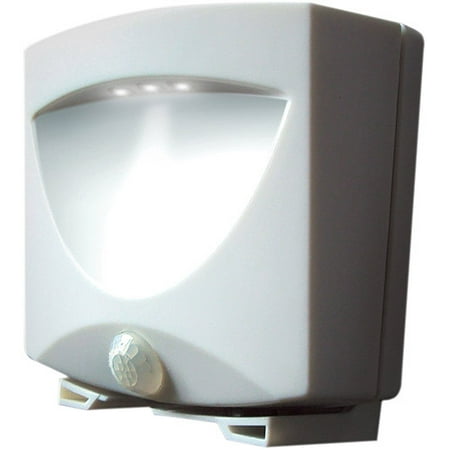 MSRP :

$21.97





Sale :

$10.66

Sold & shipped by Walmart
Product Description

Additional Information

Reviews
Product Description
Quickly illuminate areas with the Maxsa Innovations 40341 Motion-Activated LED Night-Light. This weather-resistant light is ideal for outdoor areas like stairways, porches and pathways. The white motion activated outdoor light features a built-in motion detector that senses movement within a 10-foot radius, turning on the light only when required. It features three LED lights that remain illuminated for 30 seconds after the last detected motion. This Maxsa Innovations 40341 Motion-Activated LED Night-Light doesn't require an electrician for installation and it operates on three AA batteries. You will love the easy DIY installation with no electricians needed. It is weatherproof and durable and made with high-quality construction for long-lasting use. It shines a light when and where you need it most: an entryway, a difficult step, a hallway or next to a circuit breaker.
Additional Information
MXV1015
Features
Automatically turns on when motion is detected
Easy DIY installation and no electrician needed
Great outdoor for steps, locks, paths and indoors for stairways, bathrooms, closets and hallways
UV Resistant: Yes
Warp Resistant: Yes
Crack Resistant: Yes
Material: Plastic/Glass
Dimensions
Overall Height - Top to Bottom: 3"
Overall Width - Side to Side: 3.1"
Overall Depth - Front to Back: 1.5"
Overall Product Weight: 0.25 lbs
Specifications
Certifications: Yes
Commercial OR Residential Certifications: Yes
Reviews
Loves2pedal
Does exactly what it is supposed to do.
This little item is great for lighting up a dark pathway, hallway or room as you pass through the area. Put it down on the floor or close to it, like up on a low bookshelf or shelf to a coffee table, etc. to light up as you pass without shining in your face like some of the photos show for this type of product. This is the first brand I have purchased that is listed as weatherproof. I've used others outside but in areas protected from the weather but this allows more flexibility in placement. I haven't had the chance to evaluate the weatherproof aspect of it yet. It took a few minutes to begin to react to the stimulus of light and movement when I first put the batteries in but it started working properly and has worked just fine since then. I like having these sitting around but not attached so I can move them as I need to. It can be used as a flashlight in a pinch too!
Pickupngo
Great little light!
I bought this light as a motion detector for my patio. I live in a first floor apartment and although I do have a security system in my home with a sliding glass door alarm, it's a great idea to have this light come on if someone walks onto my patio in the dark. It works great. I mounted it from my upstairs neighbor's balcony, facing in to my patio. Although not real bright, it does light up the entire patio. I don't know if anyone has walked there and been frightened away by the light but I have walked up to my patio in the dark and it startled me. I would recommend it for patios, doorways, hallways or anywhere else you don't have a light source.
NBAJerry
Great little light!
Pruduct is as advertised. Works flawlessly and produces enough light for most , if not all, needs. Inexpensive but quality-built and worth much more than what I paid. Easy to load the batteries and install and in my use for this product, I used double-sided tape and mounted above an interior doorway. Highly recommend.
GMACT
Great little light!
Best product I have purchased In years. Keep giving them to friends and family for uses indoors--bedrooms for getting in and out of bed safely, great during electrical blackouts, for wandering elders and children at nite and even as an emergency flashlight if needed! Will be giving them as gifts to everyone for Christmas this year and will be interested in what uses everyone has for it.
FirstTigerDragon
Exceeded expectations.
We're using this (with lithium batteries) outside in subzero weather and it has functioned flawlessly. We couldn't be happier. We had some initial confusion when installing batteries (the light came on and wouldn't go off, despite bright daylight), but once they were in and the light was installed where it was intended to be, it has performed flawlessly and does not light up during the daylight hours, saving battery life.