Park Right Dual Garage Laser Park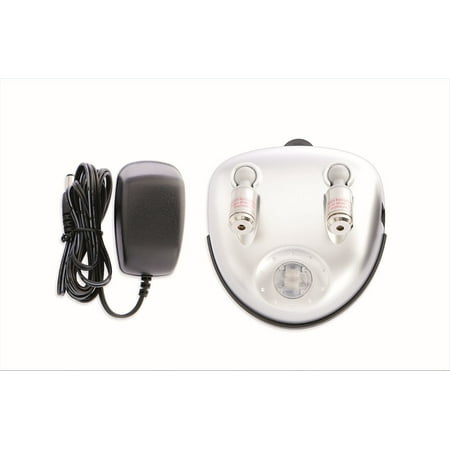 MSRP :

$35.74





Sale :

$29.95

Sold & shipped by Microfiber Products
Product Description

Additional Information

Reviews
Product Description
Pull into your garage with confidence with the Maxsa Innovations 37312 Park Right Dual Garage Laser Park system. This laser car parking system is easy to install and will fit into most two-car garages. The Maxsa Park Right features a motion detector and is activated when the car pulls into the garage. This system does not use batteries and runs off of electricity and is designed to work every time. Home owners can pull into their garages knowing they will park in the right spot.
Additional Information

Park Right Dual Garage Laser Park:

Perfect for 2-car garages
Laser shines onto vehicle to precisely guide to the correct spot
Helps prevent damage to car & garage
Installs easily
No wiring necessary
Automatically activates when vehicle enters the garage
Includes 110V AC adapter
Reviews
Gadgetdog
Park perfect every time
Takes 20 minutes or less to install. The dual laser allows you to park 2 cars in their exact place each time. The trick is you must establish the same focal point on your dash. As you enter the garage you can follow the laser dot move up along the hood. This will help in adjusting your aim to hit your established focal point on the dash. I plug the transformer in the ceiling and secure both transformer and laser with Velcro. This is my second unit, when I sold my house the new buyers were so impressed with the unit I left it with the house. It was still working after 5 years
Stimys
Nice Product!
Really easy to install and set up. Works great with our two vehicles. The garage door activates the motion sensor when opened every time. A+
SouthBayBW
Works but not as effective as tennis balls hanging
While the product does exactly as it is advertised, in practical application, it is difficult to use. If your vehicle has a completely flat hood and dashboard top, it might be easier to use; however, unlike a tennis ball hanging from a string, it's quite tricky to line your car up as you try to get the beam to an exact spot on your dash or other chosen spot. I purchased the dual laser unit for our 2-car garage. In hindsight, I might have been better off with 2 separate single-laser units ... because they could have been placed directly over the spot on each car that were chosen. With each beam at an angle, it seems like aligning each car is more difficult because the beams move considerably as they shine on parts of the car that are higher or lower. With a single beam pointing straight downward, driving to a specific spot would have been easier. (I have removed the unit, and will be re-installing it further forward in our garage - so that at least the beam angle will only be at a horizontal angle, not a horizontal and angle forward toward the back of the garage.
BigSpender69696969
It lights the way
Goes up in 5 minutes and it very small. The light is bright and turns off after 15 seconds of no movement. It is not noticeable because it is so small. Does the job - well worth the price, because you will always stop at precisely the right spot every time.
HogsIsByootiful
Does exactly what it says it does
I'm pretty happy with this product. Our garage isn't overly large and we have a lot of stuff packed in there so keeping the cars as close to the door as possible without hitting the bumper with the door has always been a challenge. I installed this unit in less than an hour (would have been 15 mins but I took extra care to route the wire through the attic instead of stapling it to the ceiling) and adjusted it with the wife's help and presto! We still checked the clearance while the door was closing for the first week or so just because but have quit doing that now.