BetterBody Foods Chia Seeds, 2.0 Lb, 60 Servings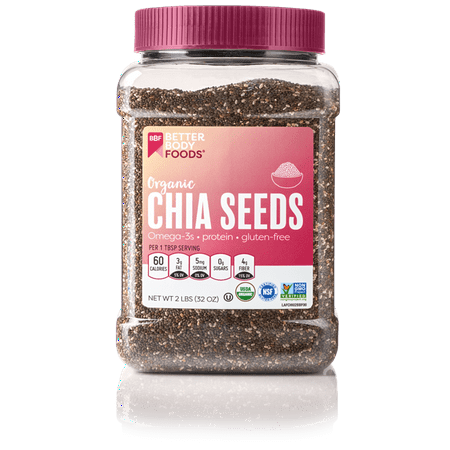 MSRP :

$17.09





Sale :

$8.94

Sold & shipped by Walmart
Product Description

Additional Information

Reviews
Product Description
"""Chia"" was the Ancient Mayan word for strength. They were first harvested over 3,000 years ago by South American empires, such as the Ancient Mayans and Aztecs. These ancient cultures would use this tiny, omega-3 packed superfood during times of war to naturally improve stamina and endurance. Today, chia seeds are becoming more and more popular, and are once again hailed for their essential nutrients and neutral taste. The greatest benefit of organic, raw chia seeds is that they boost the nutritional value of your favorite recipes, without altering flavor. BetterBody Foods organic, raw chia seeds help make you stronger by providing the vital building blocks of nutrition. High in dietary fiber, chia seeds assist with balancing blood sugar levels, promoting regularity and assisting with healthy weight management. Consuming a variety of protein sources is essential for healthy development and production cells. BetterBody Foods organic chia seeds provide 2g of vegetarian protein in each serving. Add chia to salads, yogurt, smoothies, and baked goods, or use as a thickener to give a superfood nutrition boost to any recipe. Allergen Information: Packaged in a facility that also handles coconut products. Storage Information: No need to refrigerate. Store in a cool, dark, dry place."
Additional Information

BetterBody Foods Organic Chia Seeds:
USDA organic
With antioxidants, calcium and fiber
Add to smoothies, yogurt and baked goods
5g fiber per serving
3g Omega-3 per serving
2g protein per serving
Non-GMO seeds
Essential vitamins and minerals
Includes manganese, magnesium, phosphorus and potassium
Low sodium
32 oz container
Servings per container: 69
Reviews
blusunday
They Are the Seeds of the Chia
How to review chia seeds? Chia seeds are notoriously messy, wet or dry. So, the packaging for this product works. The hole in the top of the container is big enough to allow me to use a big tablespoon to scoop them out, without making much mess. The clear container is nice, too. But, they are supposed to be stored in a cool, dark place. Mine is on top of the fridge...woops. The health benefits go without saying. I mostly use them for my morning protein shakes. I let them soak for a few minutes to get the gel like substance on the outside of them...makes them go down easier. I don't chew them, so I don't know if they are foul tasting when chewed or not. There is pretty much no taste if you don't chew them. Swallowing them takes a bit to get used to, but, it's not a big deal. I have also been known to drop a few in my morning oatmeal. I am working to get my four year old to toss a few in to her oatmeal. It's a super food,,,what else can I say?
mnm83
Organic chia seeds (LARGE package)
We use chia seeds here a lot. Added into salads, stir frys, oatmeal, shakes, homemade granola bars, pancakes and more. These chia seeds work really well in any recipe. We used them for chia pudding we make and they worked perfectly to make our pudding thicken! That these seeds are organic is an even added bonus, no chemicals or garbage to worry about with these. I like that these come in an easy to use plastic container. When we have bought other kinds they come in a ziplock bag and it just doesn't keep them as fresh. This plastic container with plastic lid works great for freshness. No need to store in fridge, store in a cool dark place. Seeds are easy to measure out from container using a measuring spoon. Chia seeds are between the size of a poppy seed and a sesame seed.These have almost no taste but are a great way to get some added nutrients into your diet.
Maryl
Good quality and good for you
Chia seeds are considered a super food and something I like to incorporate into my diet. It is important to me that I eat organic foods when possible. I really like that these Chia seeds are non GMO verified and certified organic. I also like the container they come in. It is a large recycleable plastic container with an indentation on the back for easy grip. Many times Chai seeds come in a bag which are sometimes difficult to make sure they are sealed especially if the chia seed get caught in the zip part of the bag. Plus, no worries here about my kids not closing the bag. A plastic 1 tablespoon measure came in the container which I found super handy. It's perfect because 1 tablespoon is the serving size. When I'm done measuring I just store it in the jar. I have used these Chia seeds in my yogurt, smoothies, oatmeal, on ice cream, in homemade granola bars, and put them in steamed rice to give it just a tiny crunch and to add some fiber and nutrients. I found these Chia seeds from Better Body foods to be of very good quality.
lafren1
Good Product - Convenient Packaging
I chose to try the BetterBody Foods Organic Chia Seeds specifically because of the fact that it is organic and I liked the packaging. My husband and I both use organic chia seeds daily in our morning protein shakes and sometimes I add them to overnight oats. Generally I purchase the chia seeds at Whole Foods where I buy them in bulk and have to scoop them into a plastic bag. The price at Whole Foods is around $15/16 per pound. I find the bag inconvenient and like the fact that the BetterBody foods come in its own plastic container with a screw top lid and in a 2lb size. The price is also comprable. Neither my husband or myself notice any difference in taste or look of the chia seeds we generally purchase and the Betterbody chia seeds. The nutritional facts are pretty much the same as well. Given the convenience of being able to order these online at Walmart, the fact that the chia seeds are organic and that the packing is very convenient I will probably continue to order the BetterBody product. I would recommend this product to others.
SeaGemARTStudio
Fresh high quality Chia - Super Yum!
Delicious! LOVE!! Hi, I am excited to submit this review. Rest assured its honest based on my experience (rather than fluff). I utilize others reviews to base my option to purchase online so, I understand the importance of a truth. Initial impression: Excitement! Looked so good I immediately consumed! Packaging/Assembly: The packing was straightforward. Boxed, packaged well, shipped from Walmart and delivered to my door. NO assembly required. Easy! Performance/Quality/Value: As a consumable, this is pure opinion based on my personal taste however, I am in love with these Organic Chia Seeds by Better Body Foods. Why? It taste great and it feels good to eat healthy. My chia arrived very fresh and of high quality. YUM. It has been easy to use and I have found endless uses for it and not just for blending, shaking or baking! Importantly, it is a USDA Organic certified, NON GMO product, is an all natural gluten free protein (NSF) with Omega 3's and the net weight is 2 pounds. I have been exploring many different ways to consume it. Labor free, it really does taste great. My favorite use to date is with making homemade vanilla bean & chia ice cream or simply added to oatmeal or granola. The price is reasonable for the convenience and the value. Final Thoughts: Thrilled! My diet focuses on non gmo, healthy, non processed whole healthy foods.It is a very exciting feeling to realize you feel good after eating real healthy food.This will be a regular staple I keep in my pantry for now on and I am over the moon to have tried it and loved it. As reviews greatly help me in my decision making I hope you let me know if this has helped you. I am happy to answer any additional questions you have. Photos enclosed for your review. This was a free product I received as a participant of WalMarts' Spark Review process established to help prospective buyers shop confidently, be informed and to aid in a positive shopping experience.