Stanley 1000-Amp Peak/500 Instant Start Jump Starter #J509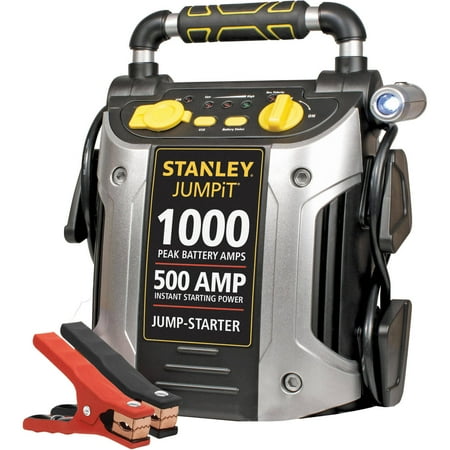 MSRP :

$69.88





Sale :

$54.99

Sold & shipped by Walmart
Product Description

Additional Information

Reviews
Product Description
Always be prepared for emergencies when on the road with the #J509 Stanley 1000-Amp Peak Jump Starter on hand. This unit more than enough juice to power up your car, truck, boat or RV. It promises 500 amps of instant starting energy. This Stanley 1000-Amp jump starter battery charger also includes a high-powered LED light that rotates 270 degrees. The unit features a reverse polarity alarm for safety, along with a metal handle grip for easy carrying and a durable, impact-resistant injection molded housing. This portable jump starter also comes with a DC charging plug and a pair of heavy-duty metal clamps. It even features #6 AWG cables. Take it with you on the road or on the water to get your vessel or vehicle back moving.
Additional Information
Stanley 1000-Amp Peak Jump Starter #J509:
Stanley jump starter is easy to use
Has plenty of power to use on a car, truck, boat and more
1000A jump starter gives you 500A of instant power when started
Comes with a strong LED light that rotates almost a full circle
Includes a reverse polarity alarm
Metal handle makes it easy to carry
Housing is constructed from strong plastic for long life
Has a DC charging plug
Comes with strong metal clamps and AWG cables
Reviews
tareke
Stanley 1000 Amp Peak jump starter.
I had park my Toyota Prius for almost seven month and when I tried to start it of course it was dead I had tried to start it with other type of chargers couldn't start it when I used the Stanley 1000 it start it in minutes.
Paul
It really works!
I have an old second car that sits most of the time. When I went to turn the car over, the battery was too weak and eventually ran out of juice. The car was in a spot that would not allow for me to jump start the car with my other, or any other, vehicle. Rather than call a tow company I searched the Internet for a personal, transportable jumper like the pros use. I found this model here at Walmart and decided to give it a shot. The unit was fully charged within a few hours; I went out to the car, connected positive to positive and the negative to unpainted metal in the engine bay, turned the nob and went to the car door. The dome light was came on and the chime for the key in ignition started to chime when I opened the door; I turned the key and it started right up! This is great to have around the house for those times when your car won't start (due to a bad battery) and everybody should have one, fully charged, in the car for long road trips. Buying this once can save a lot of money down the road with battery issues.
Leaddog2
So far so good
This replaced a no-name similar product. It lasted a few years and the battery died. The batteries cost almost as much if not more than the product so keep that in mind. The Stanley version is significantly better than my old one (mostly). The old one had 2 cig adapter plugins. This one only has one. The Stanley has a USB port to charge cell phones, phones and tablets. So that is a step up. The little LED light is not much but really it is better than my old one because at least you can AIM this one. Plus the old no-name was incandescent. The main thing I like about this one is the simple ON/OFF switch to use the battery jump start feature. My old one had a couple of momentary buttons to push to get it to work (sometimes). This Stanley has already had to jump a car which it did with no problem. I use this also as emergency backup power. When severe storms are nearby this makes a great source of power to run our 12V TV from so we can watch the radar while we are in hiding. So far this is a great product. Hope the battery lasts! :)
danothecookoh
1000 watt charger
Has all the goodies I wanted. Time will tell if it lasts
AKRONAVERAGEGUY
1000 watt charger
Nice product. Great deal also. Enough power to jump my Jeep Patriot. Also has a USB port on the front