LectroFan Sound Machine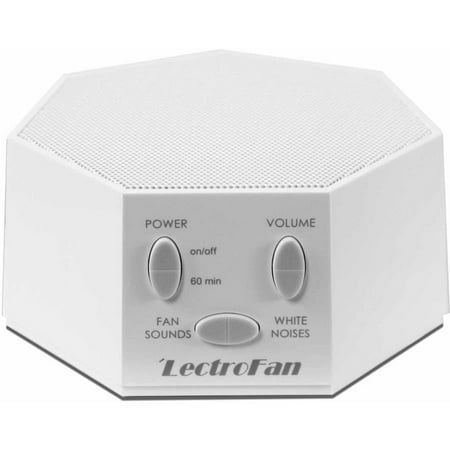 MSRP :

$62.99





Sale :

$49.95

Sold & shipped by Walmart
Product Description

Additional Information

Reviews
Product Description
The LectroFan Sound Machine makes it easy to fall asleep with 10 unique fan sounds and 10 non-repeating white noise sounds. A 60-minute sleep timer makes it easy to set your schedule. Its small size makes it perfect for traveling.
Additional Information
LectroFan Sound Machine:
10 non-repeating unique fan sounds and 10 non-repeating unique white noise sounds
Multi-level adjustable volume and 60-minute sleep timer
Powered using USB
Can be plugged into computer or AC adapter (included)
Multi-band parametric EQ speaker compensation
Small transportable size and good for travel
Fan noise machine is available in black and white
Easy to adjust settings
Entire top is a speaker surface
Reviews
sleepy
Hope it lasts a long time
Thank goodness this is amazing. I love how I can change the volume of it. The noises are perfect if you like constant fan/white noise, as it has a wide variety of both. I like how it stays on the one I use when I turn it off and back on again (& unplug it). I have been bringing it with me when I sleepover someone's house. It's a perfect size and it's also cute. I love the white. If you are like me, and need constant fan noise to fall asleep, and block out all other noises, purchase this!!
SPARKY0210
Wonderful white noise
I've had many white noise machines over the years and this is probably the best. I also have tinnitus and need white noise to sleep and sometimes during the day to read. There are several sounds to choose from with either the fan switch or the white noise switch. You can adjust the volume and make it really really loud. The sound is constant, you will not hear a click when it reaches the end of the loop. Sometimes it's made a clicking sound but I read not to have it plugged into the same circuit as other electronics and this has helped. The manufacturer will gladly replace it within 12 months if you have any problems.
HappyWife
Keeping me out of prison!
Thank you for the speedy shipping of this wonderful product. After nearly 18 months, several fans, many many different types of earplugs, a few unanswered letters, and an unknown number of complaints to my landlord, I finally can sleep. My husband thanks you, my children thank you, and the loved ones of my ignorant, selfish, drunk neighbor above my head every night thanks you as well. You know when you haven't slept one full night in almost 2 years how slightly irritable you become? Well, I can say that it's not "slightly". With making several huge mistakes at work almost costing me my job, leaving the iron on all day while at said job (that was supposed to be auto shut off but surprisingly isn't) and nearly burning down a 12 unit building, and the last straw was practically sleep driving through a 4 way intersection almost killing my self and others. I finally did my research and found this beauty. It's SO loud, because I MUST turn it to the highest setting to drown out his drunken body falling down on his hardwood floor or his uncontrolled OCD digging through and slamming dresser drawers and cabinet doors at least 5 times a night, EVERY NIGHT. My husband named my Lectrofan "the 747". Yes, it can be THAT loud! And now I sleep, so we all sleep, and now no one is going to die. Thank you for saving lives. Because you truly have.
anonymous
Excellent!
This works great, a terrific sound cancelling machine. It's small but packs excellent volume if you need to turn it up. I found you don't have to go too high with it. You get 10 very realistic fan sounds and 10 white noise sounds. Lots of fun picking out your favorite sounds. For fan sounds the Circular fan is my fave, then the Mellow fan and Attic. White noise sounds increase in pitch, I prefer 2 and 3, they sound very similar to an air conditioner running. Easy operation with 3 simple toggle switches. Small and portable, a clever device to use when it's not practical to run a fan or air conditioner to cut noise. Have it in my living room, liked it so much ordered another for the bedroom. Excellent product, no problem recommending for purchase.
Anonymous
Great Little Device
With many choices for different sounds and volume levels, there's probably something for most people to be happy with. The device is lightweight, small, attractive. It's easy to adjust the type of sound and the volume. The timer is a nice added feature. I no longer need to turn on the radio at night to help me sleep.