Un-Du Adhesive Remover 4oz Pkg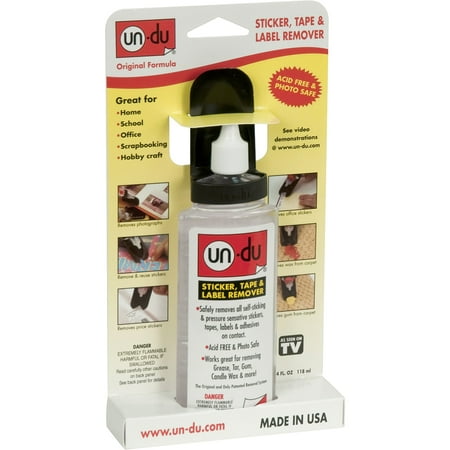 MSRP :

$15.648





Sale :

$10.91

Sold & shipped by Walmart
Product Description

Additional Information

Reviews
Product Description
Remove everything from bumper stickers to adhesive tape without damaging surfaces with the Un-Du Sticker, Tape and Label Remover. This essential tool safely removes self-adhesive stickers, tapes and labels on contact without leaving behind any residue. This valuable tool effectively removes gummy messes and evaporates completely, protecting your walls from stains. The patented, attached scraper safely lifts off all self-sticking tapes without scratching wall surfaces. Un-Du label remover comes in an easy-squeeze plastic bottle with an applicator tip for precise use. It can be used to effortlessly remove price tags, stickers, nametags, bumper stickies, duct tape, self-adhesive tapes and labels. It can even remove crayon marks, candle wax and more. It is also ideal for use with scrapbooks, because it won't harm photos, is acid free and safe to use on all archival papers and card stock.
Additional Information
Un-Du Adhesive Remover 4 oz Package:
4 oz of label remover per package
Gets bumper stickers off of cars without harming the paint job
Useful for getting rid of price tags from gift items
Acid-free design does not cause paper to yellow or become brittle
Unit includes a brush for gently working off the adhesvie
Leaves your items looking cleaner and newer
Product goes on easily and spreads evenly to cover large areas
Evaporates completely once you're done using it
Formula does not stain walls
Begins to work right away
Reviews
CraftBird
Lifts photos, stamps etc without destroying them.
Have used Un-Du for many crafting and collage uses for years. Besides removing stickers, tape and labels, it lifts photos, postal stamps, etc, off of paper without damaging either the paper or the item that was glued to it. So you can then re-mount photos elsewhere, and you can use other sticker-type items (such as beautiful postal stamps) in collages. The only downside is that it's tough on fingernails, so use care (or gloves). NO HOME SHOULD BE WITHOUT UN-DO!
MOONDRAGONRAVEN
WILL REMOVE DUCT TAPE FROM TISSUE PAPER
GREAT FOR REMOVING STICKERS AND RESIDUE FROM STICKERS. CAN REUSE THE STICKERS TOO! AWSOME PRODUCT. ONLY DRAWBACK IS IT EVAPIRATES QUICKLY.
sorrybuy
Beware And save your time and $$$
Total waste of my MONEY $$$ <>To remove a decal 1.25 " x 3" took more than 90mins<>. Had to use over 2oz for this fake Adhesive Remover. Should of gone with WD40!!!!!!!!!!!!!
gglady
Un-Du-Sticker-Tape-and-Label-Remover
This is the best sticker/label remover I have ever used, bar none. It does not harm the project (such as photo, scrapbook page, envelope, etc.), does not destroy the adhesive so the sticker or stamp may be reused, and a bottle lasts a long time making it economical to use.
SCJennifer
By far, it's better than anything else!
I love Un-du -- It removes sticker and other sticky residues every single time I try it. Far better than any of the other products I have tried (Goo Gone comes to mind.) I use it around the house (most recently to remove the tape that had been used to close my washer during a move) - as well as with crafting (you can move and even reuse stickers in scrapbooking and other paper crafts -- and it really does NOT damage your pictures!) My only word of warning, you can easily transfer some of the "sticky stuff" to your hands which can be difficult to remove. If you do, sprinkle a little bit of baby powder on your hands. It doesn't remove it, but makes it easier to cope with until you do! :)