As Seen On TV Beactive Unisex Calf Warp!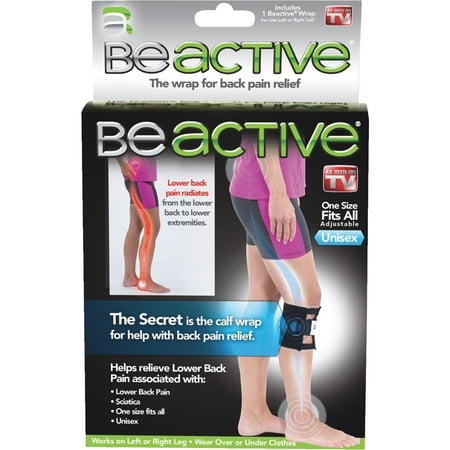 MSRP :

$14.88





Sale :

$9.25

Sold & shipped by Bingo Products
Product Description

Additional Information

Reviews
Product Description
The As Seen on TV Be Active Pressure Point Wrap relieves back lower back pain. The secret is the acupressure pad. Apply to trigger points to relieve tension up your leg and back for instant help with pain relief.
Additional Information
Product Features
For use left or right calf
As seen on tv
Lower back pain radiates from the lower back to lower extremities
The wrap for back pain relief
One size fits all
Adjustable
The secret is the calf wrap for help with back pain relief
Works on left or right leg
Wear over or under clothes
www.BeActiveBrace.com
Patent No. US8187212 B2
Reg. Trademark of Beactive Technologies, LLC Baltimore, Maryland
Copyright of Plymouth Direct, Inc & Natures Pillows, Inc.
© 2014 all rights reserved
Reviews
Linda
Unbelievable reaction
As most people I was very skeptical about this product. I read the reviews and thought perhaps I would be lucky and it would work for me. This last bout with sciatica nerve pain was progressively getting worse and worse. I was popping over the counter and prescription pain pills too often. The first day I put it on, I had 4 hours of pure relief. I read that I should remove it after 2 hours but it was great not to have pain so I left it on longer. When I removed it the pain came back but I left it off and took my pills instead. Usually lying down eases the pain and it did until about 3:30 am when it woke me up. The pain was back with a vengeance . I put the wrap back on and within a 1/2 hour the pain was 90% better and was that way for the next 11 hours. I removed the wrap for a half hour but once again the pain was back so I put the wrap back on and am sitting here typing this review feeling 90% no pain. Personally I would recommend this product with question. It has made the world of difference in my daily living and this is just day 2 for me.
Josh
Best Thing EVER Invented!!!
I'm 29 years old male 6ft 220lbs and have dealt with sciatic nerve pain for about 10 years now. Never had any surgeries and I don't take pain medicine besides ibuprofen. After going to chiropractic for years which does help I finally decided to buy this about 2 months ago. THIS IS THE BEST THING I'VE EVER BOUGHT!! Only wear for few hours at a time so it don't leave a rash on leg. Other than that I'm pretty much pain free when wearing it. I've seen others say it didn't help but I've put mine tight on my leg. Pretty much pulling the inside tag at the end of velcro thru the plastic piece of the knee brace if that helps any. I love this and don't go a day without! !!! A must buy for anyone who has pain.
Pattijo44
Well I'll be darn , it worked !
I thought I would write a review bashing this product , but it truly worked ... with-in minutes if not sooner , wow ! I normally have to take a break from my computer desk after about 2 hours , now I can sit here at least 4 to 6 hours depending on what I'm doing .. time flew by before I realized I had sat here 6 hours .. It is a relief , not a cure .. but it sure does work and I'm not the type person to kiss up saying it works when it doesn't .. ( 1 ) It can be worn on either leg , depending on which side the pain is coming from ... if the pain is in the middle then try the right leg first and if that doesn't help , then try the left leg , right up under your knee cap .. easy directions on the box .. ( 2 ) Not recommended to use one on each leg at one time , use only one .. ( 3 ) Take a break from using it after about 2 / 3 hours for a few minutes or hours , then put back on if needed .. I use mine all the time with breaks in between .. ( 4 ) Just remember it is not a cure all , it is a relief to your pain and I assure you if you give it a chance it '' works '' .. ( 5 ) One size fits all .. there is a '' L '' letter for your left side and a " R ' letter for your right side , once you get one you'll see what I'm talking about .. ( 6 ) Enjoy the relief ..
mybunny
Be Active Brace
Ordered two of these for myself and my husband. I have spinal stenosis and didn't really expect it to help. I was wrong! I wore it about five hours the day we got them and my lower back pain, leg and feet numbness was gone within an hour and I didn't wear it again until three days later when I was going to be walking and standing. It stopped my husbands back pain the first day and he had no trouble getting up from his chair! I gave my mom one for her sciatica and it was completely gone before she left my house after we put it on her leg! These are amazing and I will be giving some for gifts!
kixon66
IMMEDIATE RELIEF!
i35 survivor. Broken back with slipping spine affecting both hips. Pain was insurmountable, undying with no relief - surgery not an option. Walking, almost impossible: Running, impossible: couldn't lift my legs high enough to climb in or out of a car or walk up steps. On 2 May 2017, my life changed~ Within minutes - I was virtually pain free - I literally cried. Bought mine on e bay for 11.99 delivered for two. I have also stopped ALL pain meds and lidoderm patches. I'm standing up straight and walking! (make sure that the pressure spot is on the outside of whichever leg you have it on) Good Luck! Life is good!