eos Organic Lip Balm, Pomegranate Raspberry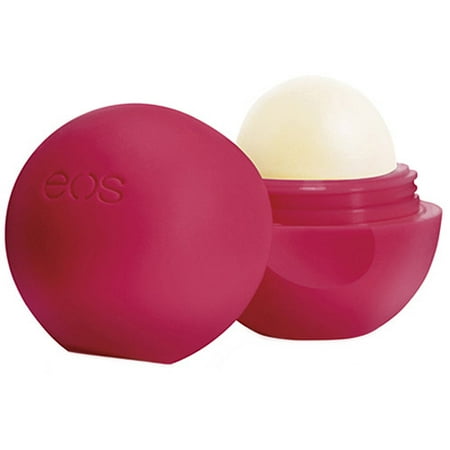 MSRP :

$3.81





Sale :

$3.75

Sold & shipped by Pharmapacks
Product Description

Additional Information

Reviews
Product Description
This .25 oz eos Pomegranate Raspberry Lip Balm is infused with antioxidant-rich Vitamin E, jojoba oil and soothing shea butter. This beauty product is 95 percent organic, 100 percent natural and free of parabens and petrolatum. You'll find this pomegranate lip balm is gentle enough to use throughout the day when it comes to keeping your lips soft, moist and exceptionally smooth.
Additional Information
eos Organic Pomegranate Raspberry Lip Balm, .25 oz
Reviews
Orchid Cai
AN ORGANIC MEDICATED LIP BALM
Okay, so I've tried both the Sweet Mint eos and the Medicated Cooling Chamomile eos, and one thing they both have in common is this-they cool your lips! Seriously, you put one of them on, and it gives off coolness! With Cooling Chamomile, I get why it says "COOLING Chamomile," that's what it's supposed to do. But with Sweet Mint, IT DOES THAT TOO! It feels so good, especially if you have dry, chapped lips, or you have a cold and your lips and the area around them get irritated. The balm itself is very smooth, nice texture, it lasted me a few months. It comes in a blue-green sphere, very nice color. The flavor, to me, smells like a very strong bowl of mint ice cream. Love it! Perfect job, Evolution of Smooth, you nailed this one!
Kj4851
Perfect!
eos Organic Sweet Mint Lip balm is probably one of my favorite lip balms of all time. My lips are constantly flaky chapped due to this very dry winter weather, and I have tried all of the lip balms, literally all of them. Eos is a complete winner in my book. It goes on smoothly, is not sticky or gummy feeling like some can be, and it actually moisturizes and hydrates my lips. Other lip balms may initially feel good when you put on, but don't actually hydrate. That is not the case with EOS, as I feel that this lip balm actually adds moisture back to my lips. It has a perfect minty flavor and makes my lips feel soft and smooth. The packaging is adorable and unique and I like that there is no "twist up" mechanism to this product, making it less likely that my daughter will grab it and roll it up too high to break it off or smash it into the cap. That's an added bonus for me, as she is always using my lip balm! Overall this is a winner and I will continue to buy this product time and time again. [This review was collected as part of a promotion.]
LoLo
I wish there where mini EOS's
Why would you just put the word red on a lip balm?Don't get me wrong I love your products and I use the Hibicuse Peach Crystal EOS every day. However, I don't understand putting RED on the cover of a lip balm! Its just weird!! Unless you were to make mini color EOS's and sell them as a line with scents like cherry for red and strawberry for pink and orange for orange and lemon for yellow and apple for green and blue raspberry for blue and grape or cotton candy for purple. Please make mini EOS's they would be so cute!!!
DryAZWeather
Best!
i am a guy & always have chapped lips. i'm from northern arizona where the elements dry out our lips. anyway, this chapstick is amazing i have the sweet mint in the stick. i'm a fan of organic products so when i came across this in the store i thought i'd give it a try. once putting this on my lips they felt better & they smoothed out. also love the non waxy feel it has.
SickSquirrel
No More Chapped, Sore Lips
I live off Cape Cod where the cold weather does horrible things to my lips. Chapped, cracked, dry, peeling and painful lips every winter and in the summer it's heat that dries them out. Tubes of products are greasy, gooey and taste icky! EOS Mint is not only tasty but keep my lips hydrated and provide a barrier to the cold and sun. The lipstick-shape slips in any pocket easily for a quick fix. The soft, moist and smooth lips are proof EOS is a must.