Soleil Quartz Infrared Electric Space Heater, PH91K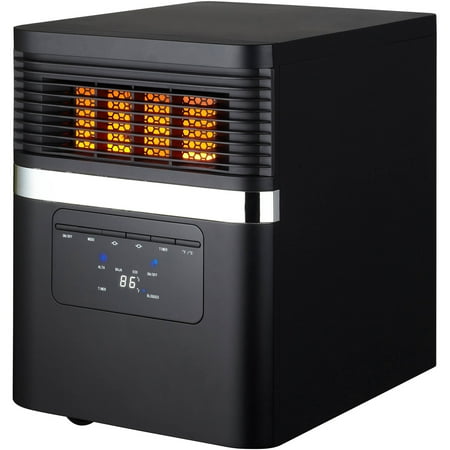 MSRP :

$67.24





Sale :

$67.24

Sold & shipped by Walmart
Product Description

Additional Information

Reviews
Product Description
Stay warm as temperatures drop with the Quartz Infrared Cabinet Heater. This powerful heater warms rooms quickly, with an air filter so you can breathe easy. The quartz infrared heater has an impressive heat output of 5200 BTU/h that can heat a room up to 86 degrees Fahrenheit, with a 12 hour timer for extended use. The unit is crafted for safe use, with an overheating safety shut off, as well as an energy-saving auto mode. The 1500W heater is easy to operate, with an LED digital display and a remote control. Caster wheels make it easy to move the unit from room to room as needed. It plugs into a conventional 120V, three-prong outlet for effortless use.
Additional Information

Quartz Infrared Cabinet Heater:
Heat output 5200 BTU/h
Energy saving auto mode (ECO)
Low setting: 750W
High setting: 1500W
Set temperature indication varies from 15 to 30 degrees C or from 59 to 86 degrees F
1500W heater has a 12 hour timer
LED digital display and remote control
Front panel push button controls
Overheating safety shutoff
With air filter
Caster wheels for easy portability
Use conventional 120V 3 prong outlet
Height: 38.5 cm, width: 29 cm, depth: 35.7 cm
Amps: 12.5
Watts: 1500W
Model# PH91K
Reviews
Tiger
Great Heater! I love heat!
This heater is great. Not only does it push hot air but all the sides, bottom and top stay cool to the touch. Only where the air comes out is it really warm. As soon as it geats to your desired temperature it hibernates until it needs to turn on again. It will automatically turn back on until it reaches its temperature again. It heats my large bedroom easily and didn't take too long for a difference. I enjoy the timer as well, It has two setting to use it. If you have the machine off and put the timer on, it will turn on how many hours you set it for. As well as being a timer for when the machine is on, to turn off after your desired set time. The fan sounds like a regular tower fan, maybe a little lower. You have to decide the fan loudness for yourself. For me the fan is low. If you are looking for one get this one. I shopped around and lowes has one similar but it was $20 more. So this one was worth it. Enjoy your purchase!
WalMartShopperMonroe
Quartz Infrared Cabinet Heater
I bought this heater to supply extra heat for my living room, kitchen, and to cut down my winter power bills. I liked it so much that I bought a second one for my master bath/bedroom. I set the heat and it cycles when needed. I shut the doors to my two extra bedrooms and now no longer need to turn on my heat pump ... saving me about $100/mo on my power bill.
JLee12345
Good choice
I am pleased with the purchase. provides more than enough heat for the 20x15 foot family room. The fan has good air flow volume, but is fairly quiet. This web site does not indicate that it is made by Soleil, but it is. You can find the same one on Soleil's site.
browneydmom
Special Needs Friendly Heater!
We've wanted a Quartz Infrared Cabinet Heater for about 5 years but they were always so expensive. I never would have thought to check Walmart! I am so glad I did. We've had our lovely heaters for several weeks now and they have helped us stay warm! We wanted the Quartz Infrared Cabinet Heater because it is child-friendly and special needs friendly. You see, our son has Autism. He gets into everything, he touches everything and can be difficult to discipline because he doesn't understand the consequences. We wanted the Quartz Infrared Cabinet Heater because the outside of the unit does not get hot at all -- it stays cool to the touch. The "generic" brand name did not affect my buying decision either. The units are lightweight and have wheels, so they are easy to carry or wheel to different rooms when needed. The Quartz Infrared Cabinet Heaters arrived about a week after purchasing and they have kept us warm during snow storms and just plain cold days and nights.
Obie
Simply Amazing
Everything good said about this Cabinet Heater is just true. I did quite a bit of research before I came across this item. I read the reviews and quickly settled for this. This Quartz Infrared Cabinet Heater is simply amazing. The aesthetics is awesome, looks like decor, you can't beat it; talk less of the price. I have kids (3 of them - 5 and under) and this is very safe for them. I use this heater to heat up a two-car garage, which I turned into a play yard for the kids and it has served very well. I have set it at 70, 75, 77, 80 and 86 and I can tell the difference with its operation. I do not have a temperature gauge in the garage but I can compare conditions in there with the rest of the home being that I have central heating and a temperature monitor in the living room. Just to throw in though....that it comes with rollers which makes it easy to move unless this is a concern for you. My garage is rugged and so it's been stationary. If you are looking to get a great heater at such a price point you won't regret it. Safe buying!