Ironman Dakota Massage Table, Dark Grey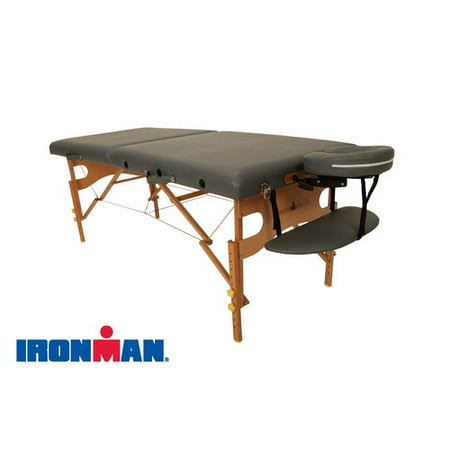 MSRP :

$199.03





Sale :

$119

Sold & shipped by Walmart
Product Description

Additional Information

Reviews
Product Description
Ironman athletes are known for their strength, endurance and durability. As a result, Ironman has incorporated the same qualities into its massage tables. The Ironman Dakota Massage Table is constructed of European beech wood, providing solid construction for this treatment table, with the stability expected for professional therapists, student and home users. Feel the utmost comfort on this wooden massage table, whose cover is made of eco-friendly PVC leather and stacked with multi-layer foam up to 2 inches. In addition, the Dakota massage table includes the patented cradle lock system that prevents the table from wobbling during your massage. The headrest of the adjustable massage table is complete with a contoured face cushion that comfortably supports your face while in the prone position. The Ironman Dakota massage table includes eight level adjustments and offers excellent performance for a terrific value. Set-up and fold-down this portable massage table with ease.
Additional Information

Ironman Dakota Massage Table:
Strong and durable quality




Patented Cradle Lock Cable system for optimal stability




Multi-layer foam for comfort with environmentally friendly PVC leather cover




8 levels of adjustments for headrest and legs




Extremely portable and compact



Construction:
Table color: Dark Grey

Table leg color: Natural wood

Frame construction: European Beech wood

Headrest: Adjustable aluminum frame with contoured face cushion

Table adjustment: 8 easy level adjustments

Weight capacity: 2000 lbs for exceptional durability

1 Year limited warranty
Reviews
kjsebaco
Good, strong table for a reasonable price
Easy to set up. Headrest is not real comfortable. Overall, a good deal.
TALKINGFIELDS
YOU GET WHAT YOU PAY FOR- NOT FOR PROFESSIONAL USE
I purchased this table as a "go table" to bing to an event that I was working. I was already bringing my office table and massage chair but wanted a second table to handle overflow. I did not want to spend alot of money on this second table so I tried to go the cheap route and the expression "you get what you pay for" applies to this table. The dimensions are way off, the table is wider and shorter than it is listed, the table was as hard as a rock, the vinyl covering is very cheap and thin and tears very easily, the plastic prongs that held the face cradle in the table snapped off, I could go on but those were the main problems. If this is a home use only table, a table for a student or maybe someone whose not clear of their career path it is fine but it is not meant for professional use. I did not keep the table.
Dalesman
Good value for money
Unlike most of the reviewers, we are not professionals, just a married couple who thought giving each other an occasional massage might be a nice thing to do. We bought this table because it was the cheapest one we could find. It was delivered by Fedex Ground much quicker than promised and FOR FREE (at least through Walmart). My big concern was that it wouldn't be sturdy and would feel shaky, but it's perfectly stable and works exactly as I had hoped. I also bought a sheepskin cover and sheets and it's very comfortable. When we are not using it, it folds up and fits under the bed. Although I don't know if it's sturdy enough for daily use by a professional, as an occasional use table at home, it's perfect.
Kolibri
No no no.
I was also excited about the price. But it did not feel right from the beginning. My concerns were justified, because, aside from smelling with a very strong smell, the table was terribly UNCOMFORTABLE. I am an expert and know what I am talking about because have given and received over 1,000 massages and I have placed myself on at least 20-30 tables in my lifetime. This is by far the worst - it is VERY hard and uncomfortable. It didn't even feel like the foam is giving in, not even a bit, under my body's weight. The face cradle is too high and there is nothing you can do about that level even if you tilt it, but most importantly it's terribly hard and, yes, uncomfortable. I tried to put extra fleece on the table and cradle, but it just doesn not compare to what a table should feel like. The smell is going away after a week being on the balcony. I put this on craigslist and ordered a new different table the same day I got it. DO NOT get it if you're not in denial what a table must feel like. All these good reviews must be blinded by the price! Learn from my mistake: whether it's for your own pleasure or for your clients, or both - invest in a good table, you'll only benefit!
David
Workout Table
My wife did research on all different types of tables so that she would be able to do her PT exercises "up off of the floor" This table is perfect for that. The width and length are great whether your 6' or 4'10", 220lbs or 120lbs. The padding is comfortable, the feel of the table is solid, and it folds up so it can be put out of the way easily...