Microsoft Xbox One S 500GB Forza Horizon 3 Hot Wheels Bundle, White, ZQ9-00202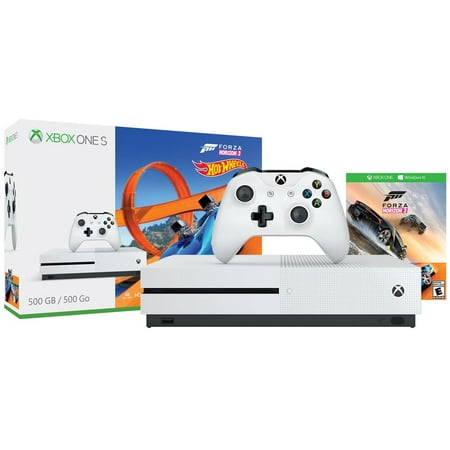 MSRP :

$279.99





Sale :

$

Sold & shipped by Walmart
Product Description

Additional Information

Reviews
Product Description
Own the Xbox One S Forza Horizon 3 Hot Wheels Bundle (500GB), featuring a full-game download of Forza Horizon 3 including the Hot Wheels expansion, and an Xbox wireless controller. Xbox One S features 4K Ultra HD Blu-ray 4K video streaming, and High Dynamic Range.
Additional Information
Own the Xbox One S Forza Horizon 3 Hot Wheels BundleDrive, explore, and race all over Australia in more than 350 of the world's greatest carsMake your Hot Wheels fantasies come to life with loops, corkscrews, boost pads, high bank turns, half-pipes and insane jumpsPlay with friends online with Xbox Live —choose cooperative or competitive playCompete, connect, and share across platforms with gamers on Xbox One and Windows 10Stream video and watch UHD Blu-ray movies in stunning 4K Ultra HDExperience rich, luminous colors in games and video with High Dynamic Range technologyInstant access to over 100 great games with 1 month of Xbox Game Pass includedWith the biggest blockbuster titles, over 100 console exclusives, and three generations of games, there's never been a better time to game with Xbox OneBundle includes Xbox One S 500GB console, wireless controller, Forza Horizon 3 game download, Hot Wheels expansion download, 1 month Xbox Game Pass with access to over 100+ games, and a 14-day trial of Xbox Live Gold
Reviews
GnNC
I wouldn't recommend the Xbox One s
Ok I'm going to start with the postive. The Xbox One s. Is fun. When it works. I have had Internet connection issues and haven't even had it a month. It has to be online unlike the PS4 because it's so tied to Xbox live. Forza 3 on it's own is very fun. But I couldn't play the Hot Wheels part. Every time I would try to go there. It would freeze up and go back to the Xbox home screen. I basically uninstalled that part. I think the only reason to buy an Xbox One is if your a fan of Halo. Forza. Or gears of war. You buy one for Xbox games. Because this coming from someone who has a PS4 Pro also. The PS4 is more stable and you play the third party games on it. And even still sony has better exclusive games. Like the Last of Us. And Uncharted. But I do like the Xbone home screen better. The controller better too. But you better buy a battery pack. Because it isn't rechargeable. And get a good Hard drive. 500 gb will be gone fast. Most games or 50 gb. So I hope I gave you some perspective. Yes I'll probably keep it. I like Halo and Forza a lot.
ChimingIn
Great Bundle. Great Price.
The kids (7 and 9) love it. Great price! Great bundle of games - though I had to hide GTA from them. We can use MOST of our XBOX 360 games with this. If you're curious about which ones are compatible with the XBOX One S, there are a dozen sites online that list them.
ky502
XBOX S
Its a awesome system, works great.
LA
Great bundle deal!
Great deal. Exactly what I was looking for. Would definitely recommend this bundle. No complaints whatsoever.