AT PREPAID Alcatel idealXCITE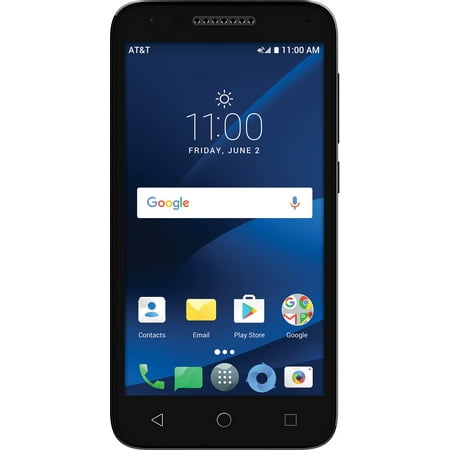 MSRP :

$49.99





Sale :

$29.88

Sold & shipped by Walmart
Product Description

Additional Information

Reviews
Product Description
The AT Prepaid Alcatel idealXCITE delivers with its vibrant 5in screen, quad-core processor for fast downloading and streaming and the latest in Android technology.
Additional Information
AT&T PREPAID Alcatel idealXCITE
The AT&T PREPAID Alcatel idealXCITE delivers with its vibrant 5" screen, quad-core processor for fast downloading and streaming and the latest in Android technology.
Reviews
TP
My new mp3 player
For $14.98 for Black Friday prices I can't be upset at its features but there are more cons than pros to this phone. Pros- I currently use this as an mp3 player and its great for extended memory up to 128 GB, it is bluetooth compatible, Battery life is optimal since I don't use it for daily use & thats about it so far. Cons- This does not come with boosted sound or Dolby features so sound quality is horrible unless you download a separate app and equalize it, even though my wifi is connected and strong I can't watch youtube, Every time I open my lock screen these annoying ads open from google play and can potentially hinder battery life, internal memory is actually about 4-5 GB due to al the AT&T bloatware that you can only disable and not all my songs can be identified even if they are all formatted the same, screen quality is 480p
cocoadragon
Better than the regular Ideal.
I also got it for the $15 Black Friday deal. I have great JVC Marshmallow Headphones and using PI music app. Sounds wonderful because the 128GB card lets me hold uncompressed Flac files. Its much slower than a high end phone, but hey, i saved $685. I think I can live with it. Still faster than low end phone. Better than the Alcatel Ideal, which has a better chipset? Go figure. the only real problems i have with the phone are bloatware I cant uninstall and will never used. But even more so than AT&T's choices are that google is relentless in trying to shove new apps and updates on you that slam the megear 16GB installed ram. Constantly of of room. Other than that I'm pretty happy. Find a quality "app to SD" app and move what apps you can to SD card to keep it running smooth.
Masaca
Better than the regular Ideal.
I had lost my California Lifeline phone and my service provider (Airvoice,) told me I had to get an AT&T Go Phone because their SIM cards are only compatible with the Go Phone. So I found one on Walmart's online shopping thing, and ordered it. It arrive in a decent amount of time (as scheduled.) However; after activating the phone with the Airvoice SIM card I couldn't access my data. After contacting Airvoice I learned that Walmart had not provided a "Point of Sale Acknowledgement, and that the AT&T thing had been suspended. Other than that the phone phone works well, and meets my needs. My suggestion is to not buy this or any other phone through the online process.
Abakale
Talk or text, uyes
This is a great phone for calls. Texting, still pretty good. It's very slow, so I find myself getting frustrated while it catches up with me. Very little memory. Even adding an SD card will NOT allow you to download very many apps - I'm talking more than 2. This is very frustrating. But I got it when my phone was stolen and I no longer had insurance, so...it's a phone. Call quality is very good.
Jackie
My first smartphone
I think it's great. Then again I haven't had an iphone. but then again I haven't paid for an iphone either. I found a case on ebay. Although I did get one from Amazon and have to send it back because it does not fit. Try Ebay. You don't have to have a data plan on AT&T to use this phone. I only use WiFi for the internet and the phone signal for texting and whatever. My old flip phone was obsolete and the typing was a real chore. This makes it much easier.