Acer CB3-532-C47C 15.6" Chromebook, Chrome OS, Intel Celeron N3060 Dual-Core Processor, 2GB RAM, 16GB Internal Storage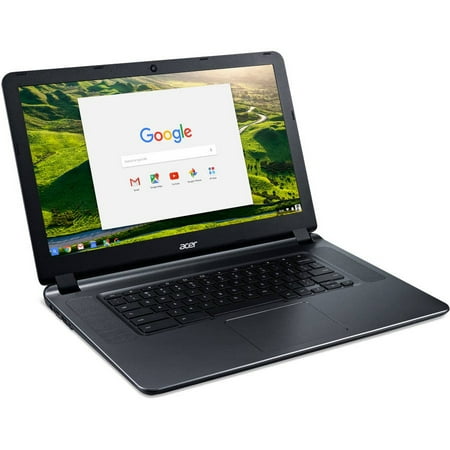 Sale :

$199

Sold & shipped by Walmart
Product Description

Additional Information

Reviews
Product Description
Acer expands upon its already dominant Chromebook position with an affordable 15.6" HD Chromebook, letting you see more, do more and explore more than ever before. With a 27 percent larger screen area than the 13.3-inch Chromebook and a 24 percent larger screen than a 14-inch Chromebook, more content can be shown with less scrolling, and productivity tools such as Excel are easier to interact with. In short, it's just the right size for you to make this Chromebook your quot;everythingquot; book. The smart design of the Acer Chromebook brings videos and games to the next level with a stunning large-scale 15.6-inch display. The antiglare HD display is designed to minimize the glare resulting in less strain on the eyes, even after long hours of use. From bedtime storytelling to watching a movie, you'll experience a consistent color and viewing experience from any perspective.
Additional Information

Acer CB3-532-C47C 15.6" Chromebook:

Key Features and Benefits:

15.6" display
LED-backlit Display


Intel Celeron N3060 Dual-Core processor
1.6GHz (with Max Turbo Speed of 2.48GHz)


2GB system memory
Gives you options for surfing, video conferencing, documents, basic photo editing and simple computer tasks


16GB internal storage
Store up to 10,667 photos, 4,500 songs or 8.4 hours of video and more


12 hours of battery life
Long-lasting battery life gives you all day to access your photos, videos, music and documents


Intel HD Graphics 400


Weight: 4.3 lbs
Thin design you can easily take on the road


802.11ac Wireless LAN
Wirelessly connect to a WiFi signal or hotspot with the 802.11ac connection built into your PC


Additional Features:

720 HD webcam with HRD (High Dynamic Range)
Bluetooth 4.2
Standard mini keyboard
2 x USB 3.0 ports, 1 x HDMI out port, 1 x 3.5mm audio out jack
3-cell lithium-ion battery
Dimensions: 15.08" x 10.08" x 0.95"
Color: Black


Software:
Support and Warranty:

1-year limited hardware warranty
24/7 technical assistance available online or toll-free by phone


What's In The Box:

Power cord and AC adapter
3-cell battery
Quick Start Guide


To see the manufacturer's specifications for this product, click here.

To see a list of our PC Accessories, click here.

Trade in your used computer and electronics for more cash to spend at Walmart. Good for your wallet and the environment - click here.

What is a Chromebook PC?
Chromebook PCs are a new type of computer designed to help you get things done faster and easier. Chromebook starts up in seconds, so you can immediately start playing or working. Chromebook looks like a laptop and feels like a laptop, but differs from traditional computers as follows:

Instead of Windows OS or Apple OS, Chromebook PCs run on Chrome OS, an operating system that features multiple layers of security, cloud storage and the most popular Google products built right in.
Chromebook won't load and run traditional PC applications such as Microsoft Office or Skype. However, Chromebook uses Chrome-specific apps for everyday tasks. You'll be able to create documents, listen to music, edit your photos, chat with friends and family and play online games. Plus, you can download many additional apps from the Chrome Web Store. No more buying and installing software â
thousands of apps are free and feature automatic updates.
Chromebook comes with built-in virus protection, multiple layers of security and verified boot help to keep you safe from viruses and malware.
Your Chromebook will keep your files away from your machine and safe online. Google Drive is built right in, so your files and photos are automatically backed up to the cloud.
Your Chromebook will update itself for free, so you'll always have the latest and greatest version. No need for manual downloads and upgrades.
Reviews
Bernie
Good And Bad (Pros And Cons)
Good: Turns on with the opening of the cover, opens browser when turned on, good sound through the internal speakers, works good, surfs the net OK, runs an E-Mail APP OK Bad: Save only 10 10-Minute videos and it says that it's running out of room, saved only 1,200 songs, and says that it's running out of room, can only save 1/4th of my 16.6 GBs of music, and it runs out of room, etc, so not enough storage space, slot on the Right side, and the instruction sheet doesn't even say what the slot is for, but tried to use my SD card, with a SanDisk Adaptor, and it won't fit in the slot, so have no idea what the slot is for, the instructions aren't very good, or is lacking, the Blue tooth only works for playing files, and not transferring files. Well, that's about all IO can think of at the moment. I have the Acer Chromebook 15, CB3-532, is about what it shows there, so unsure whether I'm putting the review in the right place.
Tiffany
Great buy for kids
my kids love it they only really use it for youtube
Andie
love it!!!
This acer chromebook is amazing. I love the style ,color. It comes with apps such as google documents so that you can create resumes. Im able to connect to wifi with no problem. And the streaming of movies is awesome. clear pictures as well. I highly recommend this laptop
aprilmom10
Amazing for the price!
As a school media specialist, I can give this Chromebook high marks! It is bigger than what I really wanted but it's still lighter than a regular laptop and it has a great construction and feels much nicer than you would expect for under $200. Set up is very simple, just pick your language, connect to WiFi and login with your google account. Start up time was instantaneous, machine is very quiet and very fast even on my rural internet plan. Track pad responsiveness is on point - not too touchy but doesn't lag. Websites load quickly and Chromebook is very quiet to operate. Keyboard is very nice but a bit tight so you have to get accustomed to typing on it but once you get your finger placement figured out - for me it took only a couple of minutes, you should have no issues. Overall, I am extremely happy with this and will probably make it my full time laptop and use my other windows laptop only when I need access to its 1 TB hard drive.
OWI2EWEUQ44O237T
Excellent
best Chromebook ever, tell all your friends,great machine,don,t take my word for it ,go to store and check it out,you will be amazed with price and functions this cb15 has. One thing this 15 does not have is skype video.you can still make Skype calls,just no video,it does have a app called HANGOUT that works ok ,or you can use HANGOUT EXTENSION,look it up first,it's good .remember it's still a Google chrome book so there are limits .I have brought 3 of these for presents to family members that never had a computer before and it is amazing how simple it was to get them up and running for basic surfing,g-mail etc.when they needed help all they had to do was call customer service ,great customer service, also battery life is as stated for 12 hours but times very with your usage.I averaged 10 hours with full volume and bright screen,and it recharges really fast,2 hours the most after10 hours use .note I do not use the full potential this book has.soo much you can do with this book. check it out !