Chris Young - A.M. (CD)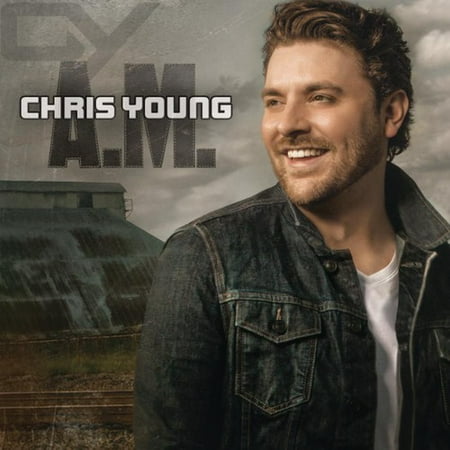 MSRP :

$7.99





Sale :

$6.05

Sold & shipped by Walmart
Product Description

Additional Information

Reviews
Product Description
Additional Information
Reviews
WendieG
Everything I expected and so much more
I've purchased a lot of records over the years and rarely have any of them exceeded my expectations quite like Chris Young's latest release, 'A.M.' Since receiving my pre-ordered copies, this CD is the only thing I've listened to and I haven't once felt the need to skip a single one of the 11 tracks, a very rare occurrence for me. As a rule, there's always a clunker in the mix. Let's just say 'A.M.' is breaking the rules, and I mean that in the best possible way. Fans of Young's music will recognize his signature sense of fun and love of all things country in the themes of these songs, but this time it's set to a faster, more rock-driven rhythm than his previous efforts. 'Aw Naw', 'A.M.', 'Nothin' But The Cooler Left' and 'We're Gonna Find It Tonight' keep the party rolling. Mid-tempo grooves like 'Hold You To It', 'Who I Am With You' and 'Lighters In The Air' take the pace down a notch, but make up for it in the increase in the heat index. Those songs are just plain SEXY. Which works out nicely since Young was named 'Sexiest Voice in Country Music' by the online publication Taste of Country. Not to worry, though, if it's the ballads that do it for you as opposed to the tempo numbers, because this record contains three of the best love songs recorded by ANY country artist in years. 'Lonely Eyes', 'Forgiveness' and 'Goodbye' feature not only beautifully-crafted lyrics, but also three of the most heartfelt, honest vocal performances Young has ever delivered. If I had to pick one thing that stood out on this record head-and-shoulders above everything else Young has released, it would be that his voice -- that rich, unforgettable baritone - is the focal point of every song, and for me, that means I will be listening to this record into the wee hours of the 'A.M.' for a long, long time to come.
vjjasper
Must have CD
From the first song to the last it's outstanding!
Nashvillebh
Very good CD. Not quite as good as his last one.
Good CD by Chris Young! Just not as good as his last one. I know, though, that artists try not to repeat the same thinking on album after album in case it gets stale. This one is just a little too heavy on either the "drinking is cool" thinking and the "lovey dovey" stuff.
Value83Shopper
Great deal. Great CD.
Loving all the songs!