Apple iPad mini 4 Wi-Fi 128GB Gold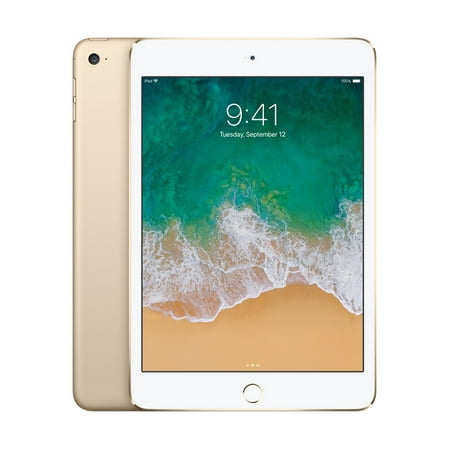 MSRP :

$399.99





Sale :

$399

Sold & shipped by Walmart
Product Description

Additional Information

Reviews
Product Description
iPad mini 4 has a gorgeous 7.9-inch Retina display, yet it's only 6.1mm thin and weighs just 0.65 pounds, making it small enough to hold in one hand. It has a powerful A8 chip with 64-bit desktop-class architecture, advanced iSight and FaceTime HD cameras, Wi-Fi and LTE1 connectivity, iCloud, the breakthrough Touch ID fingerprint sensor, and up to 10 hours of battery life.2 It also includes great apps for productivity and creativity, and powerful new features in iOS 9 like multitasking. And there are even more incredible apps available in the App Store.
Additional Information
Apple iPad mini 4 128GB Wi-Fi - Space Gray
Reviews
Ayin
iPad mini 4 space gray
Got the ipad mini 4 128g. No dents, no scratches, no fingerprints. Even the box is in very good condition. This is so brandnew and good deal for $100 off. The only issue that I experienced was the unit came late for about 3days and had to follow up few times but Walmart gave me a discount coupon that I can use for my next shop. Thank you to the lady in the pick up dept (Broadway Chula Vista).
Editorchops
Brand new, but check for fingerprints!
The reason this is $100 off is because Walmart is selling units that appear to have some type of slight box damage. Let me explain...I ordered a brand new unit and it arrived sealed, but had very minor box damage. Unfortunately, when I opened the box the iPad had fingerprints all over it. I called Walmart and they agreed to send a replacement and I also called Apple and they verified the unit was brand new and the serial number had never been registered. When the 2nd unit arrived, the box again had a slight ding and the screen was slightly dirty. What I'm thinking is Apple has certain stock in their factory that has minor box blemishes that they won't stock their own shelves with. Apple techs most likely open the boxes and check the units...sometimes leaving fingerprints along the way! Otherwise...the unit functions flawlessly!
Ipadlover
My fourth Ipad
I Have been fortunate to be able to upgrade my Ipads about every two years as new features are added to the Ipad. This is my second Ipad mini and I love it. I was able to purchase this Ipad mini with 128gb for less than I paid for any of my previous Ipads. I used Walmarts new pick up app to pick up this Ipad at their local store. That worked great for me. I was in Walmart at the customer service area and in about five minutes I had my new Ipad and walked out the door to go home. I called Apple support and got assistance with transferring information that I wanted on my new Ipad from my older Ipad. The Young lady was a real pleasure to work with while transferring info. From one Ipad to the other. I will conclude that if you have never had an Ipad, you should concider getting one--it is like having a mini computer in my purse. A Very Happy Ipad Owner and faithful Walmart customer.
2009Associate
Apple iPad Mini 4
I love the Apple iPad Mini 4. It's the perfect size, not too big, not too small. Plus, with the 128GB, I can have a lot more apps on the iPad and not clog up the GB's on my iPhone. Not to mention the Rollback price of $299, great deal.
Will
Ipad is great, Walmart not so much...
First let me say the iPad is 5 stars. The 1 star is for Walmart's policies. This iPad was listed online for $100 off. The website said it was available for pick up at a store 20 minutes from my house. So I went to the store and the guy who worked there said they had in stock but the $100 off was only available online (this was not indicated on the web, but whatever). He suggested that I buy it online (while standing in the store) and then go to the pickup area and let them know. I did this, then went to lunch not wanting to drive home and back. Went back to the store after lunch and it still wasn't ready. I wandered around the store some more and finally 2 hours after ordering online (while standing in the store, where the iPad was in stock) I went home. Hours later I got the notice that it was ready for pickup. This is totally unacceptable. First Walmart can't price match THEMSELVES? Seriously? Second, if I would have bought in store the guy could have handed it to me right then and there, instead I had to waste an afternoon hanging out at Walmart and driving back and forth. Next time I'll just order it from Amazon at least With 2 day shipping I know when to expect it.