Cynoculars Mobile VR Headset and Remote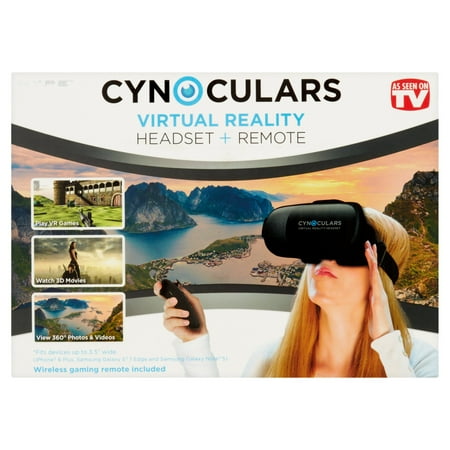 MSRP :

$19.88





Sale :

$7.99

Sold & shipped by Walmart
Product Description

Additional Information

Reviews
Product Description
Virtual Reality Headset + RemoteWide-angle view allows for a true virtual reality experience with wide variety of Apps available to use.Designed to be worn with most eyeglasses, everyone can comfortably use this virtual reality headset.Memory foam padding ensures a comfortable fit for a better experience. Additional overhead strap helps distribute weight and prevent sliding off.Specifications:Operating System: iOS® & Android®Field of View: 80 degreesObjective Lens: 42mmMagnification Range: 3-5xMin. Interpupilary Adjustment: 2.32 inMax. Interpupilary Adjustment: 2.83 inCompability: Smartphones up to 6"Secure Device CartridgeInnovative Optical SystemDurable Hard Shell EncasingAdjustable Focal & Pupil DistancePadded Memory Foam CushionAdjustable Velcro & Nylon Head StrapWireless Remote*Function KeysToggleLED IndicatorJoystickBumper Buttons
Additional Information
Product FeaturesAs seen on TVPlay VR gamesWatch 3D moviesView 360º photos & videosWireless gaming remote includedImmersive experienceOver 300 Apps availableCan be worn with glassesSecure and lightweight designAdjustable pupil & focal distanceView your photos & videos in 3D!Box - RecyclableHype™ Copyright © All rights reservedNo portion of this package, including shape, graphics, and design may be reproduced or transmitted in any form or by any means, electronic or mechanical, including by photocopying, recording or use of any information storage and retrieval system without express written permission. Unauthorized reproduction or distribution of this package, design or any portion of it will be prosecuted to the maximum extent possible under law.Hype™ is an innovative company of DGL Group, Ltd.Other trademarks and trade names are those of their respective owners. All rights reserved.Android® is a registered trademarks of Google Inc.Samsung®, Galaxy S®, Galaxy® and Note® are both registered trademarks of Samsung Electronics Co., Ltd.iOS® & iPhone® are registered trademarks of Apple, Inc.
Reviews
BigRon
Great bang for the Buck
i have a few Google cardboard at the house, the Big issue for me is the spacing of the lenses and the focusing, as most lenses are to close together and there isn't any way to focus it. this does both i can adjust the focus of the unit and the spacing of the lenses for a perfect view, the remote is a easy bluetooth connect, allows you to adjust the volume, go back or forward and has a trigger for game play. for $20.00 upi vsmt beat it i have seen similar units at Best Buy for $75.00. PRO's has a sliding door for phone camera, phone is secure, has a bluetooth remote, able to adjust focus, able to adjust lens spacing. comes with cleaning cloth. has head strap CON's gets a bet heavy, will slide around a bit.
CD2k16
Great gift idea for the up coming holidays!
I got this from a local Walmart for under $20 a few hours ago, it comes with a Bluetooth joystick and you simply add your touchscreen phone to it and OMG.... IT'S AMAZING! You can wear your eye glasses with it as well... I HIGHLY RECOMMEND IT!!!
tommyd3300
So So buy.
The kids got a laugh then disappointment that remote would not work with most things. I guess a laugh is a laugh.
Mandy
VR goggles
Purchased these for my nephew for Christmas. He has a larger LG phone and it seemed to work fine with it. My nephew quickly figured out how to work it and seemed to like it.
YayasMom
Great
It's awesome all the people complaining it's bad is the people that don't have iPhones! Works perfect with iPhone! My kids will love this! Xmas gifts for sure!