Fitness Reality 690XL Additional Weight Capacity Inversion Table with Lumbar Pillow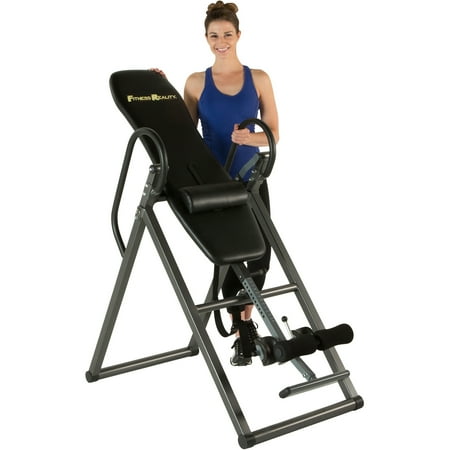 MSRP :

$106





Sale :

$99

Sold & shipped by Walmart
Product Description

Additional Information

Reviews
Product Description
The Fitness Reality 690XL back inversion table is built with an exceedingly strong steel frame with a scratch resistant powder-coated finish. It has a foam vinyl covered backrest for a comfortable head and back when inverting. Extra long safety handles provide easy return to the upright position. Included is a removable Lumbar pillow which will support the lower back while inverting. We have increased the weight capacity up to 300 pounds to accommodate inverting capability at a higher weight limit. The Fitness Reality 690XL will provide excellent stress and back relief but a very affordable price. So get the results you want and try the Fitness Reality 690XL back inversion table today!
Additional Information
FITNESS REALITY 690XL Additional Weight Capacity Inversion Table with Lumbar Pillow for Lower Back Support
Extended User weight capacity of 300 lbs
Inversion capability up to a full vertical 180 degrees
User height adjustment from 4'10" to 6'6"
Heavy duty frame with a 1.5 square steel frame construction to prevent any instability when inverting
Removable Lumbar pillow for lower back support while inverting or resting
.25 Soft foam backrest for comfort when inverting at all angles
Ankle holders are a combination foam roller and ankle cushions to hold ankles securely and safely
Easy pull pin release system to hold ankles and legs in place
Adjustable tether strap to allow for different inverting angles
Full loop foam covered handle bars for easy return to the upright position
Folds for storing in a closet or similar location
Folded Dimensions are 75" H x 28" W x 18" D
Inversion may help reducing back stress by relieving pressure on vertebrae discs and ligament
May help reducing fatigue, stress and relaxes the overall body
May help promoting stimulation of blood circulation to relieve stiff muscles
May help reducing the effect of aging due to gravity
May help Increasing body flexibility to improve athletic performance
May help relieving lower back aches due to sitting or standing
Assembled Dimensions: 46L x 27W x 57H
Assembled Weight: 55lbs
1 Year limited warranty

Reviews
ComposerChick
Fitness Reality 690XL
This was easy to assemble with clear illustrated instructions took 25 minutes from unboxing to complete assembly. Even the tools are supplied so you don't need anything else. The Fitness Reality 690XL is well made. The lumbar pillow is great upon my first inversion laying back onto the lumbar support I could hear my vertebra popping into place similar to when I go to my chiropractor that happened twice and since have stayed in place. My low back pain went away and I am getting relief from the nagging pain of sciatica which greatly improved by day 3 and I am able to sleep much better. I have started to do crunches while slightly inverted to strengthen my abdominal muscles and by week two feel and see results. For that sale price of $89 dollars you can't go wrong with this product. It ca be folded flat a leaned up against a wall when not in use.
1WIFE4KIDS
Great Deal
This inversion table was extremely easy to assembly. $99.00 compared to $300.00 Teeter inversion table............guess what, gravity works just the same no matter how much you paid for the piece of equipment that you are hanging from. My back feels great!
SamuelW
super sturdy and well made
I'm a big guy, 6'0" 265 and I have no reservations about using it. Very sturdy. It weighs approx 61 lbs per shipping. shipping was fast. Packaging and assembly was a little daunting upon opening, but once all of the plastic and excess is removed following the instructions were quite easy and only took me maybe 20 minutes to complete. You should be able to move simply with your arms if balanced correctly via height adjustment. Pay attention to the use of the limit strap. Lumbar pad is nice to have. I've had back issues since injury in USMC but this really helps. I felt the results quickly.
Bigvenmart
Why I bought this
My back , shoulders , neck all have painful problems. Once a day this for 5 machine helps my lower back feel better. It cracks where Its supposed to and rest of my day I feel my posture improve. It will not solve world hunger or Improve gas mileage but for 100 dollars MY BACK FEELS BETTER. Thats enough for me.
wetieit
Great value and works very well!
This Inversion Table is very easy to assemble and works extremely well. It has definitely helped me with a severely blown disc in my lower back. Sometimes after a day of work I can barely walk, after 15 minutes inverted, I feel much better and can at least walk well. It took a little while to get used to inversion therapy, but after a week I was able to hang upside-down completely for the recommended maximum time without any troubles. This is definitely a well made device and the price was great, the delivery to home was great and the assembly was very easy with the tools provided in the package. It also came packaged very well with no parts broken or missing! It seems to be well constructed and heavy duty, I'm 6'5" and have no problems using it, my wife is 5'4" and also has no troubles with it. Re-adjustment is easy and getting in and out of it is a snap! I would recommend this Inversion Table to anyone with back problems!