Bob the Builder R/C Super Scoop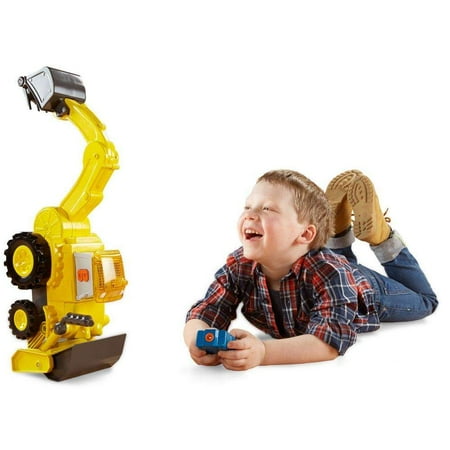 MSRP :

$49.97





Sale :

$34.93

Sold & shipped by Quick Supply
Product Description

Additional Information

Reviews
Product Description
The fun is in your child's hands with R/C Super Scoop from Fisher-Price. This remote control vehicle brings Bob's best friend to life with motorized action, cool sounds, fun phrases, and a one-of-a-kind jaw-dropping stunt! the easy-to-use remote control lets children send Scoop racing forwards or backwards, and also operates his back bucket for cool digging action. But R/C Super Scoop has another trick in store that's sure to astonish little builders.
Additional Information
Ever see a digging machine do a handstand before? Well, with the push of a button, Scoop delivers his sensational "Scoop Stand" - an incredible stunt where Scoop uses his back digger to push himself up onto his front bucket, then lift his body straight into the air! That's right - Scoop gets vertical, then pumps his back digger up and down, because he loves to celebrate a job well done! for even more hands-on play, kids can use Scoop's exhaust pipe to manually lift his front bucket and activate exciting lights, sounds, and phrases featuring Bob and Scoop. the world of Bob the Builder comes to life as children create their own worksite adventures with the coolest construction machine around!
Bob the Builder R/C Super Scoop:
Age Range: 3Y+
Remote-controlled Bob the Builder Scoop vehicle
Remote features controls for forwards, backwards, motorized back bucket, and "Scoop Stand" stunt mode
In "Scoop Stand" stunt mode, R/C Super Scoop uses his back digger to push himself up onto his front bucket, then lift his body straight into the air, like he's doing a handstand
Manually use the exhaust pipe to lift the front bucket and activate lights, sounds and phrases
Children can also press the 'B' button to activate lights and sounds
Includes 4 "AA" (LR6) alkaline batteries for Scoop, Requires 2 "AAA" (LR3) alkaline batteries for Remote Control, not included.
Reviews
alansary
Great toy
This highly recommended little toy is remote controlled and brings Scoop [ the character ] to life with its variety of expressions, sounds and a motorized action as well as its uniquely stunt. The toy can be played in two different ways, one by using the remote control or just by pressing the the big B button on the side. Manually using the toy, you are able to use his exhaust to uplift his front bucket, and press the button on the side to play exciting expressions, sounds and lights. Also, there is also a simple remote allowing little kid to have control of the toy with buttons to forwards and backwards and also handle the back bucket. The remote has another cool feature , using the remote you are able to watch the toy to do the amazing 'Scoop Stand'. This amazing stunt allows the toy to use its digger to push itself up and lift the body in the air. This little toy was my favorite RC car for my kid among his small range of RC toys. [This review was collected as part of a promotion.]
AnthonyA4
Only scoops...no longer drives
We have only had this a few months and my son just went to play with it and all buttons on the remote only activate the scoop and it won't stop. Thought it was battery issue but new batteries don't help. He wants Santa to fix it so he can drive again.
Candice
Only scoops...no longer drives
Such a cute little toy!!!! My little boy is completely in love with Scoop. The toy itself is just ok....BUT, saying that, you have to play ULTRA soft with it. We had it two days and the sound stopped working, so we returned and waited for a new one to be shipped to us, second Scoop, the falling asleep mode kept going off so we couldn't even drive it!!!! Third times a charm....I hope! It's working great, be wary that if you have hard wood floors Scoops bucket gets caught on the edge of rugs. Scoops trick can only be done on the wood or super flat surface. He falls over and won't hold the straight up position on a rug.
krazeeusa
Doesn't do much for the price
My 2 y/o son is fascinated with this toy--his favorite thing ever is a tractor right now. My issue is that I spent all that money and it doesn't do a whole lot. Toys are over priced these days. :-( Bottom line is, we do a lot for our kids and don't put limits to their happiness.
Himanshu
Best Construction Toy !!!
My son loves construction equipment's and this is his favorite construction toy ever. He likes the scooping up small toys into the bucket and fills his dump truck. It's easy to control with the remote as it has very simple buttons and is just the right size for kids. The R/C super scoop is slightly slow on a carpet floor but works great on the tile/wooden floor. It's very sturdy, durable and well made too, so it won't break after just a few uses. The only thing lacking with this digger is not being able to control it left to right, you can only drive it forward and backwards. I received the product for free in exchange for my honest opinion. I would definitely recommend the R/C Super Scoop to anyone with kids that love the construction vehicle. On a side note, I was impressed with the packaging. I didn't expect the toy to be boxed in an extra box with the product name on it. [This review was collected as part of a promotion.]