Fisher-Price Little People Surprise & Sounds Home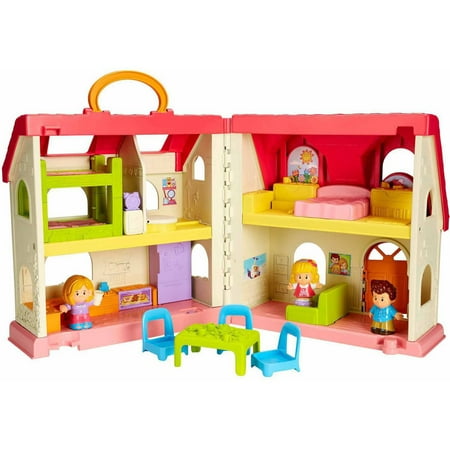 MSRP :

$39.97





Sale :

$39.82

Sold & shipped by Walmart
Product Description

Additional Information

Reviews
Product Description
Welcome to the Little People Home! This house is one busy, noisy, happy home — just like yours! The day starts when you press the alarm clock to flip Emma out of bed and hear fun sounds like "Rrring!" and "Time to get out of bed, sleepyhead!" Slide the bluebird to see the kitty pop up in the window on one side — and what the weather's like on the other. Lift the toilet lid to make it flush (woosh!) and activate other silly sounds and phrases. Open the oven and refrigerator — see the lights go on and hear fun phrases! Press the music player for three fun songs — feel free to dance along! And when it's time for bed, put Mom, Dad and Emma in their beds, close up the dollhouse (everything stores inside!) and say "goodnight" until next time!
Additional Information
With the Little People Surprise & Sounds Home, you can bring all the fun, sounds and joy of a real home right to your house. Or grab the handle and take it with you on the go-go-go.
Little People Surprise & Sounds Home:
Age Range: 1 - 5Y
Welcome home open & close the front door!
Kids discover more than 50 sounds, songs & phrases!
Press on the alarm clock to flip Emma right out of bed & hear fun sounds!
Open the oven & refrigerator doors for lights & phrases!
Lift the toilet seat for flushing & other silly sounds!
Press the music player to activate fun songs!
Slide the bird back & forth to play peek-a-boo with the kitty or get a weather report!
Opens up for all-around play
Everything stores inside just grab the handle when you're on the go-go-go
Reviews
Liddy
Great but needs color change
I teach afterschool and we have one in each classroom for the 4-6 year olds. EVERYONE loves these dollhouses including us adults because they're sturdy, have an equally sturdy handle and can lock close. They been banged up a lot and are just fine. I encourage the parents to buy one to gift their kids and the ones with boys just look at me like I'm nuts. "It's pink, it's for girls" they say and then the boys get self-conscious playing with them. No, every child ought to own one because they're super fun but the colors seem to be a mental block for parents! Mattel, please consider changing them.
DenaR
So fun!
I bought this for my 1 year old for Christmas not knowing if she would use it or like it. She Loves it! It's one of her favourite toys :)
Nanny97
She loves it!!
Bought for my granddaughters 3rd birthday. She loves it. Great quality and endless fun!
HudsMom
A Great Toy!
My son loved the Little People Surprise & Sounds Home. As soon as this toy arrived he was trying to get it out of the box. He just turned two and this is a great toy that will grow with him. He likes to open it up and play house with it. One of the things that I liked best about this toy was the music. My son loved dancing along to it. This toy really holds his attention for awhile. The phrases that going along throughout the different rooms is really nice. After, closing the toilet it says, "lets wash our hands." I like how it's not only fun but a learning activity at the same time. My son also liked the little people figures. He is able to carry them around in his pockets. Besides the great music my sons favorite thing about this toy is the oven. He loves being able to open and close it. The toy is very sturdy and made very well. We will be able to play with this toy for a very long time. Overall, this is a great toy and I would highly recommend it!. [This review was collected as part of a promotion.]
Grangiftz
Little People House
Excellent preschool toy...my one year old granddaughter loved this for Christmas...a little spendy for its size but it is a good product...the toilet, alarm clock, fridge and stove all make noises accordingly...the alarm clock also lifts up the little beds to lightly toss the people out of them...very tactile and audio fun!! This gramma had fun playing with it before wrapping it...note: take it all out of the box and ties and somehow find a way to wrap it so they don't have to wait for adults to put it together...required a Phillips head screwdriver to attach the two portions together (hinged). Luckily I had also purchased the Little People Car (a mom and toddler come with the car) so she could play with some thing right away while her mom got the house out of the box and put it together for her....