Thomas & Friends TrackMaster Thomas & Percy's Railway Race Set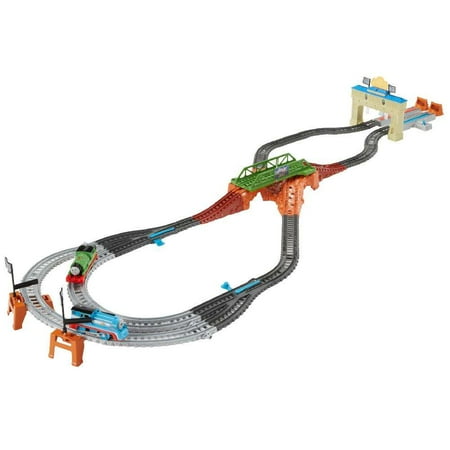 Sale :

$23.78

Sold & shipped by Walmart
Product Description

Additional Information

Reviews
Product Description
Get ready for an exciting race around the railway as Thomas and Percy compete for first place! Inspired by the Thomas & Friends DVD, The Great Race, the TrackMaster Railway Race Set from Fisher-Price delivers fun, fast thrills with cool motorized action! Children will love watching two of their favorite characters head for the bridge, which bursts apart to make way for the speeding engines. Once Thomas and Percy complete the full loop and the first engine crosses the finish line, a checkered flag and fireworks pop up from the gantry! For even more racing fun, this train set includes a uniquely designed racing Percy engine, and a special streamlined racing Thomas, so children can experience high-speed suspense as the engines go head-to-head in a rousing railway race!
Additional Information
Thomas & Friends TrackMaster Thomas & Percy's Railway Race Set:
Age Range: 3Y+
Inspired by the Thomas & Friends DVD movie, The Great Race (DVD sold separately )
Includes uniquely designed, racing-themed Thomas and Percy motorized toy trains
Track layout is over 6 feet long with two separate tracks for head-to-head racing,
Layout features curved section of track with flags that wave as train passes
Two brake-tracks allow you to start the trains at the same time
Bridge automatically bursts apart to make way for speeding trains (bridge can be reset by pushing it back together)
As first train crosses the finish line, a checkered flag appears to signal the winner
Plastic "fireworks" display also pops up from gantry as trains cross finish line
Reviews
MamaOwl
Must Have for Thomas the Tank Engine Fans!
My kids recently received a TrackMaster Thomas and Percy Railway Race set. The set comes with a lot of pieces, but is simple to put together. The tracks are labeled on the bottom with letters/numbers and the instructions have easy to follow illustrations. The kids really enjoyed being able to help construct the set. The tracks are well made, yet light weight and easy to take apart and put back together (which is great for storage when play time is over). Thomas and Percy are both motorized which allows them to glide along the tracks with ease, so make sure to have some AAA batteries on hand! The colors are nice and vibrant and Thomas and Percy can go pretty fast! This train set is a lot of fun to play with, my 3 year old loves racing against her sister and gets a kick out of the bursting bridge and little fireworks at the end of the track. So far Percy is her favorite. I would definitely recommend this train set to other parents with children who love Thomas the Tank Engine! [This review was collected as part of a promotion.]
cosmictoys
Wonderful train set.
My son absolutely loved this set. It was much larger than I had expected. Set up was a little complicated but once set up it stayed together nicely and he could play independently without it falling apart. At first we didn't have enough AAA batteries for the trains he still loved playing with it and once the trains were going he must have raced them 100 times in a row. Excitement each time about who would win! Really a fun race track that I know will get enjoyment everytime I pull it out. [This review was collected as part of a promotion.]
Naugle6
Finally a toy that holds their interest.
I received this free through the play rate review. My kids absolutely love this Thomas & friends railway race set. My daughter is 4 years old, and the usual toys do not hold her interest for long. She has been playing with this since her dad set it up. She loves racing her older siblings. It runs quietly. It was easy to set up. I would absolutely recommend this for any train or Thomas enthusiast. [This review was collected as part of a promotion.]
PierceHs
Great for Children!
This is a great and really easy train set! It is easy to assemble and fun to play with! The two different tracks for the trains make it able to play with other trains as well! [This review was collected as part of a promotion.]
LotsOfTrainsHere
Fun Racing Train Set
This is a great set. It went together very easily and quickly (even more quickly once I realized the track numbers referenced in the instructions are actually molded on the back of the track pieces) and has stayed together despite plenty of racing by two crazy boys. It does have 10 stickers that needed to be applied as well. The trains start off next to each other and the race starts when you throw a switch. This is probably my only complaint - there is a separate switch for each train to start. My 6-year-old is a little quicker on the draw than my 3-year-old, so his train tended to win more often. However, in my own trials (when I flipped both switches simultaneously) I found that either train could win on either track, which I did really like. The trains start off, go up a hill, make a loop, and come back to the starting point. It looks like the trains are going to crash, which adds to the drama of the set. My kids loved that when the trains cross the finish line fireworks go off! [This review was collected as part of a promotion.]