Bounce-Off Challenge Fun Game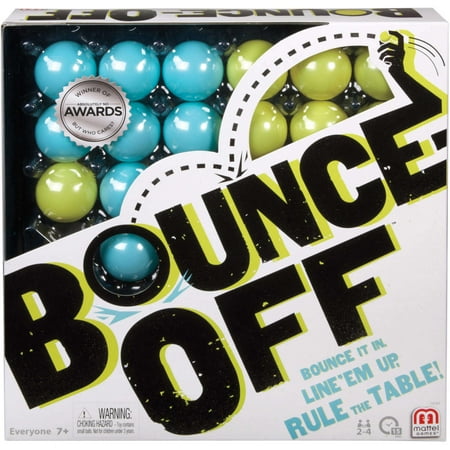 MSRP :

$19.82





Sale :

$6.88

Sold & shipped by Walmart
Product Description

Additional Information

Reviews
Product Description
Ready for a Bounce-Off? Its the ultimate head-to-head competition game for young adults and families. Flip over a challenge card to determine the pattern. Then, race to recreate the pattern by bouncing balls into the grid. The first to complete the pattern wins the card and the first to earn 3 cards wins the game. Includes 9 challenge cards, 16 balls and a game grid. For 2-4 players. Ages 7 and older. Features: Bounce-Off is the ultimate head-to-head competition game!
Additional Information
Bounce-Off Challenge Fun Game: Age Range: 7Y+ Race to recreate the pattern on the challenge card by bouncing balls into the grid The first color to complete the pattern wins the card! Earn 3 cards to win the game! Includes 9 challenge cards, 16 balls and a game grid For 2-4 players
Reviews
MissieLyn
Bounce Off
I recieved this game to try for free thanks to Mattel, At first I wasn't quite sure if my family would enjoy the game but I was pleasantly suprized at just how much fun it really is. The object of the game is to bounce the balls into the tray in an effort to make them match the game card that you select, For the younger kids this was a bit of a challenge so we let them make up their own rules which was just as much fun for them. For the older kids and adults this was alot of fun seeing who had the best hand /eye coordination and it was alot of fun seeing if all the trash talk match their game play. I was a little disappointed at the lack of challenge cards but if you are creative you can come up with some great ideas to help make the game more challenging, we did this by increasing the distance from where we threw the ball as well as other silly things like you must throw with your non dominate hand etc. It was difficult but made for alot of laughs. Overall this game is alot of fun and a great party game.
freebiegrl
Bounce-Off Game
I am trying Bounce-Off™ for free, thanks to Mattel. * I received this product in exchange for a review. I was not compensated for my review and all my opinions are my own, based on my personal experience with the product. I am disclosing this in accordance with the Federal Trade Commission's 16 CFR, Part 255: Guides Concerning the Use of Endorsements and Testimonials in Advertising. * We are always looking for things to do as a family that involves spending time together away from the tv, computers, tablets, phones ect. When I was asked if I would like to try Bounce-Off I was excite to school my kids with my skills I learned many years ago:). We had so much fun as a family trying our best to make the pattern with the balls! This is an awesome non electric game! We have enjoyed it so much! I even took it to one of our scout game nights and shared it! I highly recommend it! No matter tour skill level at bouncing balls you are sure to enjoy the time spent together! SO GET TO BOUNCING! This would make a great birthday, holiday or anytime gift!
ndnmommy
Bounce-Off into family game time
I have 3 daughters 8, 11, and 15 who really do not get along with this game as a new exception. Lots of laughs as we try to make the patterns, challenging "the winner" when playing 2 at a time. Little tricky to learn how hard to bounce the ball, loads of fun laughing with and at each other as we gain experience. The only down side is it can get rather loud between bouncing off a wood table or from the laughter that ensues as we over shoot the board. A must have if you are tired of sitting around a board counting fake money.
NoWay2015
Bounce Off - Cool Game
Got Bounce Off for my grandkids (ages 8 and 9) to play with their friends. The game can be played with 2 or 4 players and has easy-to-understand 5-step instructions so you can start playing almost instantly (a plus when impatient kids are involved!). The goal is to match the pattern on the pattern card by bouncing balls into the tray. The player or team to match 3 cards wins. There are also 2 ways to play: all players bounce their balls at the same time to match the design on the pattern card (grandkids like this way when just the 2 of them are playing); or each player bounces one ball at a time on their turn (this is better when 4 are playing, 2 players on a team). The adults at our house like playing Bounce Off too so we have a tournament going with the grandkids. AND, since there's very few pieces, the game is easy to put back in the box when not in use!
fungame
Bounce Off - Cool Game
fun for the entire family. Quick and doesnt have a ton of rules easy to play without adults