Insten Quick Change Tune Clamp Key Trigger Capo For Acoustic Electric Guitar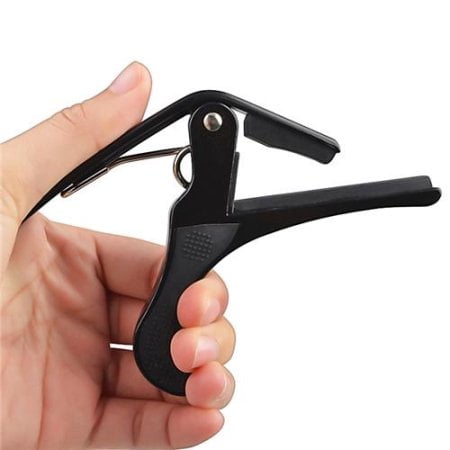 MSRP :

$20.37





Sale :

$4.99

Sold & shipped by eForCity
Product Description

Additional Information

Reviews
Product Description
Introductions: Do you want your beloved guitar to give you a more reliable and excellent performance? Do you want your favorite guitar give varied and beautiful tones? If so, this Guitar Capo is your best choice. It has specially designed used for altering the pitch of your guitar, fitting comfortably in your hand. This capo allows you easily to change the guitar tone to a higher pitch or lower one so that you can play your music without moving your fingering. Designed in small size and durable material, It is suitable for guitars of different widths. And the easy operation and quick release design can hold the strings nice and tight. What a great capo! Insten Quick Change Tune Clamp Key Trigger Capo For Acoustic Electric Guitar Insten Quick Change Tune Clamp Key Trigger Capo For Acoustic Electric Guitar
Additional Information
Insten Quick Change Tune Clamp Key Trigger Capo For Acoustic Electric Guitar
Reviews
Tommy
Why the build-up
I have played guitar since I was 13 years old (I am now a senior citizen) and I find this product to be well built for the targeted job. It is sturdy, yet easy to use. This I believe is important (to me) at any time, but as I get older and having diabetes, it means my hands (with a neuropathy problem) can still play and advance up the neck of my guitar with minimal difficulty. I have used many kinds of capos and find this product superior to almost every one I have ever used. For the money, it flat beats all the competition!
kitestring
GREAT SURPRISE
This capo is a great product at a very good price. I couldn't believe how well it was made. I have seen capos that were much more expensive that weren't half as good. I am completely satisfied.
Russ1218
Quality at low price
Have been using this capo for about 6 months now. Easy one hand use. For the money you can't go wrong.
Prodigy
A Capo for your troubles
So, I wasn't sure what this was for. I just knew I needed one. Then, all of a sudden, I saw the need. Trigger the key I want, and the cover I want to play is all for me. Nice! And so affordable. Super duper!
Gary
snug fit, strong spring, easy to use
snug fit, strong spring, easy to use