SAMSUNG 50" Class 4K (2160P) Ultra HD Smart LED TV UN50MU6070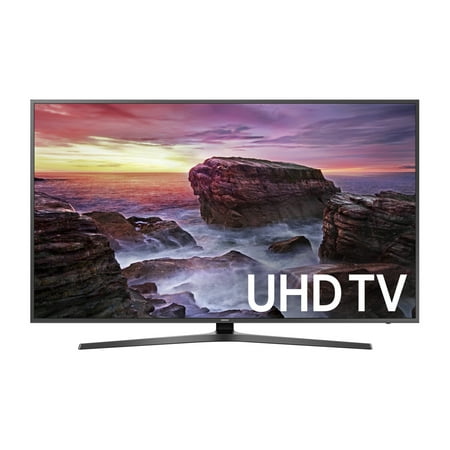 MSRP :

$1274.99





Sale :

$599.99

Sold & shipped by Datavision Computer Video
Product Description

Additional Information

Reviews
Product Description
The Samsung MU6070 Ultra HDTV redefines the viewing experience by producing a colorful High Dynamic Range (HDR) picture. Our new Smart TV user-interface (UI) provides faster access to your favorite streaming content choices and more.
Additional Information
SAMSUNG 50" Class 4K (2160P) Ultra HD Smart LED TV (UN50MU6070)Key Features:Diagonal Screen Size: 49.5"Backlight Type: LEDResolution: 2160PEffective Refresh Rate: 120HzSmart Functionality: yesSmart Connectivity: TV to mobile / mobile to TV mirroring Connectivity:HDMI Inputs: yes, 2USB Ports: yes, 2Bluetooth: yesIndustry Certifications:4K Ultra HD ConnectedIncluded Accesories:Standard remote control
Reviews
MJRF
AWFUL
I bought this TV six months ago. After having the TV for the first five months, I noticed the screen was darker on the left side. Since the television is less than a year old, it is still under warranty. Within the time it took me to submit a request to Samsung to have a service professional come look at the left side screen, the entire screen went black. Apparently, this a VERY common issue with this particular model, or so I see after reading multiple reviews. Anyway, the company in which Samsung has contracted to assist with repair is awful. The supposed part that is needed to fix the TV is "backordered" then "out of stock". I am a huge supporter of Samsung products (I am on my fourth Samsung phone over the years, we have two other Samsung TVs, and laptop) but I am SO disappointed with the quality of this TV as well as their "solution" to resolve the issue.
lkcan2
My Favorite TV ever!!
I bought this TV for my bedroom because my old TV was too small. I absolutely love my new Samsung TV. It was extremely easy to set up. It has awesome picture quality and I love the Smart TV features it has, along with all the apps. My husband can now watch FOX NEWS all day on his 65" living TV, and I just go to my bedroom and watch all the Law & Order SVU episodes I want to without hearing him complaining. The sound quality is excellent and I don't need to have a sound bar in order to hear the TV. I also have a streaming device hooked up to this TV and it works flawlessly. I highly recommend this TV to anyone plus I got it for a ridiculously great price from a local store. You will love this TV as the 4K and HD quality is excellent, as well as the sound. It is so hard to believe what an absolutely incredible TV this is. I recommend this TV to everyone who loves high quality.
andyperr
Needs more immediate instructions
I recently bought a 50" Samsung 'smart' ultra-high definition TV ( model UN50MU6300FXZA). I found the lack of immediate, reasonably complete instructions very frustrating. Only when I downloaded the complete instruction manual from the Samsung website was I able to understand and adjust needed functions. For instance, the overall brightness of the picture was initially poor. Only when I learned how to use the menu to get to the picture type (e.g., 'standard', 'movie') was I able to get close to what I had experienced on past Samsung TV's. My initial attempts with the voice command of 'brightness' failed to allow much adjustment. As TV's get more and more complicated it will be harder and harder for an ordinary, non-technical user to figure things out without the detailed manual. (I finally resorted to printing out the entire 138 page detailed instruction manual to have as a handy nearby reference for future problems like the one I initially encountered.)
thisnicknameisstupid
Great for Gaming/Netflix
I mainly use the TV for PS4 games (Fortnite/COD) and Netflix. Image quality is unmatched. TV turns on almost instantly. Plenty of ports (HDMI, USB, and the old school components for my N64). NEED two-three people to easily assemble in 5 minutes due to size. I can also connect my Samsung phone and Samsung chromebook, but don't utilize that feature often.
Marlee17
This is our first "Smart" television.
Luckily our son-in-law could hook up our tv to netflix and amazon prime. Once that was done, it was easy to use. We have enjoyed all of the features available to us. Great picture.