SAMSUNG 50" Class 4K (2160P) Ultra HD Smart LED TV UN50MU6070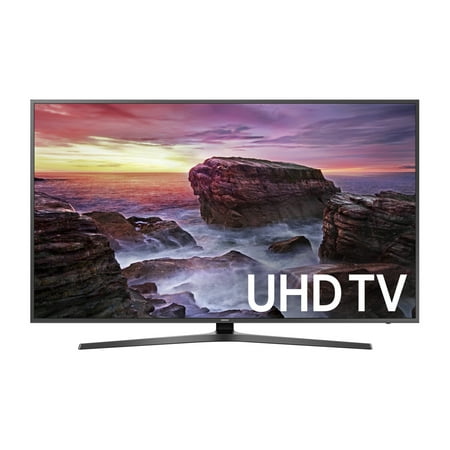 MSRP :

$1274.99





Sale :

$599.99

Sold & shipped by Datavision Computer Video
Product Description

Additional Information

Reviews
Product Description
The Samsung MU6070 Ultra HDTV redefines the viewing experience by producing a colorful High Dynamic Range (HDR) picture. Our new Smart TV user-interface (UI) provides faster access to your favorite streaming content choices and more.
Additional Information
SAMSUNG 50" Class 4K (2160P) Ultra HD Smart LED TV (UN50MU6070)Key Features:Diagonal Screen Size: 49.5"Backlight Type: LEDResolution: 2160PEffective Refresh Rate: 120HzSmart Functionality: yesSmart Connectivity: TV to mobile / mobile to TV mirroring Connectivity:HDMI Inputs: yes, 2USB Ports: yes, 2Bluetooth: yesIndustry Certifications:4K Ultra HD ConnectedIncluded Accesories:Standard remote control
Reviews
Ktownskier
I year old and still going strong
We live in the mountains of Colorado. The only TV we get is Satellite or streaming over DSL. (I know, poor, poor, pitiful me to quote Warren Zevon) Even with all the pitfalls of Dish and DSL, we have had great results with the TV. My first Samsung, was a 42" Flat screen I bought almost 20 years ago from Best Buy. I paid over 2K for it. Man, was it amazing for the time (I still have it in the workout room, it still works fine) The 55" UHD/4K Smart TV is another jump in progress like the my first Samsung. The picture is so clean, the blacks are so black, the motion is so much smoother. (I do sometimes with I had gone with the 240 refresh rate, but I couldn't justify the additional expense at the time) My next TV will probably be the new OLED TV's more than likely from Samsung. I can't wait.
Why do i need a nickname
Great Picture Quality
Have 3 of these model tv's 2 40" and a 55" i like almost everything about the tv's except the pre installed apps there is no way to delete them i only like having apps or programs i use on my devices i root my phones to delete the excess worthless unused apps off and spend hours every time i get a new computer deleting programs i will never use but i cant do that with my tv. MY REVIEW WOULD HAVE BEEN 5 STARS IF I COULD DELETE THE WORTHLESS APPS VUDU GOOGLE SPORTS GOOGLE MUSIC FANDANGO NOW DIRECT TV (WORTHLESS AS A TV PROVIDER AND A STREMING APP) HBO NOW ABC NBC NBC SPORTS HGTV SHOWTIME ESPN CBS CBS NEWS AMAZON MUSIC I DO NOT USE OR NEED THESE APPS AND IF I DID I WOULD CHOOSE TO DOWNLOAD THEM MYSELF
andyperr
Needs more immediate instructions
I recently bought a 50" Samsung 'smart' ultra-high definition TV ( model UN50MU6300FXZA). I found the lack of immediate, reasonably complete instructions very frustrating. Only when I downloaded the complete instruction manual from the Samsung website was I able to understand and adjust needed functions. For instance, the overall brightness of the picture was initially poor. Only when I learned how to use the menu to get to the picture type (e.g., 'standard', 'movie') was I able to get close to what I had experienced on past Samsung TV's. My initial attempts with the voice command of 'brightness' failed to allow much adjustment. As TV's get more and more complicated it will be harder and harder for an ordinary, non-technical user to figure things out without the detailed manual. (I finally resorted to printing out the entire 138 page detailed instruction manual to have as a handy nearby reference for future problems like the one I initially encountered.)
JonSC8121
Don't buy this tv
This is a sub par tv with a premium price. First, the picture quality is below average and has color accuracy issues. All of the faces look like they have jaundice. No amount of calibration can make it work well. I wish I could go back in time and not buy this tv.
Sgilson585
Stoped working after only 1 year
TV won't turn on anymore and I've only had it for one year.