SAMSUNG Chromebook 3 11.6" Intel Celeron, 16GB eMMC Storage 4GB Memory - XE500C13-K04US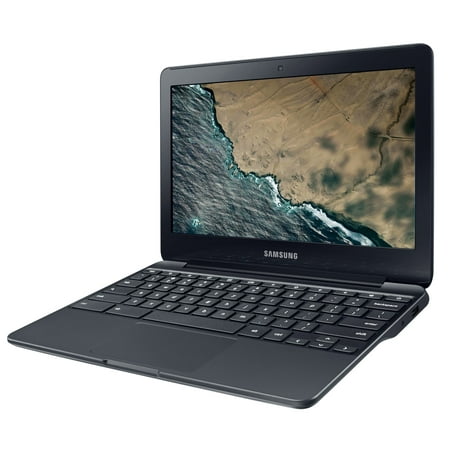 MSRP :

$189.99





Sale :

$

Sold & shipped by Walmart
Product Description

Additional Information

Reviews
Product Description
Celeron N3060 / 1.6 GHz - 4 GB RAM - 16 GB eMMC - 11.6" 1366 x 768 (HD) - HD Graphics 400 - Wi-Fi - metallic black
Additional Information

Samsung Chromebook 3 XE500C13K - 11.6" - Celeron N3060 - 4 GB RAM - 16 GB SSDKey Features:
Intel Celeron Processor
4GB RAM
11.6" LED display
Up to 11 hours of battery life
1.60GHz Speed
Energy Star Certified
Reviews
Thetruththatsit
Dell chromebook 11
Loved how light it is and fast the battery seems almost endless this is my first laptop outside windows operating system and im quite impressed though it takes some getting used way differnt than windows but yet still very happy with purchase
MomKnows
Great little chromebook
I read the only review on here, giving it a 1. I almost walked away. I've had 2 HP laptops and both had keyboard issues, so I wasn't going to buy another HP and this was all my store had in stock. Google the model. It has an overall rating of 4.5 stars at Best Buy and other locations. The first review was someone who thought chromebooks were laptops. This sleek little chromebook is perfect for my high school student, since the schools here use Google Docs. If you use Microsoft Office, get an actual laptop. This is a glorified tablet with a keyboard. The cover is textured, which I love. It is very lightweight, and charges quickly. It is not touch screen, and there are no special bells & whistles. If you're just looking for a cheap option to let the kids do research papers & homework without using your personal computer or laptop, this is it.
CiCi
Nice, cheap laptop but prepare for some sacrifices
This is a pretty neat little laptop for the price. It works smoothly with the intel processor and I like how quickly everything loads; however, I find one major problem with this laptop and that is its build quality. Again, you do get what you pay for considering it's a cheap laptop for approx. $200 (that's with tax added) but I really didn't like the feel of the keyboard. Not only that, but some of the keys didn't work properly like the shift key or the space bar. This really became annoying especially considering I'm a writer and a good, sturdy keyboard is something I value in laptops. I was going to return my laptop, get my money back and then just purchase another Samsung Chromebook with the hopes for a better keyboard because I did like the laptop overall, but I ended up going for an HP Chromebook 11.6 instead which, as it turns out, is practically the same laptop but has a much better build quality and nicer look to it.
montekat
Awesome Chromebook!
I bought this as a replacement for a netbook which I used for travel. It had become slow and clunky. After reading the reviews here and on other sites, I decided to give it a try. I only use it online, so this was perfect for me. I absolutely love it. As soon as I open the cover, it turns on and I enter my Google password. I frequently use Chrome on my home laptop, so this was easy to get used to. I was a typist for many years and found that the keyboard was very easy to use. Since my hands are small, it is a perfect size. Initially I was unable to use the print feature, but with some research, I figured it out. Also, I found out that I have to turn on the PlayStore feature to be able to download apps. The battery is long lasting, I have been able to use it on battery for several hours and only need to charge it every other day. All in all, I am very happy with this Chromebook and would buy it again.
Bkelly217
Great for the price!
I've always owned Apple computer products, but have been having issues with my MacBook. I didn't have tons of money at the time for a completely new laptop, so I went to Best Buy to check out chrome books since I know they're more inexpensive. I definitely think this product is 100% worth the price you pay for it. This laptop is small in size (but not too small), so it's perfect for students or frequent travelers. The obvious down side, is that there is no option for Microsoft Office. Google offers its own line of free doc website such as Google Docs and Sheets, so you can still create documents and share them. This is definitely an amazing option for frequent internet browsers, students, or just anyone looking for an inexpensive computer. This product is lightweight, charges quickly, and I haven't experienced any software problems!