Samsung Galaxy S7 Unlocked 32GB GSM and CDMA Smartphone, Black Onyx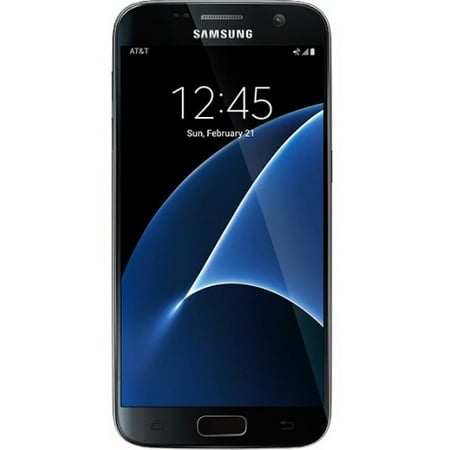 MSRP :

$522.53





Sale :

$419.99

Sold & shipped by Walmart
Product Description

Additional Information

Reviews
Product Description
SAMSUNG HANDHELDS / GALAXY S7 / 32 GB / BLACK / ANDROID MARSHMALLOW / 5.1IN AMOL
Additional Information
Connect with business associates with this Samsung Galaxy S7. The KNOX platform provides optimum mobile security, and the camera's advanced sensor helps it capture images in low-light conditions. This Samsung Galaxy S7 is compatible with Samsung Pay, so you can make mobile payments directly from the phone, and it has 32GB of storage for files, pictures and business ideas.
32gb Black Onyx Gsm & Cdma
Android 6.0 Marshmallow
4G LTE speed
5.5" touch screen
Bluetooth
12MP rear- and 5MP front-facing cameras
Compatible with most major US carriers, including AT&T, T-Mobile, Verizon, Sprint and US Cellular
Qualcomm Snapdragon 820 processor
Quad-core 2.15GHz processor and 4GB of RAM deliver outstanding overall performance for opening and running applications, flipping through menus, running home screens and more.
Android 6.0 Marshmallow OS
Compatible with CDMA and GSM carriers, including Verizon Wireless, Sprint, AT&T and T-Mobile
Also compatible with prepaid SIM Kits, including Verizon Wireless Prepaid, Cricket Wireless, Tracfone, Net10, H2O, GoPhone and Simple Mobile.
4G LTE speed
Provides fast Web connection for downloading apps, streaming content and staying connected with social media.
12.0MP rear-facing camera for full HD pictures and videos
The world's first dual pixel smartphone camera makes capturing low light photos a breeze. Also includes a front-facing 5.0MP camera for self-portraits and video.
32GB internal memory plus microSD slot
Provides plenty of storage space for your contacts, music, apps and more. Expand storage up to 200GB by adding a microSD card (sold separately).
Cloud support lets you access your files anywhere
Store your photos, videos, documents and other files on Drive for secure access across multiple devices. Fees may apply.
Samsung KNOX" platform
Industry-trusted built-in, defense-grade mobile security.
Reviews
Zaneh
Great phone for decent price
I am on my 4th week trying this phone and I gotta say I am very impressed of how they kept this phone in the loop for a while. When I'm through with an exercise I can check my heart rate to see how fast or slow it is. This device has a stunning glass cover on the back of the phone that really makes it feel like this phone was meant to be around a very long time. I switched from an iPhone SE To this and it is amazingly more bigger and customizable than any other phone I have had. The only things I have to say had about the phone is the performance and the camera. The iphone camera went smooth across any lighting and didn't drop framerates. This is a kind of a pet peeve of mine but I quickly got over it because it made up with a more detailed studio mode. The performance is a little laggy at times and it kinda gets on my nerves a little, but that's what you would expect with an older phone. Overall I give this device a big thumbs up for all the easy access and creativity that was put into this phone.
MerryChristmas
Don't buy from Marketplace retailers
There are several models of the s7. I specifically wanted to purchase the 930U (Unlocked)dual sim. Which is the phone that was advertised by Walmart. I was sent a 930V(Verizon) single sim. The Marketplace retailer does not have a phone number for customer service, and could not be returned to Walmart. I emailed them several times before they got back to me and went round and round with the differences in models. I understand the all Verizions are considered unlocked, but I needed the capability of either GSM or CDMA. 930V is only CDMA. So eventually I was issued a return number and not penalized a 15% restocking fee. I think ordering directly from Walmart is fine, but be cautious of Walmart Marketplace Retailers, you are on your own if there is a problem!
jostacon
Good even after 3 years
It is almost 3 years and the phone is still in great shape. The last oreo update however is causing heat issues on my phone in navigation apps such as waze and google maps.
Chelseysmom76
Great Features workmanship not so great!
Bought this phone a little over a year ago and not long, maybe a week or two after getting had to send in for a new one because the internal unit went out. Now 13 months later the charging port is going out and I paid way to much for this to be happening.. PERIOD!
EMS01
Not very water resistant
The phone screen stopped working after being partially submerged in 3" of water for about 20 sec. It certainly didn't live up to 3ft for 30min. The water resistance feature was one of the main reasons I went with Samsung. My S5 seemed to hold up to water much better, as I was able to rinse it off from time to time. However other than this the phone was fine.