SAMSUNG Blu-ray & DVD Player with 4K UHD Upscaling, WiFi Streaming - BD-J6300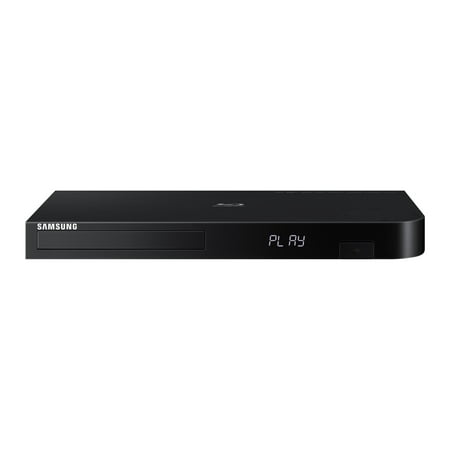 MSRP :

$149.99





Sale :

$

Sold & shipped by Walmart
Product Description

Additional Information

Reviews
Product Description
The Samsung BD-J6300 Blu-ray & DVD Player with 4K Ultra HD Upscaling 3D and Wi-Fi Streaming elevates your viewing experience with the ultimate entertainment technology. Watch your favorite Blu-ray movies in Full HD 1080p resolution with crystal clear audio and enhanced interactivity. And with 4K Ultra HD upscaling, you can also watch your favorite content at near UHD quality (almost four times the resolution of full HD). Connect this smart-enabled Samsung Blu-ray & DVD player via built-in Wi-Fi or via an ethernet connection, and then start streaming content from your favorite services like Netflix, YouTube, and more.
Additional Information
Samsung BD-J6300 Blu-ray & DVD Player with 4K Ultra HD Upscaling 3D and Wi-Fi Streaming

Key Features:
Smart Enabled - Now you have access to even more great content through Smart Hub. The Samsung BD-J6300 Blu-ray & DVD player lets you access all the great content of a Smart TV without actually owning one. Explore and enjoy hundreds of apps, including popular apps like Facebook, YouTube and Netflix. Smart Hub provides a world of entertainment, information, social networks and more. It's never been easier to stay entertained and connected from the comfort of your living room.
4K Ultra HD Upscaling - Watch your favorite videos and films upscaled to near-UHD quality, and experience four times the resolution of Full HD. With life-like details that will make the images seem realistic, this Samsung Blu-ray player brings life right into your living room.
Built-in Dual Wi-Fi - With Dual Band Wi-Fi you can easily connect to your home network with a faster network speed and more stable performance.
3D Blu-ray playback - Bring home a more immersive and spectacular 3D experience. With Full HD 3D, your 3D home entertainment will be more exciting and vivid than you ever imagined, with powerful features to maximize your enjoyment. Immerse your senses in the new reality of 3D HD.
USB Connectivity - External HDD Connectivity allows you to connect your external storage directly to your Blu-ray Disc Player via USB and quickly access video, audio or images. It's designed to handle a wide range of content, so you can enjoy all your home movies, downloaded music and holiday photographs all in the comfort of your living room. Just connect, sync and enjoy.
AllShare DLNA Capability - Now you can wirelessly stream content that's stored on your home network directly to your HDTV.
Surround Sound Decoders - Player includes Dolby Digital 7.1 Channel, Dolby TrueHD and DTS-HD for an immersive listening experience.
Playback formats - Includes BD-ROM; backward compatible with DVDR/RW, DVD-Video, CD-R/RW, WMV and JPEG formats for versatile media choices.
HDMI Input and Output - A high-speed HDMI cable is the only connection that can deliver a Blu-ray experience with a full 1080p picture and digital surround sound (HDMI cable not included.)
Includes:
Blu-Ray Player
Remote Control
2 AAA Batteries
User Guide
Specifications:
Color: Black
Anynet + (HDMI CEC): Yes
BD Wise: Yes
AllShare: Yes
Screen Mirroring: Yes
DOLBY Digital: 7.1 Channel
Dolby True HD: Yes
DTS-HD: Yes
UHD Up-Scale: Yes
Wireless LAN Built-in: Yes
Wi-Fi: 1X1 Dual band
Inputs/Outputs: 1 x HDMI Output, 1 x Optical Digital Audio Output, 1 x USB 2.0, 1 x Ethernet (RJ45/LAN)
Playback Formats: AVCHD 1.0, WMV, JPEG, MVK, MPO, MPEG-2, MPEG-4
Playback Media: Blu-ray Video, 3D Blu-ray Video, DVD-Video, DVD-R, DVD-RW, CD, CD-R, CD-RW
Color System: NTSC
Power Consumption (Standby) (W): 0.4
Power Consumption (Operating) (W): 18.5
Rating Voltage: AC110-120V ~50/60Hz
Power Cord Type: EP2
Primary Capacitor Rating Voltage: 420V
Dimensions: 14.2" x 0.4" x 1.6" (W x D x H)
Weight: 2.6 lbs.
Warranty: One Year Limited Manufacturer Warranty
Reviews
Drac1026
Best Blu-Ray player ever
I am so thrilled with this blu-ray player. I have been wanting one for over a year now, and I recently started researching different players. I picked this one because it had many good reviews, including good reviews of the remote control. The picture is beautiful. It has very easy setup, except it didn't setup the portion to control my TV because it is an older RCA. It has streaming options and it's easy to navigate through the menus. The blu-ray has touch buttons on top of the box in the lower right corner, which are very sensitive. I didn't even see the buttons for about two days, lol, that's how nicely they are hidden. The remote is great. The buttons are firm, and easy to use. One of the best remotes I have ever had, and the reviews for the remote is why I chose this model over another player I had been looking at. I have been telling my friends about this blu-ray, and I already would buy another one if I needed it.
BLHoe
Easy to use DVD player
This blu-ray player is for an old lady with very poor eye sight and no knowledge of how new electronic devises work. It works perfectly with a new Samsung Smart 4K TV. The remote that comes with the blu-ray player has a TV on/ off button and volume control that works perfectly with out being programmed. The remote is very easy to use because of the highly visible controls and is also quite intuitive. To play a DVD or blu-ray disc all you need to do is take your dvd remote and turn on the TV, then turn on the blu-ray player, push the dvd tray button to open, put the dvd in the tray, push the dvd tray button again to close, then wait for the dvd to play. No extra looking up settings to a device to play. You can easy see what the dvd is doing because of the lighted front panel.
Amanda
Good buy
It was an easy setup and easy use. Netflix works great. Wifi works but likes to disconnect. It reconnects easily. Probably because we turn the unit off when not in use. Wish it came with an hdmi cord for the price.
David
Great Blu-Ray for the money
Love it. Lets me play my mpg videos via hard drive through the USB, and does a great job upscaling my older DVD movie collection. Also love that I can do my Netflix & Amazon Prime from the same machine. Streamlined my equipment and makes life much easier.
Eddie
Samsung Blue Ray DVD player
This DVD player is loaded with options, if you purchase it then with the pre-loaded applications you have access to Amazon Prime series and movies without having to have a roku or a smart hub tv. This is an excellent choice for a DVD with upscalling to near 4000K and being able to play a blue ray dvd, it is also backward compatible so it will play regular a dvd as well