Tom Clancy's Ghost Recon: Wildlands Day 1 Edition, Ubisoft, Xbox One, 887256015732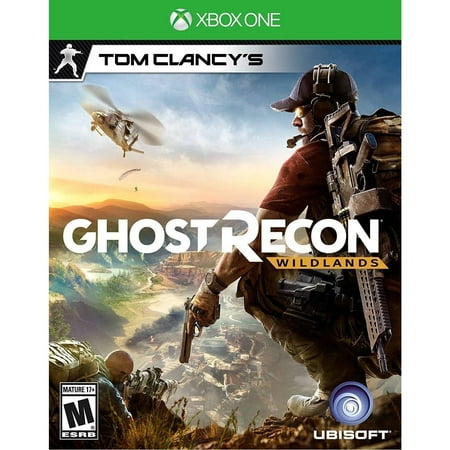 MSRP :

$59.99





Sale :

$39

Sold & shipped by Walmart
Product Description

Additional Information

Reviews
Product Description
Tom Clancy's Ghost Recon: Wildlands takes place in the expansive, gritty and vibrant backdrop of Bolivia, South America. The influential and vicious Santa Blanca Mexican drug Cartel has turned the country into a narco-state, leading to lawlessness, fear, injustice and violence. You are sent behind the enemy lines as a member of The Ghosts, a legendary US Elite Special Operations team, to create chaos that will destabilize and eventually break the alliance between the Santa Blanca cartel and the corrupted government.
Additional Information
THE ULTIMATE MILITARY SHOOTER SET IN AN OPEN WORLD - Giving you total freedom of choice to decide how to play.
YOU DECIDE YOUR ATTACK PLAN - Play every mission the way you want. Utilize stealth, execute tactical plans or come out guns blazing.
YOU DECIDE WHERE TO EXPLORE - the diverse Bolivian weather and terrain will impact your world and gameplay.
YOU DECIDE THE CARTEL'S FATE - Infiltrate enemy territories and take down cartel leaders to break the hostile Santa Blanca organization.
YOU DECIDE YOUR GHOSTS - Lead your Ghost team solo or join friends in seamless drop-in, drop-out co-op.
ESRB Rating: MATURE with Blood and Gore, Strong Language, Sexual Themes, Partial Nudity, Use of Drugs, and Intense Violence
Reviews
John
Glitch
If you're someone who likes to pay for a game that you can't really play, then this is for you. The game has TONS of glitches. For example, motorcycles don't move. You can hit the gas and the wheels will spin in place. Also, there are missions to steal supply planes for the "rebels", but you literally cannot complete them because they do not move - just like the motorcycles. And if you think "well customer service at Ubisoft will fix it" - they won't. I have contacted them several times in regards to these issues and all they say is that their "dev team" is working on it but they have no estimated time that these issues will actually be fixed. Overall, terrible experience. I wish I had never bought this game and wasted my $60.
premmom2002
Glitch
Bought this for son as a gift..i havent heard any complaints so i assume he is happy with it
as11
Geatest Game of the Year
I preordered this game on Boxing day last year. Upon receiving the game I enjoyed single player slightly but only through multi-player does one experience the true greatness of the game. It is for this reason I recommend anyone buy it!
TheDecider
All and All Great game!
Played the beta and was nothing on it that didn't catch my attention. Very big map with lots to do and explore. Up to 4 person co op this game is unlike any other
UX Deathstroke
COD Killer
Amazing campaign, fully 4 player co-op throughout.. Stunning visuals and game play.. Most definitely game of the year contender..