Bluestone Automatic Wrist Blood Pressure Monitor with Digital LCD Display Screen- BP and Pulse Monitoring with Adjustable Cuff and Storage Case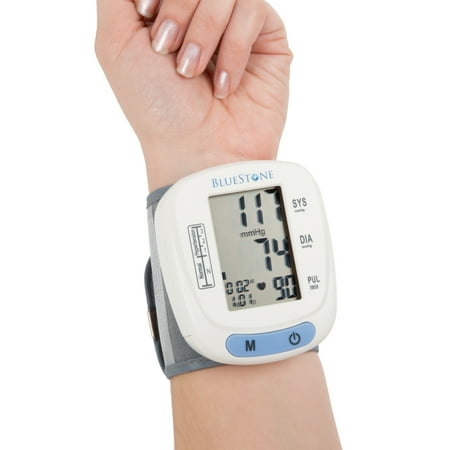 MSRP :

$19.95





Sale :

$13.99

Sold & shipped by Walmart
Product Description

Additional Information

Reviews
Product Description
The Bluestone Automatic Wrist Blood Pressure Monitor is designed to be a fully automatic, one button operation that is convenient to use for blood pressure monitoring at home or on the go. This monitor is an accurate device that allows storage for up to 120 readings on an easy to read LCD display. This automatic digital comfortably fits to your wrist to help to provide reliable results for blood pressure (systolic and diastolic) and pulse readings. It also even features a hypertension indicator that provides a comparison to standards set by the World Health Organization. SATISFACTION GUARANTEED: Bluestone is committed to providing the consumer with the absolute best price and value on all our products, which we ensure by applying a rigorous quality control process. NOTE: This is an exclusive product of Bluestone and ONLY Wrist Blood Pressure Monitors by Bluestone are GUARANTEED to be genuine IMPORTANT: Avoid buying counterfeit products and transacting with unauthorized sellers. Look for our logo on the packaging for every one of our products. Bluestone is a registered trademark protected by U.S. Trademark law and will be vigorously defended.
Additional Information
QUICK READINGS- This wrist cuff health monitor quickly measures systolic, diastolic and pulse readings and displays them simultaneously on an easy to read LCD display screen.

ACCURATE- The one touch fully automatic blood pressure monitor provides reliable readings. The monitor also features a hypertension indicator that provides a comparison to standards set by the World Health Organization.
MEMORY RECALL– The memory storage function of this blood pressure monitor helps you store and review up to 120 readings with date and time stamp recording.
USER FRIENDLY– A clear LCD Display with large digits helps make it easy to read and improves reading accuracy. The monitor is portable and fits comfortably to your wrist and has an included case allowing you monitor your health on the go.
PRODUCT DETAILS- Dimensions: Length: 3 inches, Width: 2.5 inches, Height: 2.5 inches. Fits Wrists up to 10 inches in Circumference. Requires 2 AAA Batteries (Not Included). Includes plastic storage case
Reviews
rphahn
Very accurate
I ended up in the ER 2 weeks ago and told I had very high blood pressure and needed to see a cardiologist. I made an appointment and had to wait 2 wks to see the cardiologist. So I ordered this wrist blood pressure monitor...It arived like in 3 days to the store and I picked it up . It was easy to set up and use. So for a few days I checked my blood pressure and it was high. So the morning of my first cardiologist appointment I took my blood pressure at 7:15am....it read 161 over 111... at the doctor office at 3pm they took my blood pressure with the cuff and it was 161 over 98.. So this wrist monitor is very accurate and I have recommended it to friends and family. It records your blood pressure reading and dates and time taken.
GJA150
Bluestone Blood Pressure Monitor
This cuff does well and is economical. It calculates fairly close to the doctor's readings...
RJ35126
Works great for me
Hard to believe some of the reviews here. Mine works just fine. I had a similar one ,a different brand, that was good for 4-5 years before it died. But the readings were very accurate. One thing I did learn from my old model, the very cheap dollar store batteries simply do not work well. Gives a false low battery reading even when the battery is near new.Since using Rayovac the batteries don't give me any problems.
therica
seemed good
These seemed good, we got 2 and tried them out to compare to our orange ones. For the $15 they seemed a nice option for traveling or whatever. The plastic construction seemed less sturdy but the very nicely long strap is great for anyone with larger limbs and wrists. But then we both started getting erratic readings while taking blood pressure in the proper position, basically a left-armed version of the pledge of allegiance hand over heart. We both got readings in the mid or high 130's and then a re-test a minute later would be under 110. That can be dangerous for someone who decides to take blood pressure meds thinking their blood pressure is very high over 130's and then they drop their blood pressure to life-threatening levels with the medication! For that latter reason we chose to return both units, sadly.
Howard
Excellent product and easy on the wallet!
The last 3 years we have been using the arm cuff monitor and I've had to exchange it many times because of all the off the wall readings I would get. I decided to try not only a different name brand, but go to the wrist cuff instead. I have been pleasantly surprised in not only it's consistent accuracy, but how much easier it is to use as well and I love the little carry case it came with, makes taking it off much easier. And it was much cheaper in cost than many others on the market.