Trademark Global Cordless Outdoor Motion Sensor LED Light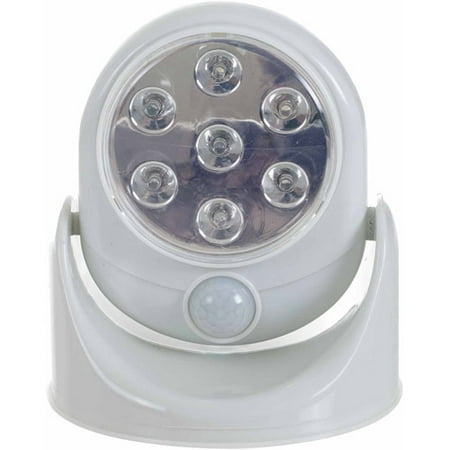 Sale :

$12.78

Sold & shipped by Walmart
Product Description

Additional Information

Reviews
Product Description
Keep any path to your home or office visible and well lit at night with this Cordless Outdoor Motion Sensor LED Light. This device is an easy way to brighten up an area without installing permanent lighting. The convenient outdoor motion LED light detects movement up to 10' away and has seven super bright LEDs that can be adjusted to any angle. It stays lit for 30 seconds when it senses any kind of motion so you have time to scan the surroundings. The cordless outdoor light is weather resistant and comes with the necessary mounting hardware. It's battery powered, so no plug-in cords are needed.
Additional Information
Cordless Outdoor Motion Sensor LED Light:
Has 7 super bright LEDs that can be adjusted to any angle
Weather resistant
Works both indoors and outdoors
Detects motion up to 10' away
Stays lit for 30 seconds
No plug-in cords required
Cordless outdoor light needs 4 AA batteries to operate(not included)
Mounting hardware included in the package
Dimensions: 5"L x 5"W x 6"H
Reviews
Gilda
Great Safety Item
I had purchased one of these items in the store itself and when I went back to purchase 2 more they were not available and had to order through the " Ship to Store" program. This is a great safety item.. I put mine near my outdoor steps, front and back and whenever I approach the area the lights go one. NO wiring involved which is a plus for a senior citizen living alone. A friend had her porch light stop working, needed more than a new bulb, and I got one for her as well and she is very pleased. If anyone approaches the house after dark, the light coming on is a great feature as well as a deterrent if someone is up to no good. I praise this item . When I could not find the item in the store I ordered online, from another source, what I thought was the same thing. What I got was a solar powered light, which is fine, but it must be put where the sun hits it to recharge. Not so the ones I bought from Walmart. Thank you.
posty
Fantastic little lights
Yes, you do have to open the back on them with a small phillips screwdriver. You can get a cheap set that has all differents sizes plus the regular head screwdriver. And for those people that complained they didn't work right out of the box, I think you may have been trying to get them to work while still having ample light from either your regular lights or too much sunlight. They need to be tested in the DARK! I have had 6 of these positioned throughout my house for over 5 years and they are still working great. Saves on keeping energy draining night lights plugged into your outlets and wasting the useage of the outlets. They come on and give you enough time to get where you're going in the dark. I also placed one in my guest bathroom so they don't have to fumble for a light switch in the middle of the night in an unfamiliar bathroom. Love these lights!
CharlieG
Look elsewhere - terribly poor quality
Just pulled my order from my file to verify that on August 20, 2015 I receivedthree of these sensor LED lights for a total of $44.13. One was placed at the front door, and it stopped working approximately 11 days ago. Changed batteries with newly purchased and tried all 8 batteries - the light is dead. Last night, 10-27-15, the backdoor sensor light was on. I thought another animal had triggered it because I have is positioned low on the fence so I know when to let the dogs back in at night. The light stayed on, and remained on 30 minutes after the dogs came back inside. I removed it from the bracket and brought it into the house - it never shut off. So I turned the button on the back-side to shut it off. I have turned it on several times during the day - and it remains on so the sensor has stopped working. Useless now except to use as a flashlight. The only remaining light of the 3 is still working at the garage door - I checked several times. I purchased a set of 3 sensor lights at Costco last year for the closets, and all three are still working without incident. They are made much better, and I know I did not spend $44.00 for the threesome. In my opinion Walmart should remove this product and find a better quality item - 2 months is unacceptable.
Gizmosis
Easy to set up
Very sensitive and easy to use.. install your batteries and it's ready to use as these can be placed in strategic locations (which is what I did) with no need to be mounted with the screws or sticking pads provided. I may install with the screw plate later but so far, there's not a need. I have two; one for each entry and two to give as gifts. Very useful items that have taken away my annoyance of returning home later than anticipated to stumble my way into the entry. I like not having to leave an outside light on when I do anticipate returning after dark, too. The slightest motion will be detected and there's plenty of light for a stairway and the keyhole in the door. I love these cordless sensors!
nattyneedle
bought 3 more!
I bought one of these about a year ago - put opposite an outdoor stairs off my deck - for safely walking up/down at night - no power outlet available - it has been working wonderfully for the year, change the batteries once - motion activated - ordered 3 more, 1 for my outside shed at the back of my yard - will put inside so I can access easily any time, another will go inside a shed that is attached to the house - again for easy viewing any time - the final one will go in a clothes closest near the front door that is normally darkened - now will have light any time opened - highly recommend.