Electronic Arts Battlefield: Hardline (PS4) - Pre-Owned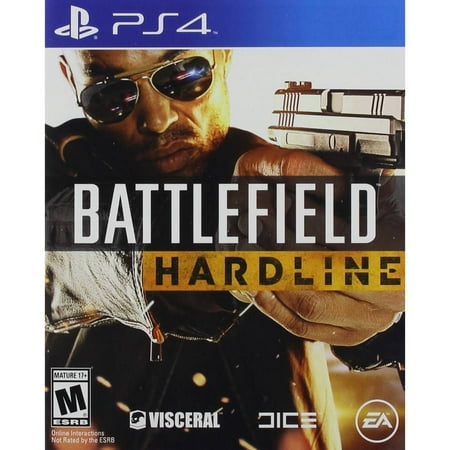 MSRP :

$41.98





Sale :

$10.45

Sold & shipped by Walmart
Product Description

Additional Information

Reviews
Product Description
Get a piece of the action in Battlefield Hardline, a fresh, new take on Battlefield that allows you to live out your cops and criminal fantasy. Combining an emotionally-driven single player story inspired by popular TV crime dramas, and an all-out-war multiplayer on the streets of Los Angeles and Miami, Hardline delivers the most complete FPS on the market.
Additional Information
Cops & Criminals Meet in a World Full of Crime - Lead your crew as detective Nick Mendoza in an episodic crime drama single player Campaign or as cops and criminals in intense high-speed Battlefield multiplayer. You're on one side of the law or the other - time to hit the streets.
Seize and Detain - More money, more problems. Take control using new tactics to gather intel, obtain warrants and takedown with non-lethal force to make his arrests. Secure the cash in a thrilling new battlefield playground.
The Fastest Battlefield Ever - Fulfill your need for speed in thrilling new action packed modes that make for intense and fluid gameplay. Hop in new powerful muscle cars, sleek bikes or even give your whole crew a lift in transport or armored trucks.
New Gadgets, New Strategies - New maps and gadgets change the way you play. Use grappling hooks and ziplines to scale city buildings and zip across the city with the cash. No matter the strategy, teamwork will be essential to running the turf war.
ESRB Rating: MATURE with Blood and Gore, Strong Language, Use of Drugs, and Intense Violence
Reviews
Michelle
Battlefield! Just different.
I keep hearing people describe this game as a "cheap mod" or "not a Battlefield game". What you're really saying is that you don't like change and BETTER change. This is one of the better Battlefield games and I'm speaking strictly of the multiplayer. It has FAR less issues than Battlefield 3 and 4 at launch. It's faster paced and tighter in the gameplay department. It still feels like Battlefield in the way you move and deliver actions. I see a lot of people getting really frustrated because they claim it doesn't have the teamwork of previous Battlefield games. This game is ALL about teamwork. If you play Blood Money, Heist, Rescue or any objective game working in a close team you will be able to control games. The thing is that most pub players care about their kill / death ratio and not at all about the teamwork. This is nothing new. I've gotten revived by an Operator randomly maybe sub 10 times and I'm over level 50. Quick bottom line, this game is a great addition to the series. Visceral put a lot more thought in this than DICE ever did in Battlefield 3 and 4. Map design, power weapons and so on. Is it perfect? No. Are you going to get shot by a XM25 Airburst from a roof in unlimited quantities though? Nope. Are you going to get sniped by a sniper laying on a building top you can only parachute to? Nope. Thoughtful design in general for a Battlefield at last.