Ubisoft Assassin's Creed: Unity (PlayStation 4)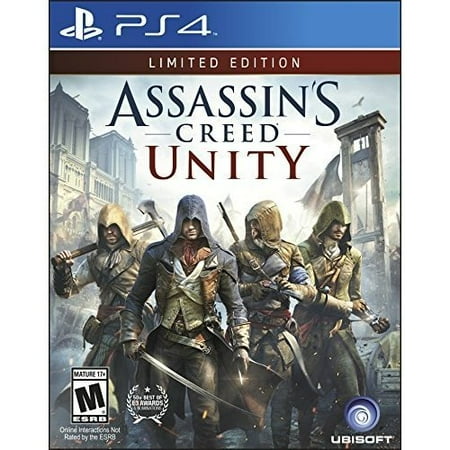 Sale :

$27.48

Sold & shipped by Walmart
Product Description

Additional Information

Reviews
Product Description
Paris, 1789. The French Revolution turns a once-magnificent city into a place of terror and chaos. Its cobblestone streets run red with the blood of commoners who dared to rise up against the oppressive aristocracy. As the nation tears itself apart, a young man named Arno will embark on an extraordinary journey to expose the true powers behind the Revolution. His pursuit will throw him into the middle of a ruthless struggle for the fate of a nation, and transform him into a true Master Assassin. Introducing Assassin's Creed Unity, the next-gen evolution of the blockbuster franchise powered by an all-new game engine. From the storming of the Bastille to the execution of King Louis XVI, experience the French Revolution as never before, and help the people of France carve an entirely new destiny.
Additional Information
Ubisoft Assassin's Creed: Unity (PlayStation 4)
Reviews
VEENX
Like New!
It was wrapped in very nice package when arrived. And I received the Limited Edition version. It came with brand new cases and the disk had no scratches. There was a redeemable code inside and I thought since it was used, it shouldn't work. But then when I typed in to my Psn account, it worked! I was like omg!
anon
Great Game
Fun Game. Love my PS4!!!
Raven98590
Weird Disk
When the game came in, I looked at the disk and it looked to be in nearly perfect condition. But when I put it in the Xbox ONE, the disk would spin really fast, then stop, then start again. It did this for quite some time. I took it out and DL the update and after several hours, I was able to play it for a while. I haven't tried the disk again because I've been so busy, but I am hoping that what ever the problem was, maybe it fixed itself. Normally, when I buy a used game either from Walmart or some other company, I usually don't have any problems. This may be that one disk out of a thousand that doesn't work properly. Maybe it didn't when it was new either, which would explain why the disk was in such good condition. I will still purchase used games as well as new ones from Walmart, I'm not going to let one weird disk stop me. You always take a chance when you buy used, but Walmart does try to ensure that the games will play properly, this one just slipped in un-noticed.
Tali
Came in Perfect Condition
First time tried a pre-owned and was surprised that it came in a nearly perfect condition and as far as the game goes, it's one of the best Assassin's Creed I've ever played.
Emru
Used item impeccable condition.
This game came in impreccible condition I initially thought it was new. The graphics of the game blow you away with a thorough storyline. Can be repetitive but the game is a bargain.