The Croods (Wii) - Pre-Owned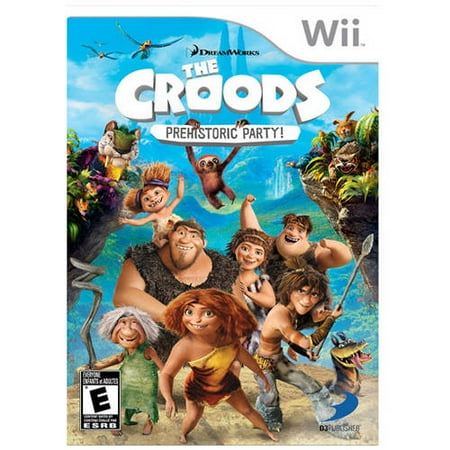 Sale :

$5.88

Sold & shipped by GamerCandy
Product Description

Additional Information

Reviews
Product Description
Join the world's first family on their first ever road trip in The Croods: Prehistoric Party!, as you play as one of the lovable Croods family on a hilarious adventure through a ton of unique and addictive party-style mini-games. With up to four-player multiplayer for Nintendo's Wii U and Wii systems (single player for handhelds), explore spectacular landscapes in an incredible new world filled with never-before-seen creatures as you battle yours friends and family in this awesome adventure.
Additional Information
Play as one of your favorite Croods characters from the film - Play as one of the lovable Croods family members from DreamWorks Animation's upcoming feature film, The Croods, including Grug, Ugga, Eep, Thunk, Sandy, Gren and Guy.Conquer 30 mini-games on a hilarious journey - Compete or cooperate with players in comical games like Cave Painter, Banana Brawl, Punch Monkey Boxing, and Egg Ball!Step into spectacular Croodaceous environments - Explore amazing new worlds and discover tons of bonus items such as fire and ladders to use in play and to unlock new games.Play with bizarre Croodacious creatures - Never-before-seen creatures act as hazards, vehicles, pets, allies and more throughout the entire game.Four Player Multiplayer Mayhem - Play as any character and survive a host of challenges in the ultimate mix of friendly fun and prehistoric partying!ESRB Rating: EVERYONE with Mild Cartoon Violence
Reviews
Meamigo
Looked and played like new.
I bought this game for my seven-year-old grandson. He was thrilled with it and got plenty of enjoyment from it for a very low price. It came packaged just like me and you could not do it had been used.
Mandii
Loved it
Its nice how a family can sit down and play this game! We love it and it came early!
Rocknrollr1
Great
Good quality
Veryspoiled
Thanks
My son is goin to go crazy he love lil games like dis
Tarn
It's Ok
It's ok game. My 5 years old girl loves the movie but the game she said a little to hard for her.