Final Touch Ultra Concentrated Fabric Softener, Spring Fresh, 120 Oz, 140 Loads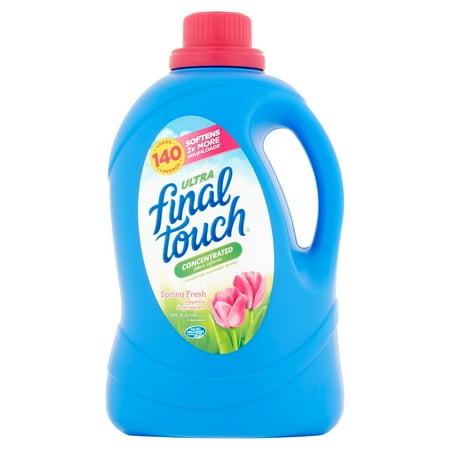 Sale :

$4.47

Sold & shipped by Walmart
Product Description

Additional Information

Reviews
Product Description
Ultra Final Touch Spring Fresh Concentrated Fabric Softener makes your clothes snuggly soft and fresh. The unique formula of this conditioner helps prevent static cling and makes your items more wearable. Final Touch fabric softener comes in a large, economy-size 120 fl oz container. It is HE compatible and safe for all washing machines.
Additional Information
Product Features
For all machines including HE
Packing - Recyclable
Bottle made with 25% post-consumer recycled plastic.
HDPE - 2
Phoenix Brands LLC,
Stamford, CT, 06901.
©2014 Phoenix Brands LLC
Reviews
LindsNW
Best fabric softener ever!
Okay, I found this fabric softener at Walmart when it first came back about a year ago, and I loved it, it's a HUGE bottle for only $3.47, and it last for MONTHS! It's concentrated so you don't have to use too much and it has an amazing smell. When I first bought it, I told my mom how great it was and she told me my great Aunt Alta, who was more like a grandmother to me, used to use this stuff. I remembered she always smelled great, and this was THAT smell, now not only does this stuff work great, and it's cheap, it also reminds me of my Aunt who passed away 3 or 4 years ago.
ooglebug
The best fabric softener money can buy!
I have used many different kinds of fabric softener in the past. I usually always bought Purex because it was decent and one of the cheapest available to buy. One day I went shopping at another store and they didn't have the Purex there. I saw this stuff and noticed it was a lot cheaper than what I normally buy so I decided to try it out. I was not at all disappointed! I love the scent and it works better than the expensive brands! My clothes and sheets always come out of the wash smelling great and feeling soft. This product will keep your laundry smelling good long after using it also. I'll never use anything else!
auntdeb5
The only Fabric Softener...I like!
I'm happy to have found Final Touch again. I haven't purchased in quite awhile due to unavailability at my local grocers. Other softeners just give my clothes a smell that mask odors. My clothes come out soft and smell fresh when I use Final Touch. I won't use anything else.
conjureman
V A L U E!!
This is as good as any brand available. But LOOK at the price; half cost of all the other. Why would you pay more?
TanSpices
Great product for a great price
I've purchased Downey for years. I just so happen to see the bottle of final touch and decided to open it and smell it. It smelled pretty good. So I decided to try it out. Unbelievably amazing. My clothes and towels came out of the dryer soft and fluffy and the scent stay for days. I'll never go back to Downey. I found final touch to be a much better product at a cheaper price.