Virgin Mobile Custom ZTE Emblem Prepaid Smartphone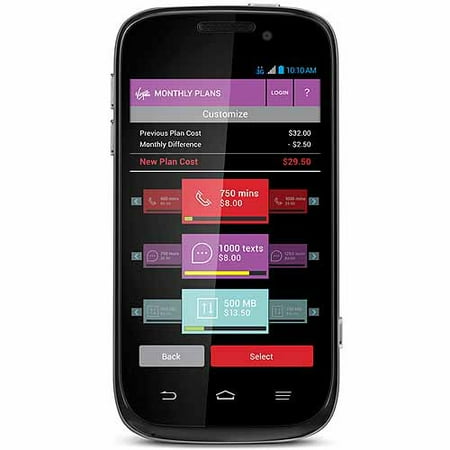 MSRP :

$59.88





Sale :

$54.17

Sold & shipped by Walmart
Product Description

Additional Information

Reviews
Product Description
Stay in touch with family and friends with the Virgin Mobile Custom ZTE Emblem Prepaid Smartphone. It is equipped with a powerful 1.2GHz processor, CDMA/EVDO network and the Jelly Bean operating system that is easy to use and navigate. Other features include GPS support, a microUSB 2.0 port and more. With this Android smartphone you can communicate on the go using SMS and email, listen to music, watch videos and capture photos with the rear five-megapixel camera with flash or the front one-megapixel camera. It has a talk time of over 11 hours and a standby time of up to 151 hours.
Additional Information
Virgin Mobile Custom ZTE Emblem Prepaid Smartphone:
MP3/eAAC+/WAV player
CDMA/EVDO network
microUSB 2.0 port
Android 4.1.2 (Jelly Bean) OS
Rear 5 megapixel camera with flash
Front 1 megapixel camera
1.2GHz processor
GPS support
WMV/MPEG4/H.263/H.264 player
Talk time: Up to 11.2 hours
Standby time: Up to 151 hours
Battery: Lithium-ion 1650mAh
Virgin Mobile smartphone features a 4.0" IPS touchscreen
Resolution: 480 x 800
SMS and MMS
Email
Reviews
Marscott
Our first smart phone.
I dropped my Virgin Mobile Slider phone which I had for over 14 years and went looking for a replacement at Walmart. Since I don't text I just wanted a cheap phone to stay in touch at work. I liked the monthly cost of the minimum plan, ($6.98 for 20 minutes and 20 texts) so I got I for my wife to replace her slider and one for me. Both phones activate by themselves when first turned on. For an extra $3.00 a month, you get an additional 250 minutes which are shared between the 2 phones. Great deal! My wife really liked the large numbers on the dialing screen compared to the old Slider phone, whose numbers were so tiny you needed a magnifying glass just to see the screen! So she's really happy and so am I, until an app popped up on my screen that said, "Unfortunitly, ItsOn, Service is Off" and my phone is useless. An online search showed the App to be a battery burner, requiring a manual shut down, interrupted by the continual presence of the on screen warning popping up.
Sheamzilla
What you'd Expect for the Price
The phone? Amazing. Walmart response and service? Above and beyond expectations. (Tim from Lufkin Walmart Assistant Manager stayed on the phone for nearly an hour trying to help me activate it.) Virgin Mobile Customer Support / Service? Absolutely abyssal. 5 Chat CSR attempts, 4 Tech support Attempts, and 2 Customer Care Attempts, and 3 Virgin Mobile Custom Care attempts with Zero attempt to address product information / aid. "Ask Walmart." or "Ask Not Us." was the only two answers I got as I spent 7 hours trying to activate the two phones I purchased. Thankfully the Customer Service at Walmart was able to patch me through to a Manager who patched me to Tim who was able to /at the very least/ troubleshoot to rule out DOA. The problem was eventually resolved by doing a factory reset -and- only turning on 1 device at a time until the Virgin Mobile Custom icon would appear on the phone. Again, very nice phone for a good price, and not that bad for phone calls / texts / interface, but reupping your plan or trying to contact support was akin to looking for a pebble in a lake.
OccamsRacer
Preliminary Impressions and things you should know
Got this phone for my tween daughter. Was interested in the parental controls and the low rate plans available. Setup was easy. Device walked me through everything step by step. First key point: There is no customer support for Virgin's Custom line of phones - none. You must go to the online help or "go to your local Walmart." This might work out OK, or maybe not. Second key point: A key parental control feature I was hoping for was the ability to disable wi-fi. YES! This is there. Can also set access times for the phone and which apps are available to use. Haven't played with all these settings yet. Third key point: Parental control settings take a while to synch to the phone. Made the setting on the web and kept checking the phone to see if the change took effect. After a couple hours, gave up and left it overnight. In the morning, the change was there. Soo, if your kid asks you to make a change, or if you have a reason to lock something down, don't expect to be able to make these updates immediately through the web interface. I have not tried the IOS app yet.
shoppernine
One flaw: WiFi drops all the time
Pros: * plenty of internal storage ( 1.2GB or so available initially), * some newly installed applications (not all) can be moved to external storage, * everything works as expected and no major unsolved problems so far, no surprises (bad or good), * VM custom plans are money savers for those who don't use internet too much with G3, no need to buy ahead more minutes/texts/MB then you really use, you can buy them at any time later, * VM custom app is pretty helpful to see what app consumes more web traffic over G3. * VM custom customer service over the phone is pretty responsive (no wait time) but not very knowledgeable yet. Cons: * WiFi connection drops regularly (can see that in my router) even though phone thinks it has WiFi connection. This might be related to http://www.net.princeton.edu/android/android-stops-renewing-lease-keeps-using-IP-address-11236.html but to me it looks drops happen too often to be explained. The best workaroud I found is app "WiFi Keep Alive" which keeps pinging the gateway in some time intervals but if no connection (after several failures, takes some time) then it reconnects again. It's not a huge problem to me since I don't use internet much. * Sound quality is not as great as regular VM phones that I and my wife had before but it's not too bad either. * No VM custom customer service through emails yet. You are going to be asked to call them. Other notes: * One of 3 phones I bought received no GPS signal, but the problem was solved with factory reset. * VM custom plans are not for those who use web with G3 a lot but talking and texting is pretty cheap and also you have an option to buy unlimited talking or texting. Note, there is no such unlimited option for web traffic. * A package for international calls is limited to a set of countries and I found no way to make a call some other country except using some VOIP app. * Expect to buy at least 250MB web plan if you are going to use web with G3 at all. Otherwise disable mobile web completely or disable mobile web for some apps (Setting/Data Usage/<tap on app>). * Currently I pay $34.44/month for 250 minutes, 250 messages, 250MB shared by 3 phones in my family. Possibly I will need to go up to 500 minutes, 500 messages, 500MB and pay about $45/month.
NoPresumption
Plenty of bang for the buck.
I chose a plan approximately $28.00 per month. At first I thought this price was per user which would be slightly high for a supposedly budget phone. In reality, only the first user pays $28.00 and then each additional user is merely $7.00. Not bad. Given that my household doesn't use the cell phone much, this is probably the cheapest deal in town. (I signed up for 500 minutes talks, 500 MB data, and 250 texts). I'm not entirely sure why someone would pay $500.00 for a phone. This one only costs $59.00. Not a huge amount of battery life, admittedly, but otherwise works fairly well. I just tried the GPS navigation which worked fine, for example. No problems so far.