BLACK+DECKER 20-Volt Lithium-Ion Cordless Drill-Driver With 128-Piece Project Kit, LD120128PKWM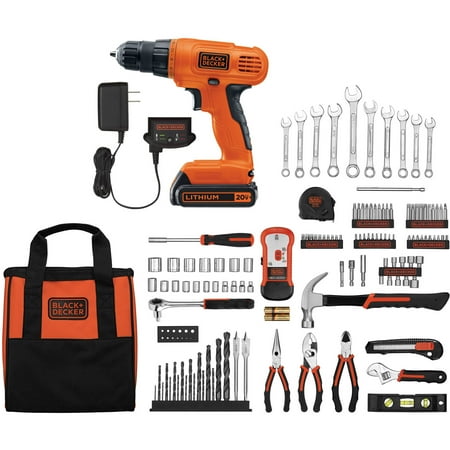 MSRP :

$79.99





Sale :

$79.97

Sold & shipped by Walmart
Product Description

Additional Information

Reviews
Product Description
Accomplish a variety of tasks around your home or office with the BLACK+DECKER 20-Volt Lithium Ion Cordless Drill-Driver with 128-Piece Project Kit. This amazing set will help you tackle projects inside and outside while using equipment from a brand name you can trust. The BLACK+DECKER cordless drill-driver comes with dozens of different sized bits to provide a specialized tool for each project. Give someone special in your life a gift they can use all year long that includes a stud finder, socket set, wrench set and so much more. This 20-volt drill-driver has a lithium ion battery included that can hold a charge for up to 18 months when not in use. The battery is also interchangeable with other cordless products in this line and can snap easily into other items like the weed blower, table saw, edger and trimmer.
Additional Information
Have fun and enjoy accomplishing projects and tasks around the home with the Black and Decker 20V Lithium Ion Cordless Drill/Driver with 128-Piece Project Kit.Kit Features:Includes 128 accessoriesBlack and Decker cordless drill/driver with lithium Ion batteryInterchangeable battery systemHolds charge up to 18 monthsIncludes storage bag
Reviews
aleea
Great lightweight drill
This black and decker cordless drill set is an awesome addition to anyone tool kit. It has some extras included in the set that make it great not only for home improvements but would be an excellent set to throw in the back of your vehicle if you camp, offroad, or just work on your vehicles a lot. The drill is a great drill and definitely comes in handy for working on our vehicle. I like that it is wireless which makes it easy and convenient to take anywhere. The battery is ok, it obviously doesn't last forever but it's good for what it is. The bag that came with the tool kit is great. Pretty sturdy and easily holds everything that comes in the set. Would be an excellent gift for any man in your life. They'd be happy to have it. Another plus about the drill is that it us light weight, a lot of drills like this are quite heavy and bulky and can be uncomfortable after awhile, but this one isn't bad at all, which I believe has to do with how small the battery is. The stud finder in this set also works really well. All the extras are really just a bonus.
mrblueu
Long Lasting Charge
This set came right on time as I had purchased several of the BHG window blinds. The Black+Decker drill keeps a charge a long time. In fact, I have not had to charge the drill yet. I've utilized most of the tools in this 128 piece kit. I've used several of the drill bits, the drill of course, hammer, level, and so much more. I have not experienced any issues with this kit. They even add a nice bag to hold all the tools. However, I would suggest an additional case or two for the bits and smaller items. Thus far, I have also used some of the tools to remove several old ceramic towel bars, soap holder, toothbrush holder from an old 1970's bathroom (I used the blade to score the ceramic and hammer to loosen the items). The stud finder works well too. I used the stud finder to install a bathroom space rack to the wall (extremely handy tool). I've also used the drill and some of the additional tools to remove some old kitchen cabinets. For the most part, this Black+Decker 128 piece tool kit includes everything I need for daily use around the house and more. By the way, I am a 62 year old woman. Awesome kit!
denbroncos
BLACK & DECKER 20V PROJ KIT 128PC
first off anyone buying this tool set should be buying it mostly for the drill. the drill is light weight and fits in your hand comfortably. the battery can hold a charge up to 18 months. a 24 position clutch and keyless chuck, and a very easy to use charger. I have been looking for projects to do around the house to put this drill through a good test. my son will now get my old drill, this one is a keeper. excellent drill. now for all the other tools. some are marked china and are bad and do not live up to the black and decker name. others are marked black and decker and are good plus, and others have no marks and are good. you get a bag to put your tools in, no pockets or anything you can organize your tools in, its just a bag with a zipper. I would say medium strength. you will receive a box cutter, a small level, stud finder, and a nice little 10 ft tape measure. I would rate these items as good. all marked china you will get an 8 oz hammer, pliers, long nose pliers, wire cutters and a 6 in adjustable wrench, a telescoping magnet. I rate them all fair to good except the adjustable wrench and it is poor. way to much play and will likely round out any nut or bolt you will use them on. next you will receive 17 universal drill bits between 1/16 to 3/8, 2 wood drill bits 1/2 & 5/8. also a drill bit gauge. I have had no need for the drill bits so far and can not rate them. a set of 10 combination wrenches (open end and closed end). sizes 3/8 to 5/8 and 9 to 13. they are marked china and are the worst items on the set. the chrome is peeling off and I do not want metal splinters in my hand. they do not fit well on nuts and bolts to loose. they are in the trash. I am happy with everything else in the box and rate them good plus. a 3/8 ratchet with a 1/4 adapter. a 18 piece socket set at 1/4 drive 7/32 to 7/16 and at 3/8 drive 7/16 to 3/4. also a 10 piece set of nut drivers, 5/32 to 1/2. a variety of 30 1 inch screwing bits. a variety of 20 2 inch screwing bits. a few other adapters and a screwdriver that will also hold everything and is universal with the drill.
IdahoDee10
Wonderful
I received this Black & Decker 20V, I was totally amazed by everything that was in this kit. The drill itself is light and easy to use compared to some of the other drills that I have used before and I think that is because of the lithium battery. The battery only takes 3-4 hours to charge which is s lot better than some of the other ones. I really like the convienence of the bag because that way you have everything together. The only problem with the bag is there are no compartments to hold your sockets and wrenches, so they are loose in the bag and you have to go digging for them. I have gone and pickets up some socket holders to put in there and I have tied my wrenches together so it is more organized and is easy to find things. I would definitely recommend this because it is perfect for around the house. It has been great for my little projects that needed done. I may be purchasing a couple of these to give to family. I am still totally amazed at all the tools that come with this Black & Decker 20V project kit. I will be buying myself another one when this one decides to quit on me. It is definitely a good kit!
VBSGuru
Such a Great Drill!
I like pretty much everything about this tool set. It has little thoughtful things like a screw sizer (which you can find anywhere but you seem to lose just as easily) and a strong magnetic wand (to retrieve the tool you dropped inside the wall; it can even pickup the hammer). It also has standard things like a set of drop forged steel wrenches from 9mm to 13mm(5) and from 3/8in. to 5/8in.(5) and a complete ratchet set that includes 5/32in. up to 3/4in sockets. A stud finder, tape measure, screwdriver with 30 bits, level, box cutter, and more. But the BEST thing about this set is hands down the drill! The other things are good but the drill is excellent. It has a 20 volt battery that doesn't need a recharge very often. I have used it for an hour pretty much constantly trying it on various materials and couldn't tell that it was slowing down at all. I tried it on wood, dry wall, PVC pipe, composite plastic, foam, and particle board. I did not get to try it on metal but it was very good on the rest. It is well balanced and not too heavy. Like all drills the key is to be patient and not press too hard. It also comes with a large variety of screwdriver and socket bits. When I used these I started at the lowest torque setting and increased as needed. Once I found the right torque for the job I didn't need to change it again. It even removed a bolt that had rusted in place. Something that could never be done without a power tool. The only thing I didn't like about this set was the tool bag. It seems cheaply made and it's not very roomy. I would never just throw my tools together like that. It would end up losing things at best and hurting me digging around in it at worst. The only thing I think it might work for is to store part of the set like the drill in.