BLACK+DECKER TR116 16" 3 Amp Electric Hedge Trimmer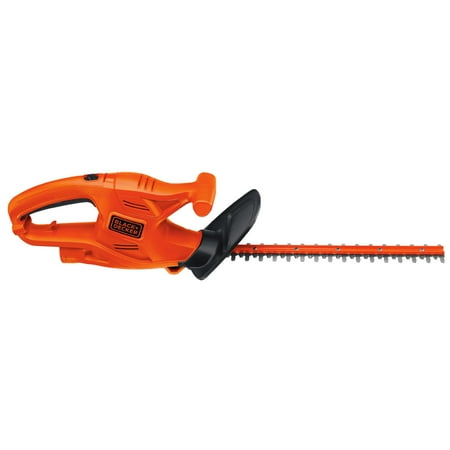 MSRP :

$75.19





Sale :

$37

Sold & shipped by CPO Outlets
Product Description

Additional Information

Reviews
Product Description
Make yard work easier with the BLACK+DECKER TR116 16" 3-Amp Electric Hedge Trimmer. It features a 3.0 amp motor. This BLACK+DECKER hedge trimmer can trim branches up to 5/8" thick. The 16" dual-action blade gives 40 percent less vibration than single action blades. It's pre-hardened and resistant to rust, allowing it to stay sharp longer. This battery hedge trimmer is made with a lightweight and compact design. This makes it easy to use and carry while causing less fatigue in the use. This trimmer has a lock-off switch that prevents accidental start-up, allowing for much safer use. It also features cord retention that will keep it from coming unplugged accidentally. The built-in T-handle and full length trigger provide greater comfort and control during use. Cut hedges and trim shrubs and other large foliage outside your home. Use this BLACK+DECKER TR116 16" 3 Amp Electric Hedge Trimmer to keep your yard looking nice and tidy.
Additional Information
BLACK+DECKER TR116 16" 3 Amp Electric Hedge Trimmer:16" Dual-Action hardened steel blade for reduced vibration while trimming3.0 amp motor for trimming branches up 5/8"Pre-hardened, rust-resistant hardened steel blades stay sharp longerLightweight, compact design is easy to use with less fatigueLock-off switch prevents accidental start-upCord retention prevents accidental unpluggingBuilt-in T-handle and full length trigger for comfort and control while cuttingBLACK+DECKER hedge trimmer for a variety of usesIdeal for keeping your yard looking nice and tidyProvides 40% less vibration than a single action bladesCut hedges, shrubs and other large foliage outside your home
Reviews
RealityBytes
This thing is great!!
We have some fast growing hedges that had become unruly and we had been chopping at them with a regular set of garden shears and it was taking forever. I told my husband that I was going to go online and find an inexpensive set of electric hedge trimmers so we could get it done fast. He fussed at first and said we did not need them, but I ordered them and they were ready for us to pick up by that afternoon. What normally takes us hours to do took less than a half hour. They worked perfectly. I could not ask for more!! For this price, even if they only last a few years it is worth the money, but I think they will be around for a long time. I am very happy with this purchase! Oh.....and my husband agreed....he was quite glad that I went ahead and ordered these. He has been whacking away at things all around the yard now and said he does not know why "HE" didn't think of it sooner!! Men! LOL!
Agw712
Great Product
I purchased this item in hopes it would do what I needed it to ( 20 HUGE shrubs and 15 smaller shrubs). It surprised me and cut every shrub down to medium size and cut pretty thick branches. This is a great product not heavy at all. A woman can handle it well. I would buy the product again. It was well worth my 30 dollars!!
203040
Easy handling and gets the job done
I'm a widow and taking care of a home and yard is an adventure, especially since I have RA and am limited in hand-strength. With this Trimmer, I can handle the smaller trimming jobs myself and don't have to bother my children. Since I love being independent, this I important! Thanks, Black & Decker!
oldwhitewoman
Easy handling and gets the job done
Trimmer is compact and just the right size and weight. It handles great and I was able to get all my shrubs and bushes trimmed in a timely manner. Would recommend this to any woman who is responsible for her own yard work.
4Beatrice
Easy to handle, safe...
This is an excellent trimmer for the price. Outstanding qualities are (1) its ease in handling and (2) the fact that when you stop trimming, the blades automatically shut off without disconnecting the power supply. My previous trimmer continued to run until I consciously turned it off the blades. That made the period of time after a session of cutting dangerous. It also does a good job.