Minecraft Xbox 360 Edition, Microsoft, Xbox 360, 885370606515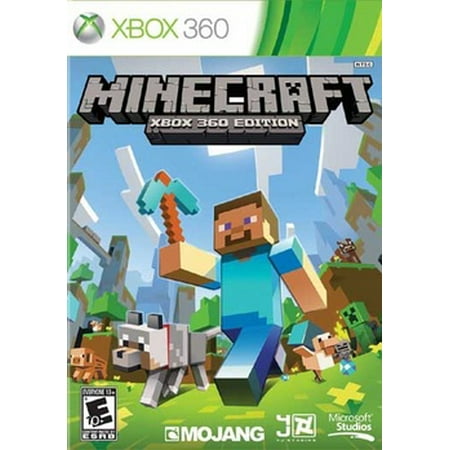 MSRP :

$19.99





Sale :

$19.96

Sold & shipped by Walmart
Product Description

Additional Information

Reviews
Product Description
Experience the gaming phenomenon "Minecraft", rebuilt for Xbox 360! Create worlds limited only by your imagination. Explore, build, and conquer alone or with your friends via split-screen mode or over Xbox Live!* With new features designed specifically for Xbox 360, it's a whole new way to make your imagination reality! Imagine it, build it! Minecraft for Xbox 360 lets you create worlds from the comfort of your sofa. Play alone or play with your friends. Explore, build and conquer! At night monsters come out, so make sure to build a shelter before that happens. After that, your world is your imagination. Turn your hours into minutes with Minecraft for Xbox 360!
Additional Information
Minecraft Xbox 360 Edition Microsoft 885370606515:

Crafting has never been faster and easier
Experience the all new end-game battle with the Ender Dragon, including multiplayer
Learn to play with the all new Tutorial mode
Share the experience with 4 player split-screen on one console or up to 8 players through Xbox Live
Microsoft Xbox 360 game is rated everyone 10+ for fantasy violence
Reviews
slouchycowman
amazing game only limited by your imagination
Minecraft - Xbox 360 is an amazing game that will give you 100's hours of entertainment. My daughter was into Minecraft for a while playing it on the PC version before it came out on the Xbox 360. Once it came out on the Xbox 360 we bought it and play every weekend for hours on end. It's a great way to hang out with your kids and create some amazing creations. When I was a kid it was sitting on the floor playing with LEGO's not its Minecraft. It's not just mindless game play, many times my daughter and I drew out on paper what we wanted to make before creating it within the game. The game is only limited by your imgination. The game has had some great upgrade to it, to include allowing to tame ocelots(they tame into cats# and wolves #they tame into a dogs). The game is super fun and Minecraft would be a great Christmas gift for kids and adults alike. I enjoy this game and would definitely recommend it. Thank you for reading my review, if you have any questions feel free to email me, I would be happy to help you with any questions you have.
mandm77
Don't typically like video games, but love this 1
My little boy saved his birthday money to buy this game. It was sold out at our local Walmart so it was nice to get it so quickly online, since he's been waiting months to get his own Minecraft to play at home. With respect to the game itself, oddly enough, considering the popularity of the game, the graphics aren't spectacular like most others produced today-very dot matrix. It seems to put Lego building blocks into a virtual reality. My 6 year old loves that he gets to build and create structures and other devices. The monsters in the game are very tame from what I've seen. Also, the player is required to read and follow instructions, which I've appreciated as my little boy has worked hard to sound the simple phrases out in order to play. All in all, both my son and I are very happy with it; he finds it entertaining and I feel like it reinforces positive skills.
Aswanson
Excellent!
Minecraft for the Xbox 360 is very great and very fun. I also have it for my iPod Touch and computer, so I wanted to get it for my Xbox as well. It takes some getting used to from the computer version, but it's still the same great game. With Xbox Live you can invite all your Xbox friends to your current world so that they can play along with you. You can play with 3 other people on the same console however. To change your character's skin (appearance), there's around 10 skins already provided, but you can buy more from the Xbox Live store, as well as texture packs to change the game's overall appearance. For those who are new to Minecraft (or for those like me who are used to the computer version), there is a great tutorial world to walk you through all the cool features that it has to offer and the controls. All in all, I think Minecraft Xbox 360 version is worth it for the price. Enjoy!
Anonymous
Great game. Bad shopping experience.
Great game. Bad shopping experience. My son loves this game but his disc broke so I ordered on November 10th because it was supposed to be available for immediate store pick up. I could have gotten it anywhere else but liked tat I could pick it up now. The next day is received the e following email. "We're sorry to tell you that the item(s) below isn't currently available at the Athens Walmart. However, for your convenience we've arranged to rush your order to this store. You don't need to take any further action, and we will send you a notification when your order is ready for pickup in 3 to 6 days." So I waited patiently and I have not gotten any updates as of 11/19 so I decided to check my order and it was supposed to arrive in the store on 11/24 so I decided to wait some more. Today is 11/21 and I get an email asking me to rate my purchase so I check the status of my order and Walmart decided to cancel my order. They didn't even inform me that this was being done. I am especially afraid to buy Christmas gifts this year.
djnira
great baby sitter
my 8 and 11 yr old love this game. alone or with friends they play it for hours on end. some times it's a chore to get them to put it down. great way to find time for yourself heh heh.