Gerber First Essentials Replacement Nipples 4m+, 6 count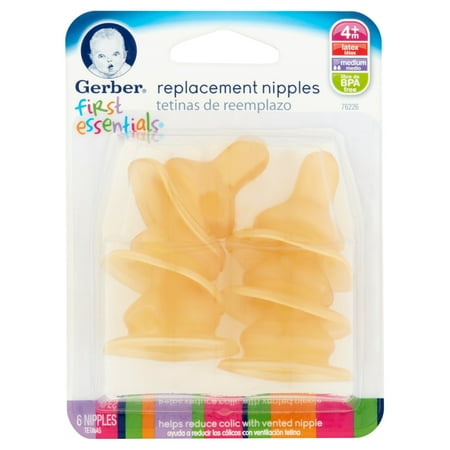 Sale :

$4.99

Sold & shipped by Walmart
Product Description

Additional Information

Reviews
Product Description
First Essentials is a complete line of baby bottles, pacifiers and accessories that cover all the basics--simple solutions for mom and baby. First Essentials nipples are specially designed for your baby's feeding comfort at every stage of development. Vent holes and ribs ensure smooth flow and help prevent nipple collapse.
Additional Information
Gerber First Essentials Medium Flow Latex Nipples, 6-pack:
4 months and up
Reduces colic with vented nipple design for less air
BPA-free nipples
3-hole nipple design for smoother flow
Fits most standard reusable baby bottles
Reviews
cbeers
Not as pictured; work well but don't last
I ordered these nipples because my son doesn't like the silicon ones, and the ones they sell in the store are thinner and weaker than the ones I thought I was ordering online. When I received them, I discovered that they sent me the same ones they sell in the store. The nipples work very well and don't collapse, however after the first washing, some started to change color already and are showing signs of wear. Now, after 4-5 washings, many of them have a cloudy appearance to them. I thought I perhaps I didn't clean those ones properly and re-washed them, discovered it's just the nipple showing signs of wear. Also, a number of them have gone sticky on the outside. The rubber nipples I was using before were the ones they have in the hospital that aren't even manufactured to be sterilized and reused, however they lasted 3 months. While these nipples work well, expect to have to replace them every couple of weeks at most. I will be trying to get my son used to the silicon ones ASAP.
jsmom2013
Not as pictured; work well but don't last
The nipples I got are not the same as in the picture. I have purchased them before but when I ordered them different nipples in the same exact package arrived. Looks like the item has changed but the picture up on this website still the old version. It was a waste because my baby wont take the new version he is used to tje old one.
NETT
TERRIBLE
CHANGED COLORS IN ONE USE.. IT WAS MORE LIKE A ONE TIME USE NIPPLE THAN ANYTHING. HAD TO THROW AWAY. TERRIBLE AND NOT THE ONES I ORDERED EITHER. LOOKS NOTHING LIKE PICTURE
wmonlineisathief
not at all what you will receive if you order it!
They will send you the cheap usless nipples that you can buy in the store. This picture is NOT what you will be buying. Do not buy!!
FloridaMom
YES! For breastfed babies!!! LIFE CHANGING!
Of course the last thing I tried in the store is what worked! And it only cost a few dollars! My breastfed baby stopped taking a bottle 2 weeks before I returned to work (at 10 weeks old) and we freaked out trying every bottle at the store. Baby would accept each new bottle for a feeding or two and then hate them like the rest. I tried these latex nipples after watching some lady on youtube talking about them so I hunted them down, found them randomly on the store shelf in WalMart. It wasn't exactly a miracle at first, but baby threw less of a fit which was promising and over the course of a month wasn't screaming and crying about the bottle at all. She starting only taking 1-3 ounces (way less than needed) and there was some waste of breastmilk, but I was still happy she would take something while I was gone. Now at 5 months she consistently takes 4-5 ounces for most feedings while I am at work. YAY! For the past month she has also been very distracted while nursing, wanting to look in all other directions. But she will take a bottle no problem! Only downside is baby loves this type of nipple that I do worry a bit about nipple confusion and preferring them over nursing even on days when I'm home. Good problem to have after fighting her to take the bottle!! I use these latex nipples with the Parent's Choice 5 oz bottles which I already had, just take the silicone nipple out. They are compatible with Medela pump and screw on. Those PC nipple caps also screw onto Medela pumping bottles however the Medela caps don't quite fit on the PC bottles (will leak if you shake). If you have any Abbott storage bottles from the hospital, those white caps fit the PC bottles. Do yourself a favor and try these FIRST and don't waste your money on all the expensive bottles out there!!