NUK 3-Bottle, 2-Pacifier Bonus Gift Set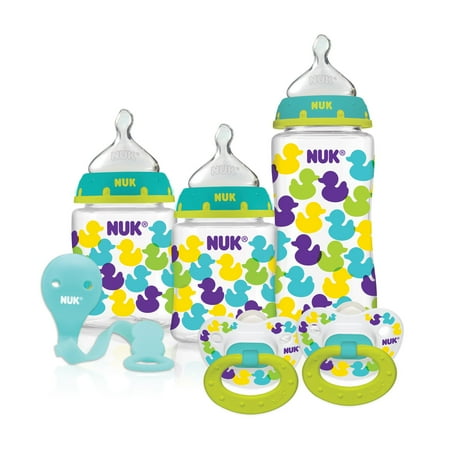 Sale :

$23.98

Sold & shipped by Eastrock, LLC
Product Description

Additional Information

Reviews
Product Description
Gift Set9/10 Babies accept**Based on Market Research, June 2010, Tested with 200 NUK® Bottle usersPrefect Fit™ Nipple features Soft Zone™ and the NUK® Anti-Colic Air System that helps reduce colic, gas and spit-upSoft Zone™Provides greater comfort as soft satin-like finish conforms to baby's palate1-piece vent integrated into nipple - no extra parts to cleanAnti-Colic Air System allows baby to swallow liquid instead of air for a comfortable feedNUK® Bottles have a wide neck so they are easy to use and easy to cleanNUK® Orthodontic PacifiersSoothes and calms baby better††Based on Market Research, June 2013, tested with 110 NUK® pacifier users.
Additional Information
NUK® Gift Set.0+m. Silicone.Improved Perfect Fit⢠nipple.Natural way to bottle feed your growing baby.Anti-colic air system.Same shape as Mom's nursing nipple.9/10 Babies accept*.BPA free.
Reviews
Cvassel91
Great for breastfed little ones!
When my son was first born all I did was breastfeed, he had never had a bottle until he was a month old. When my husband finally gave him one these were the only bottles he would take. I know it's how the nipple is shaped and that huge base. Felt familiar so in turn he liked it. Almost 4 months later and we can still easily switch between the bottle and myself. Good buy! I will be buying more if we need more.
Ladybugchick
Great bottles and binkis from birth on up!
We received these as a gift from my parents. We started using them, when our son was 2wks old, and he took right too them. We love these bottles, as well as the binkis! The only thing that is a bummer, is you have to use the disc to keep the bottle from leaking when you put it in the diaper bag.
Ladybugchick
LOVE THESE BOTTLES
I love NUK bottles, I had a preemie baby and was nursing and when I had to go back to work I needed a bottle to use for my baby. A friend recommended them and I LOVE THEM!!! great product! Baby is now 10 month and we have transitioned him to the transition cup also from NUK. Going to try the new straw cup from NUK next!
busymommyreview
GREAT BOTTLE
I have tried ever since bringing my daughter home 3 weeks ago to find a bottle that she can actually use and not have milk flow out of her mouth, the nipple be the right shape and size, and be vented to she gets less air! Well I have tried all the big bottle names and she struggled in one way or another with all of them... I then decided to try Nuk bottles because I did use Nuk sippy cups with the oldest.. Best decision ever, for the first time she drinks without choking, doesn't have milk flow out of her mouth and the nipple doesn't make her gag, and she is burping much less because she isn't fighting air the entire time. If for some reason she does collapse the nipple an easy push on the top of the nipple allows it to refill and I don't even interrupt her eating.
mayasmama314
THESE WERE THE BEST!
I have tried 5 brands/types of bottles with my little one. She didn't have a favorite but the NUK Orthodotic were my FAVORITE! There isn't a "lip" on the inside ring to trap fluids and cause a tough clean up, they come with a ring that goes in the top to prevent leaks! So amazing! The opening is wide enough to transfer pumped breast milk or to put scoops of formula without mess. The nipples are super easy to clean and I used these for approximately 3 months and they never broke down or tore. They are so easy to assemble too, after struggling to get the alignment right with other bottles (and drenching my daughter in the process), these just go together SO EASY! Honestly, breast feeding was the EASIEST method, but these bottles were the only perk when I switched to bottles at 9 mos.