Cra-Z-Art Timeless Creations Art Of Coloring Adult Coloring Case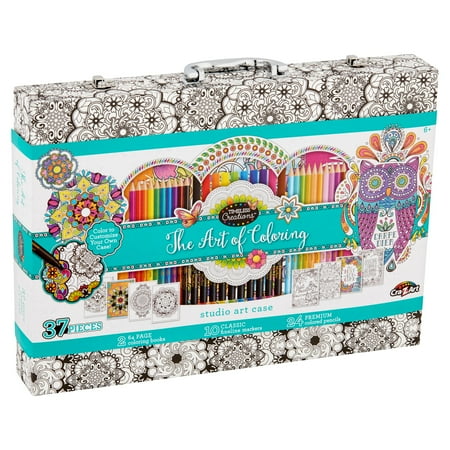 MSRP :

$29.97





Sale :

$19.93

Sold & shipped by Walmart
Product Description

Additional Information

Reviews
Product Description
Timeless Creations Art of Coloring Studio Art case is a durable black and white paper-wrapped matte finished case with metal locks and handle. The case includes 2---64 page premium quality adult coloring books with beautiful and unique designs on each page, 10 classic fineline markers and 24 premium colored pencils. Using the supplies included the artist can color and customize their case. 37 pieces all store inside the case for coloring on the go! Great for travel or the busy artist!
Additional Information
37 pieces all store inside the case for coloring on the go! Great for travel or the busy artist!
Reviews
Mandy
Coloring case
This was a excellent buy hours of relaxing coloring n great way to take your art with you at the doctors while your waiting what seems like forever to be seen or at home when you are board. Great for all ages my 16 year old wants one now as well as my eight year old so I'll be getting more soon. The coloring books inside have great pic as well which are hard to find online I give this product an A ++++++++ (:
Madeline1277
Not so much...
I purchased this for myself and was excited to dive in only to find out the coloring pencils are poor quality. Every time I attempt to sharpen the pencil the lead breaks....they appear to be very soft and not for detailed coloring... this happened several times.... truly disappointing. I had to buy quality pencils from the art store. The coloring books are amazing... so I basically paid $10 each for the coloring books.. the pencils are worthless. Happy coloring :)
chickadee81810
Fun for my daughter and I
I bought one of these in the store as a Christmas present for my daughter. We use it often. The color pencils and markers are great quality as well as the case. My daughter's friend loved it so much and wanted to color the case, but if course my daughter didn't want anyone else but herself to color the case. I purchased one for her friend too and gave it as a birthday present. She uses it everyday. My mother even loves the case and now wants me to buy her one. We also have a friend who's daughter was just recently diagnosed with lukemia and she will be in the hospital undergoing treatment for 10 months. Nothing can take that pain away, but to alleviate her boredom and maybe even a little stress, we gifted one to her as well. The people I have mentioned in this post, including myself, are 6 years old, 25, 12, and 48. It's a great gift for anyone who likes to color at all.
Oshika789
Cute, but not exactly what I expected
I bought this set intending this to be a gift for an adult woman (the title even calls it an "adult" coloring case), but when I looked at it in person, it was just too juvenile looking for what I wanted. The package even says it is for ages 6+. I suppose 60 falls in the "+", but I see this being better for those under the age of 15. Regardless of that, while the ability to color the case is a great aspect, I wasn't impressed with the interior setup. The thin plastic molding that holds the pencils, markers, and coloring books in place does so tentatively. Some of the pencils had already slid half way out when I opened it for the first time. I could see it breaking or becoming too lose to hold everything securely quite easily. Had I bought and kept this for my own use, I think I'd end up removing the inserts and getting a pencil bag or roll to hold the coloring implements. It could also fit much more that way as your collection of books and such expands. Considering the unique case, 2 coloring books, and the pencils and markers, I think the set is a decent value, especially at the $20 price point ($30 is too much). And while I will keep looking for something a little more grown up looking, this could be a nice gift for someone of any age.
Deriyona
Cute, but not exactly what I expected
Great my mom bought this for me on chirstmas. I love it