Safety 1st Grow and Go 3-In-1 Convertible Car Seat, Blue Coral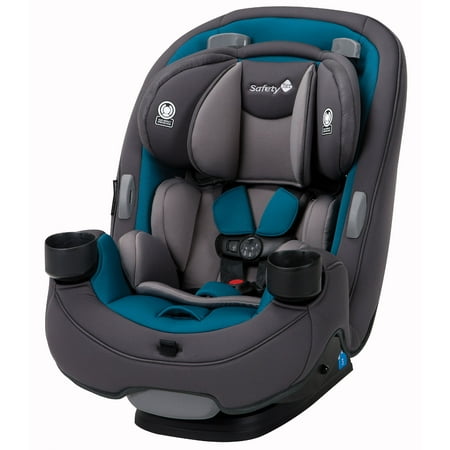 MSRP :

$169.99





Sale :

$139.99

Sold & shipped by Walmart
Product Description

Additional Information

Reviews
Product Description
Get the car seat that's built to grow! From your first ride together coming home from the hospital to soccer day car pools, the 3-in-1 Grow and Go Car Seat will give your child a safer and more comfortable ride. Featuring extended use at each stage, this convertible car seat is designed to last through all your firsts with your child.For newborns to growing toddlers, the Grow and Go can be used in the rear-facing position from 5-40 pounds. It includes two comfortable grow-with-baby pillows to give your new travel companion a snug fit, and they easily remove as your baby outgrows them.In forward-facing mode, the Grow and Go keeps your child protected in a harness up to 65 pounds. In both rear-facing and forward-facing mode, harness holders keep the harness in an open position. This makes it easier for you to get your child in and out of the car seat. No more fishing for the harness and clips from behind your child – they're right there when you need them. The QuickFit™ Harness offers additional convenience in both of these stages by letting you adjust the height of both the headrest and harness in one easy step, making it simple to give your growing child the best fit.When your child is ready to use the vehicle seat belts, remove the harness to use the Grow and Go 3-in-1 Car Seat in belt-positioning booster mode: up to 100 pounds. The headrest still adjusts easily, letting you get the best fit for your child.As your tiny baby grows into a big kid, messes are bound to happen, but the Grow and Go car seat pad makes cleanup easy. Machine washable and dryer safe, it is also designed to come off the seat easily, with no need to remove the harness. The Grow and Go is designed to provide more comfort to parents too. It takes up less room when placed rear-facing, giving up to 7 inches more leg room for parents in the front seat. Safety 1st believes parenting should have fewer worries and more joyful moments. As the first and only leader in child safety, Safety 1st is here to give you peace of mind so you can spend less time worrying and more time enjoying every first you experience with your child.
Additional Information
The car seat built to GROW for extended use through 3 stages: Rear-facing 5-40 pounds, Forward-facing 22-65 pounds, and Belt-positioning booster 40-100 pounds
Side Impact Protection
Harness holders: with the harness held back, it's easy to get your child in and out of the seat
Grow-with-baby pillows for a comfortable ride
QuickFit™ Harness for easy adjustment of both harness and headrest in one simple step
Reviews
Alicia
Dirty Seat
After taking this seat out of the box I immediately noticed that there was a big dirty boot print on the front of the pad and debris all over the seat. The insert fabrics also look pilled and used. Disappointed. I will probably return.
MamiTeal
Wonderful seat from infant to preschoolers+
I really can't find a thing I dislike about this seat. I've been obsessed with child passenger/ carseat safety since I had my oldest 10 yrs ago. After 4 kids and lots of car seats later, this is 1 of my favorites
Carseat
Does not fit in small cars
The overall look of this car seat was very nice my son look very comfortable in it...but I ended up having to return it because it does not fit in small cars like it said it did...I have a 2007 Kia Spectra which isn't a big car but isn't a really small car either...my son has to be rear facing and I couldn't even get the seatbelt to buckle and the passenger front seat had to be pushed up a lot...so much that really nobody could even sit in the seat...so if you have a bigger car this is the car seat for you...but if you have a smaller car this is not the car seats for you...so this why I'm go to have to rate this 2 stars
Mend
She loves it
We installed this yesterday in our car it was so easy to install my daughter is sitting forward facing now since she reaches the height and weight limit she is in love with it. She would cry everytime we put her in the infant car seat now she enjoys the rides. It is so comfy the material is amazing feels like a foam matteres lol the car seat was very secure did not budge what so ever. I highly recommend it!
Mamabear29
Very comfortable seat
I really like the carseat it looks nice and isnt super heavy. It doesnt recline though back for infants . We got for my 6month old son.. its super comfy as well.