Safety 1st Guide 65 Sport Convertible Car Seat, Guildsman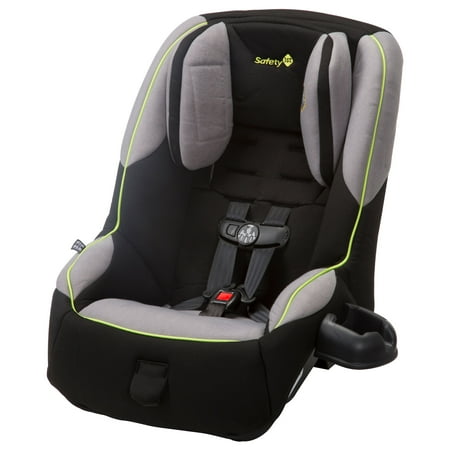 MSRP :

$78.88





Sale :

$58

Sold & shipped by Walmart
Product Description

Additional Information

Reviews
Product Description
The Guide 65 Sport is the perfect fit for smaller cars and helps protect your child longer in both rear and forward facing positions. Rear-facing, it keeps them comfortable up to 40 pounds. Change the seat to a forward-facing position once they're ready, and they'll be snug in the 5-point harness all the way to 65 pounds. The Guide 65 Sport Convertible Car Seat will fit three seats across in the back of most vehicles, making it great for both growing families and carpools. Safety 1st believes parenting should have fewer worries and more joyful moments. As the first and only leader in child safety, Safety 1st is here to give you peace of mind so you can spend less time worrying and more time enjoying every first you experience with your child.
Additional Information
2 modes of use: Rear-facing 5-40 pounds and Forward-facing 22-65 poundsFits 3 across in the back seat of most vehiclesSide Impact Protection5-point harness with up-front adjustmentAdjustable head rest
Reviews
dalw
smaller profile so fits better!
I ordered this particular car seat for my grandson because I found that my other seat that I used after he outgrew his infant car seat was too large for my car. I was not able to use either of my seats with any type of extension backwards of the front seats. This car seat is made with a smaller footprint and fits well in my small hatchback. It also has the extra side impact padding that my other car seat didn't have. This car seat fits up to 65 pounds forward facing and 40 pound rear facing. It has the 5 point harness that works best with the children and it is the first one that I have been able to unbuckle with one hand. It still has the slide lock that works well and makes it difficult (maybe even impossible) for small hands to unlock but I was able to open it with one hand while helping my grandson get his arms out from the straps. I like that. It has a nice pleasing color block with beige and black to help hide stains from spills. Although it is not heavy to carry I find that it is very sturdy and will provide a safe ride.
pebbles3159
Lavender Love is the color of my childrens choice
Safety 1st Guide 65 Sport Convertible Car Seat: I love this car seat. As you can see from the pictures, this car seat can fit a 6 month old – a 2 year old and even a 4 yr old babies and children (with enough room to hold even a older the 4 yr old. In other words it will grow with your child and it gives you peace of mind that they are held firmly in place with the harness They say in Rear-facing: It will fit a child 5-40 lbs and 19-40" tall In Forward-facing: It will fit a child 22-65 lbs and 34-52" tall Which after receiving this car seat I find it to be true It has a 5-point safety harness system adding safety for your child. It all so has a Side impact protection that protects your child even more. Safety is the #1 things that is on all parents minds, And the cup holder is great for a child to take his favorite juice cup along for the trip The colors that they are offered in will make it easier to find the perfect color that is pleasing to your child and for Mom and or dad. Place your order and try one today… A happy customer
vashoplvr
Sporty, awesome for any baby
I received the Safety 1st Sport convertible car seat going to use it for our son due next month. However, our 18 month old has commandeered the seat. Since she needs a new car-seat , with more room we installed this car seat in her Grammy's car --her Grammy cares for her daily and loves this car seat. The seat is for children weighing 5-65 lbs ! It extremely light, surprisingly so. I don't have a scale but it;s definitely lighter than other brands of car seats we utilize. It has soft, breathable fabric and a wonderful cup holder--perfect for hungry toddlers. the best thing I like about this seat is the gray neutral color. If we decide to buy a larger seat when our daughter is older by then, our soon to e new baby boy can graduate into this one!
bubbl25
Great car seat
I was honestly so surprised by how great this car seat was. I love that the headrest adjusts up to meet the needs of a growing child. The higher weight and height limits make this a great long term car seat option. My 4 year old used this for the first time this weekend and absolutely loved it. She kept telling me how comfortable it was and that she really liked it. As a parent I love the side impact protection and the harness. This is going to be a car seat in the grandparents car but I honestly would use it as an everyday one. It was easy to install and locks tight. My husband and I did learn you need to click the latch anchors and then move the strap though the car seat so that you can pull it tight to wear the car seat does not move at all. The only negative I can say is that the cup holder kept falling off.
jennifr80
Not to Happy With It
We have another more expensive car seat we use and in comparison, I would not recommend this one. First, there is a large warning tag right on the side where the child's head is. The headrest is difficult to adjust and the leveling system is by visual only (looking at lines on the seat to see if they are straight) and tells you to use a towel to adjust the height of the seat to level it (our other seat has an actual level built in and you manually adjust the bottom accordingly). We had the seat rear-facing and behind the driver seat (my seat) and I could not move my seat back, so we had to put it on the passenger side and now passengers sit uncomfortably. On the plus side, the shoulder straps are easy to adjust and installing the seat was easy as well. Thankfully I have not had to test whether it would hold up in an accident.