Cosco Scenera® Next DLX Convertible Car Seat, Moon Mist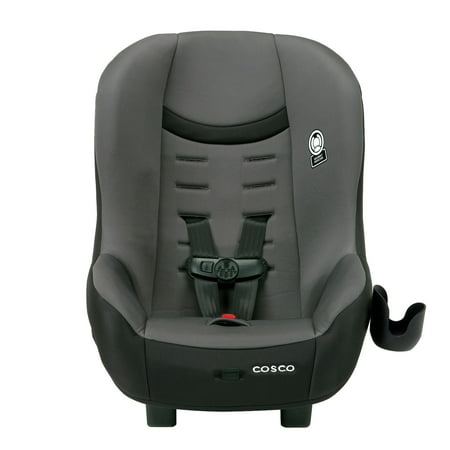 MSRP :

$44.98





Sale :

$44

Sold & shipped by Walmart
Product Description

Additional Information

Reviews
Product Description
The Cosco Scenera NEXT is simply a smarter car seat — designed for families who know what they need. It keeps kids safer with Side Impact Protection built into the headrest and a five-point harness that adjusts easily from the front of the seat. The harness features five heights and three buckle locations so you can be sure you're giving the best fit to your growing child. If your chosen vehicle happens to be an airplane, the Scenera NEXT has got you covered. Certified for use on aircraft, it gives your child a familiar seat during the flight. The lightweight and compact design also gets you through the airport without weighing you down. With kids in the car, messes happen. Now, thanks to the easy-to-clean car seat pad, there's no need to stress. The pad comes in a wide range of styles and colors, all of which remove from the seat and are both machine washable and dryer safe. There's also no more scrubbing goopy build-up from inside the cup holder; it's dishwasher safe.
Additional Information
Fits 3 across in the back seat of most vehicles
Rear-facing 5-40 pounds (19" to 40")
Forward-facing 22-40 pounds (29" to 43")
Side Impact Protection
5-point harness with easy front adjustment
Reviews
ILuvsales2
Nice and roomy car seat
Love this car seat. I got this to put in my car so I did not have to keep exchanging my daughters back and forth. This seat is wonderful. The material is soft and all those sticky treats wash right off. There are no crevices that food or liquid can get stuck into, plus the cover easily comes off so you can throw it into the washing machine. Just remember not to put into the dryer. Put it back on the seat while wet and let it dry. If you put it in the dryer it may shrink. This seats buckle lick is nice. No puzzle configuration to snap it together. Snap one side in and then the other, so easy. The straps come preset to the smallest setting and is so easy to adjust. There is just a T lock in the back to connect straps to if you need to readjust. Strapping it into the vehicle was very easy also. Over all this is a easy seat and if your child is onthe first or small position you may need to get a head guard because it is sort of wide. I do think the manufacture may think about including this in the next upgrade.
MizzLBC
I'm in LOVE with this SEAT!!
I received this product for free from Spark Reviewer. In return, I had to provide my honest feedback regarding the item. For starters, this car seat is so light compared to the car seat that you have to carry. Since I don't have small children that need this seat, I decided to use this seat for my niece to sit in whenever I keep her. She loves the seat and it's so cute for a little girl. I did notice that the seat didn't come with a lot of cushion so I added a blanket for my niece. She didn't complain I just felt that a little more cushion was needed. This seat is very easy to install in a vehicle. It is just the perfect size and my niece loves the cup holder. I only will allow her to use a spill proof cup in my vehicle because when my girls were smaller they use to enjoy pushing their cups out of the cup holder and I ended up having milk and juice stains in my old car. I highly recommend this item to anyone looking to purchase their kid a car seat. It is pretty and lightweight.
KeonnaH
Cute but weight limit is low.
The car seat is very cute, my daughter loves it. I live in Arkansas, so people here love the hunting designs. The car seat comes with a black cup holder and a booklet to explain each piece of the car seat. I found it strange that it did not come wrapped up in plastic or in the original box. It came in the shipping box without any protection to prevent starches and scarring to the product while being shipped. It also comes with a warranty form. The things myself, as a parent, like about this car seat is that it is adjustable and can be used facing forward or backwards. It comes with cushion on each side of the headrest for protection. I was disappointed when I read the weight limit was 40 pounds, which means I will not be using it for long. It is easy to adjust the scraps to make it for comfortable and fitting for the child. I do not have any real complaints for the product itself. They just need to find a better shipping method for the product. Yes, I do recommend it for a parent, just be aware of the weight limit for the car seat.
faithngrace2
Zebra love
I was very happy to find this car seat came in a zebra print as it is my daughters theme. I really like how the adjustment strap is in the front instead of the back of the car seat, I find it easier to adjust that way. I also like the the adjustment strap is just one strap instead of two so it is less fuss. My daughter fits well into the seat and it is secure. She has plenty of growing room, so this seat will last awhile. It reclines for the use on older infants and will adjust to several positions until going into full up right position. It can be used forward facing or rear facing, but is a bit big for a small car in the rear reclining position. The straps sit comfortably against my daughters shoulders, and she can fall asleep in it without discomfort. The weight limit is enough to get me to the next stage, a booster seat, without having to buy one in between. Overall a very good product for the price being asked and would recommend this to my mom friends.
fallenjade
Nothing fancy
The pattern on the car seat that I got is the Pink RealTree, which is really cute. I didn't like that the padding is not very thick; I can't imagine it would be comfortable for very long, and I'm not sure why the company boasts about the 'side padding' because it isn't any thicker than the rest of the padding. The straps were a bit complicated (no fun at all to put them in). I like that it comes with a detachable cup holder, even though it's not very wide. The plastic base and the straps seem durable and of good quality. I think that the padding should have been thicker to make it more comfortable, especially for when going on long car trips for vacation, but other than that it's an ok car seat if you're looking for something affordable yet safe. I would recommend this car seat to others. I would say maybe you could put a very small thin blanket on the bottom to make it a bit softer for the child, BUT only if you could do it without compromising safety.