Disney Baby Minnie Mouse Lift & Stroll™ Plus Travel System, Minnie Coral Flowers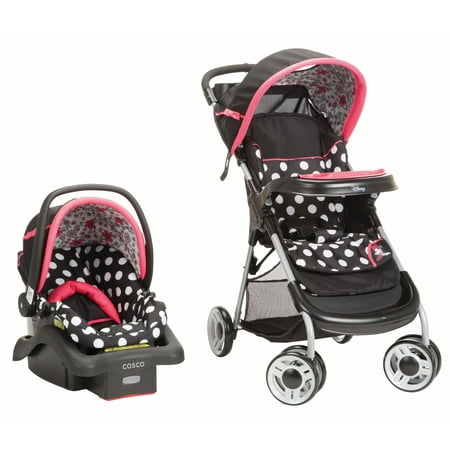 MSRP :

$123.88





Sale :

$97.71

Sold & shipped by Walmart
Product Description

Additional Information

Reviews
Product Description
Enjoy every moment of your journeys together with the Disney Baby Lift & Stroll Travel System. The stroller lifts to fold with just one hand and a quick pull upward. It's lightweight and compact when folded, making it easy to store or take along for the ride. Featuring QuickClick, the infant seat attaches to the stroller in one quick step for a complete travel system. The car seat has Side Impact Protection and four harness heights for better fit and a safer ride as baby grows. Parents will also appreciate the light weight of the car seat, the lightest car seat available, making it much easier to move from the car to wherever they need to be. Your child will love the extra padding on the stroller that gives them an extra-comfortable ride. You'll love the handy parent tray with two cup holders and a storage tray for small items and the larger basket underneath for all that added gear kids bring along with them.
Additional Information
Simply lift up to fold compactly - easy to store or take along for the ride
Parent tray with 2 cup holders and storage tray
Child snack tray with cup holder and dishwasher safe insert
Infinite recline
Adjustable canopy with peek-a-boo window
Reviews
riviesmom
On the fence.....
I wanted this for my little sister who just had a baby, it was different ythan the other pattern, adorable to be honest, even though it was more than other combo travel sets, I had to have it for the cuteness factor alone! I was a little disappointment though when it arrived, it's not bad by any means , obviously it's within all the safety regulations etc but it still just didn't seem to me the same quality wise if that makes sense? The car seat has little to no padding, very hard and I would imagine uncomfortable to sit in. Same goes for the atroller, very thin cover and almost non existent padding. The hood on the car seat seems a little flimsy also, if you pull it up you have to pull on both sides orbit comes unev n, very lightweight and not sturdy. The pro is definitely that thenatollernpos compact, not quite like an umbrella atroller but not the very big strollers we are used to. The pattern goes without saying. Black with hot pink accents and huge white dots, can't go wrong there. Bottom line however, I would not purchase this again. Looks adorable but the comfort of baby is far too important to me and I just don't think this set adds up.
lopezl
I love this Minnie Mouse stroller and car seat
When I first seen this Minnie mouse coral flowers Disney baby lift and stroller plus travel system I fell in love with it . I love Minnie and Mickey mouse stuff . The stroller is very comfortable , it has extra paddling in it . Super soft material . The colors are white with of course pink and pockedot black and white . On the stroller there is a Minnie picture on it. The colors and corals are beautiful . The stroller comes with an adult cup holder that can hold up to two cups . It also comes with a pink dish washer safe insert and baby cup holder . The canopy is adjustable . The canopy is black but it has a very cute pink bow on the side of it . Usually when I am pushing my baby girl I don't like to stop and turn her around to see what she is doing but I don't have to with this stroller because it has a small peek a boo Window in the back . It is infinite recliner. It drives very smooth and easy to push around . The stroller wheels don't get stuck like others I had in the past . It is not hard to assembled it took me about 5 to 10 min. You just open it up , put the wheels and trays on it . It is also very easy to fold and not heavy to put on the car . It also has a large easy access basket on the bottom to put diapers , wipes whatever you wish . This stroller holds up too 50lbs. Don't want to make this to long or boring will give you a few details on the lovely looking car seat . This car seat colors are matching to the stroller . Where the baby lays her head their is extra paddling for her head and back on it has a cute Minnie mouse . Car seat is very comfortable with its extra paddling . This canopy is also retractable . It is very light car seat and easy to install in the car . Comes with side impact protection and 5 point harnesses . This is a great stroller and car seat . I recommend this minnie mouse travel system to everyone you will love it .
LadyRedRider
Beautiful and tough
An exceptional value. The material and design are gorgeous with a very tough structural design. Easy assemblage with beneficial conversions. Comes with base for vehicle placement of baby car seat which can be removed and placed into thee stroller or the stroller can be used separately. Cut little Minnie Mouse design with all the comforts for both parent and child. Cup/bottle holders, snack tray, storage space with convenient folding of stroller for easy storage. The pink trim is so pretty with plenty of padding for safety, a hood on both the car seat and the stroller to protect baby from sun and wind. I have never seen such a cute little girl design. Plenty of extras to keep baby comfortable and safe into toddlerhood. Sturdy wells, safe study car seat installation. Definitely Disney quality.
Tatt2edtears06
a flaw I couldn't overlook
The Cosco Disney Baby Lift and Stroll Plus Travel System is a nice little infant car seat & stroller combo, with many awesome features. However, while I saw zero areas for complaint on the infant seat, I feel that the stroller has two very big flaws. Product took less than 5 minutes to assemble. Stroller merely needed to snap on the wheels and the child tray, where as the car seat needs to be installed and adjusted to fit your child. Definitely easy assembly. Some nice features are padded infant head rest, two cup holder tray for parent, easily detachable child tray with removable dishwasher safe snap in tray, infant recline, foot brakes (which are a little stiff to use), storage basket, and canopies on both the car seat and the stroller. I love the peek-a-boo window in the stroller canopy and used it also to check on my child. The infant seat has 5 point harness system, with an easy release button that releases the seat from it base, which can be easily used one-handed. This allows easy removal of car seat, while leaving base intact, which is especially nice for running in to the store or really anywhere; all you have to do is click baby back into the base. Also the seat itself is relatively lightweight (website clams "The lightest infant car seat in the U.S.A. as of March 2014") so you could opt for just carrying baby around it you wish. However as baby gets a bit bigger, when the car seat is off of its base it can easily be attached to the stroller by snapping it in. I love that fact that you can clearly hear it snapping to make sure it is safely secured. Once baby is too large for car seat you can still use stroller for toddler up to 50 lbs. I do not like that it only has a 4 point harness in the stroller however. When my child was younger, if she did not have a 5 point harness going over her shoulders she would find a way to wiggle and wriggle herself out of any straps. Also, where baby usually sits is the pull to fold the stroller. This is easy to use and can be done with one hand, and a latch on the side automatically engages when stroller folds over keeping it shut for storage. This is something I think was a terrible design in the product. If you are a parent then you know that lots of kids like to play with things, my toddler does, and the first things kids go for are latches and straps of any kind. The strap has a pocket where strap can be hidden inside, but small hands like to pry and the strap could be too easily found for my comfort. Strap on the stroller aside, I think this is a great little travel system, with a cute color & pattern for a baby girl, that has many features I am sure anyone would enjoy. But if you do get this, please make sure to tuck your strap in!
livetoshop2009
nice infant seat, stroller needs to go.
This is a great color scheme. While it has trim in a beautiful raspberry pink color, it doesn't scream I'm a girl. It's subtle and yet girly. The infant carrier is great. Looks like it's durable while still lightweight. My previous car seat felt like it was 30lbs without my little one in it so this is a major relief and back saver . The only negative on the infant carrier is the umbrella hood. Its truly is horrible. Hard to get to fully extend. The shade should rotate more smoothly and only require one hand not two and a good tug. Now on to the worst feature the stroller. While it is a decent stroller, moves smoothly and works really well with the carrier. The stroller on its own is really low end. The stroller reclines on a pulley system so the strap in the back retracts to lower maybe 5 inches. You have no option to lower it to a fully reclined stroller nor is there a foot lift. So you child will be partially reclines with their foot hanging down. Not very comfortable for resting little ones. This stroller is very simple to fold up. There is a handle in the seat that you literally pull up and it collapses. Major plus but you can not fold it out one handed. There is a saftey latch that keeps it closed and needs to be removed while folding the stroller out. The stroller comes with a parent tray with 2 cupholders and a tray for keys or phone and a removable tray for baby snack and toys. Overall for the cost of the stroller I think its pretty decent but if you can I would upgrade. The stroller alone needs to be better quality.