Disney Baby Music & Lights™ Walker, Happily Ever After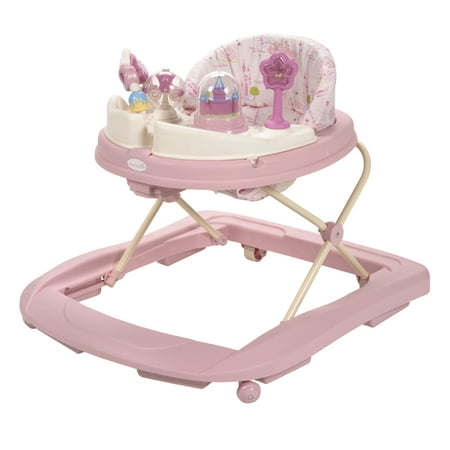 MSRP :

$99.99





Sale :

$59.99

Sold & shipped by Walmart
Product Description

Additional Information

Reviews
Product Description
The Disney Baby Minnie Mouse Music and Lights Walker offers plenty of fun for your little one. The over-sized play tray features four Minnie Mouse and friends toys and conveniently swings open to reveal a snack tray perfect for little treats or other toys. Sturdy wheels work well on floors and carpet alike, while the grip strips reduce walker movement on uneven surfaces. With a machine-washable padded seat, cleaning the walker is as easy as A-B-C.
Additional Information
2 swing-open activity trays with 4 fun Minnie Mouse themed toys and 12 songs
3-position height adjustment
Oversized snack/play tray
Sturdy wheels work on floors or carpets
Grip strips reduce movement on uneven surfaces
Reviews
CuteEverythingcom
Very fun!
Our baby really hates to miss out. She wants to see everything that's going on around her. She never wants to lay down, unless she's really tired. Mostly, she wants to stand up -- all the time. Of course, that can get tiring for her since she's only a few months old. So this Minnie Mouse Walker is a big help. It's a sturdy yet lightweight walker that she really enjoys. She can stand and see what's going on, without getting too tired, since she can easily sit down and relax also. She can even walk around a little, and she likes her new independence. She enjoys the toys that are included on the toy tray, which can open up so that she can feed herself with a snack we leave on a tray. The walker adapts with three height settings as the baby grows, plus it flattens for either for easy storage in a closet, or for bringing with us in the car. The walker comes mostly assembled and it was simple to put the rest of it together. To fully attach the seat, there are four fabric tabs that fit into some slots around the back. You pull them until a buckle pops through to hold the seat in place. If you have trouble pulling them through, you can fit a pen or something through the fabric loop to help pull it through. The front legs fit easily into sliding slots. By pulling them inward a little bit, the rear legs pop into their slots, too, and a little pressure down locks them into place. To put the toy trays on, they fit easily into their slot, then move them inward more than normal, pull a large plastic tab under the entire tray to open the lock, and slide the rail beneath the toy tray into place. The lock adjusts to open or close the toy tray as much as you like.
ardawd
Disney Ready Set Music and Lights Walker
I got to try this baby walker out for free from Walmart Spark Reviewer for my nephew when I watch him while his parents goes out of town to work. It is for a girl but they were all sold out of the boy ones but this still works great for him. My husband put it together and it did not take long at all and it was very easy to put together too. There are 3 settings (heights) on here. I have it set on the lowest setting. Your baby girl will love this. It has 3 different toys you attach to the top of the walker and a music button too that when you push it, it makes music, it plays 12 tunes and has lights in it. The 3 toys makes noise when played with also. I have an older niece that is too big for the walker but she likes playing with the toys on it too. I recommend this walker. it seems sturdy and dependale. My nephew is enjoying it. I like the colors on it too. It has a bright pink color and a light green and light purple color all over it. The seat part he sits in is all bright circles of reds, purples and greens and it is machine washable. I am going to post a couple pictures and a short video on here for you to see it. Thank you Walmart Spark Review for letting me try this out for my nephew! It definitely comes in handy and I do recommend it. You also have to attach, put on the wheels and it can roll over bare floors or even carpet! The name of the brand is Safety 1rst. and it is a good brand. I have used other products by Safety 1rst and have had no problems with their product.
denosbaby
Adorable
The Disney Ready Set Music and Lights Walker, Minnie Mouse Dottie is really cute. I love all the toys that it has. They will keep my neice happy for hours. I took the walker out of the biox and was a little worried cause I'm not mechaniclly inclined. Well, it was easy to put together. The main problem I had was when i was putting the "legs" in place, the "legs" opened on me and my hands are weak so it was a little hard for me to make the seat flat again. Other than that, my son had no problem at all putting it together (I had him do it for me). There is pull tabs on the bottom to open the toy tray so that the regular tray can be used for snacks. The walker rolls smoothly across the floor and it evens rolls pretty easy on carpet too. I would recommend using mainly on flooirs without carpet or at least not thick carpet. The walker holds babies up to 30 pounds and has 3 height adjustments so it grows with baby. It does require 2 "AA" batteries for the music to play. Only down fall, the wheels do not swivel so it makes it kind of hard to turn.
JAZCAT02
Horrible Product
one of the sides is broken you can see on the pics how it looks and the worst part I cant even returned since I dont have the original packaging ,now I ned to buy a new one
sspencervip
Lovely and fun for your little one!
This Disney baby Minnie Mouse Music and Lights Walker is so much fun for your little one. It is made really well and the wheels on the bottom are sturdy and roll well. I love the cute dot pattern seat and the back has lots of padding to make your little one comfortable. I love that the seat is machine washable because little ones tend to drop food or spill their drink. I really didn't have any problems with assembling it. I just needed to look at the instructions pamphlet for inserting the trays and getting the seat secure. I love the cute toys that this walker comes with. Daisy duck is on an arch that has a movable butterfly. Figaro the cat is another toy that your baby can move side to side. There's a pretty tree that you're baby can turn round and round and my daughter's favorite is the Minnie Mouse globe that has music and lights. It plays several songs and to activate it you just turn the globe once. You do have to put two AA batteries in it that are not included. My daughter and I love Disney baby products and we are so happy to own this lovely Minnie mouse walker. I highly recommend it to my friends and family and we all are big Disney fans!