Medline Steel Rollator Walker, Burgundy, 350 lbs Capacity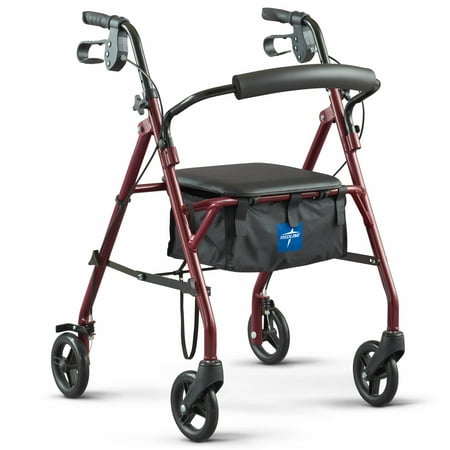 MSRP :

$88.94





Sale :

$54.99

Sold & shipped by Walmart
Product Description

Additional Information

Reviews
Product Description
Imagine having the freedom to live a more active life! This rolling walker by Medline makes it possible by adding stability and reducing stress on your body, which helps you walk faster and farther. At 19 pounds, this rolling walker is made of strong, durable steel and its reinforced frame supports users weighing up to 350 pounds. The height of the handgrips and seat is adjustable and suitable for users from 4'11" to 6'4". Additionally, this rolling walker folds flat when not in use, making it easy to stow when traveling.

Also featured are a comfortable padded seat, and a curved padded back rest, providing a place to sit and rest. A water-resistant storage bag secures to the walker frame, providing a place to carry belongings while leaving your hands free.
Additional Information

Medline Steel Rollator Walker, Burgundy, 350 lb Capacity:
Strong, steel frame supports up to 350 lbs
Padded bottom cushion for added comfort
Walker with seat has a convenient storage bag underneath
Height adjustable arms to ensure proper fit
Easy grip brakes for added safety
Curved padded backrest for added comfort
Medline rollator walker folds for hassle-free storage
Swivel front wheels for better maneuverability
Weighs 19 pounds
Tool-free assembly
Distance between handles: 17.5"
Overall width: 23.75"
Overall depth (front to back): 24.25"
Seat height: 21"
Seat dimensions: 12" x 12"
Height (min. - max.): 31" - 35"
Wheels: 6"
Bag size: 12" x 7" x 6"
Folded dimensions: 18"D x 23.75"W x 33"H
Color: burgundy with black
Reviews
chercast
Medline Steel Rolling Walker
I received this Medline Steel Rolling Walker in Burgundy. I really like the color. I have been using crutches for years now as my knee is in need of replacement. I was a little scared to use a walker because I thought it could go ahead of me as I was pushing and my knee wouldn't walk as fast as I was pushing. Well needless to say I was wrong. The breaks are really great so I can control when I need to stop. It is very light weight for pushing around being that it is made of steel I thought it might be a bit heavy, again I was wrong. I love that it has a seat because nothing is worse that walking around in stores etc and your body needs to sit and rest so having the seat gives me that luxury. Also it has a pouch under the seat so you can store your wallet or whatever you want in it. It is the length of the seat which makes it a nice size storage. It has nice soft grips on the handles for easy pushing. It glides really easy across carpet as well and it holds up to 350 lbs. It wasn't that hard to put together. I would definitely recommend this walker.
IntDesigner2014
Burgundy Medline steel rolling walker
I ordered the burgundy steel rolling walker. It took only 10 minutes to assemble it with my son helping. It doesn't require tools, which makes assembly easy. I've been using around my house because I have arthritis; this has been very useful for those tough days. It rolls around very easily on my hardwood and carpeted floors. The swivel front wheels which are made of rubber makes transitioning easy around the house. The back wheels do not swivel but it makes the walker more stable There is a storage bin under the seat if I ever need to use the steel walker outside of the house. However, its a little cumbersome to lift. The frame of this walker can support the weight of a person up to 350 pounds according to manual included. Additionally, the Medline walker has brakes, a curved padded back rest for sitting and folds for travel and storage. I like the features that this walker has because it makes the walker convenient to use. This walker is great for providing instant mobility, support and safety. There is a manual included which elaborates more of the individual functions of the Medline walker. This instructions gives information for maintenance or upkeep of the walker. One example is periodically checking to making sure nuts and bolts are secure. I would recommend because it's very functional for me.
SashaSS
Heavy duty, but...
(I have full mobility and occasionally need help walking because of back/ankle pain) This steel walker is very sturdy. Good for walking on rough terrain and people up to 350 lbs. It might be a little heavy if you need to pick it up for transport. It was OK to put together once I figured it out. It did take some arm strength. There is an unexplained strap I put to the back because you pull up on it to fold the walker. The handles are very comfortable and easy to grip. The brakes work well, but I still need to get help on setting the brakes so they lock. It's the same principal as bike brakes. The wheels seem very sturdy, and don't mark the floor, but I wish they weren't so smooth. I would love to see tires with a little 'tread' for use on slippery floors. The bar that serves as the backrest is easily removable and makes the walker smaller for in-house use. I wish that it was more back friendly, like a chair. It hurts to lean back and I use it as more of a safety bar. The lift up seat is well made and has good padding. However, it's only 11.5" wide. Not quite big enough for my bottom, and I weigh 160 lbs. with slim hips. It's a good, but not great, walker. I wish it had better features. It does not lock shut. There is no place to put oxygen. There is a lifetime warranty on the frame, but only 6 months on everything else.
GoodCop
Sturdy and comfortable
After receiving my Medline Steel Rolling Walker, [model # MDS8685OESKD], I proceeded to assemble it. Assembly was fairly easy and no tools were needed to do so. The weight of the walker itself is approximately 19 lbs. Depending of the need to actually lift the walker or load it, 19 lbs. was slightly heavy but manageable to me. The seat on the walker is right at 11 1/2"x 11 1/2" inches, and the walker itself folds up for easy storage. According to the instruction manual, the maximum weight limit should not exceed 350 lbs. One thing to note is that the Medline Rolling Walker is completely latex free, so those with a latex allergy need not be concerned. The basket under the padded seat also measures at about 11 1/2"x 11 1/2" inches, but the recommended allowed weight limit for the pouch is 10 lbs. or less. The basket is also removable. The rolling walker should never be used as a wheel chair as injury may occur. The height of the walker is fully adjustable. Always make sure your walker is fully opened before each use. The brakes lock by pulling down on the brake handles and making sure they click into the locked position. Always lock the brakes before attempting to be seated. Never use the walker to pull or lift yourself up as it may roll even when in the locked position. I find that the 6" inch wheels allow the walker to roll very easily on tile, and concrete. When on carpet or grass I was also able to roll forward and backwards very easily, but I recommend being more cautious on rugs and in the yard. I found the Medline Rolling Walker to be very durable, comfortable, and very easy and helpful to use. Great product, but to avoid injury make sure to fully read "All" instructions and cautions provided to you in your manual. .
jclmaster
Quality / in-expensive rolling walker
Assembling the Medline Steel Rolling Walker. When you get the box home you will need to separate and identify each assembly. I suggest laying them on the floor so that they are ready to attach to the main section. There are 4 tri-cornered "bolts" Follow the included instructions and pictures on the boxes. Be sure to remove the 4 black grommet pieces before you try to slide the leg pieces into the main frame. If one of the tri-cornered "bolts" doesn't seem to fit in a certain hole try swapping it to another one. As the box says it is a tool free assembly. Getting ready to use the Medline Steel Rolling Walker (Rollator) is as simple as pushing down on scissor supports on each side of the seat so that they lock. Storing is easy. You just pull up on the lid then pull up on the cord strap so that the legs fold in together. It is fairly light weight so it doesn't take a lot of muscles. There are brakes on each of the handle bars to help control your speed. If you push them down all of the way you will activate the lock feature. Just lift them up to release the brake lock. Even though it is rated at 350 pounds capacity I found that sitting on the seat was hard squeezing between the handle bars. I would recommend this rolling walker to anyone looking for an in-expensive quality rolling walker.