Dell Inspiron 11 3000 2-in-1, i3185-A115WHT, 11.6-inch HD (1366 x 768), AMD A6-9220e, 4GB 2400MHz DDR4, 32GB eMMC Storage, Integrated Graphics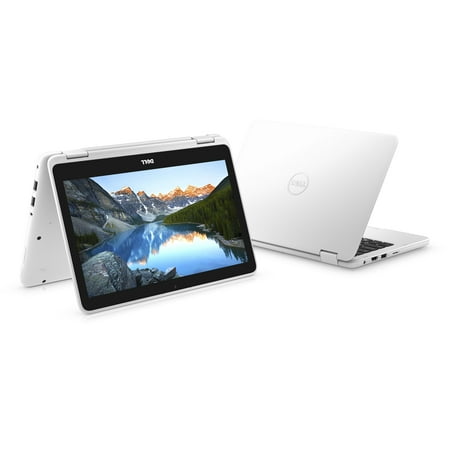 Sale :

$209

Sold & shipped by Walmart
Product Description

Additional Information

Reviews
Product Description
Inspiron 11 3185, 11.6-inch HD (1366 x 768) LED-Backlit Touch Display, 7th Generation AMD A6-9220e Processor with Radeon™ R4 Graphics, 4GB 2400MHz DDR4,, 32 GB [eMMC] Storage, Integrated graphics, with AMD APU, No Optical Drive, 802.11bgn + Bluetooth 4.0, 2.4 GHz, 1x1, NA, 32 WHr Battery, 2-Cell (Integrated), 1 X HDMI, 2 X USB 2.0, 1 X USB 3.1 [1 x USB 3.1 Gen 1, 2 x USB 2.0], 1 x combo headphone / microphone Jack , Micro-SD Card Reader, NA, Height: 0.82" X Width: 11.48" X Depth: 7.95", Starting 3.22 lbs (TBC), Standard Keyboard, White, Integrated Widescreen HD 720P Webcam with Dual Digital Microphone Array, WinHome Entry Ntbk OneDrive 10, MaxxAudio (Windows), 45 Watt AC Adapter, Microsoft Office 30 Day Trial, McAfee LiveSafe 12 Month Subscription
Additional Information
Dell Inspiron 11 3000 2-in-1:Processor:
7th Generation AMD A6-9220e Processor with Radeon R4 Graphics

Operating System:
Windows 10 Home in S Mode 64bit English

Video Card:
Integrated graphics with AMD APU

Display:
11.6 inch HD (1366 x 768) LED-Backlit Touch Display

Audio and Speakers:
2x tuned speakers; 1x combo headphone/microphone jack

Power:
Battery: 2-Cell Battery, 32 WHr, Integrated. A/C Adapter: 45 Watt AC Adapter (with standard graphics)

Camera:
Front-facing Standard Widescreen HD (720p) with Digital Microphone

Wireless:
802.11bgn + Bluetooth 4.0, 2.4 GHz, 1x1

Ports:
1-HDMI v1.4a, 1-USB 3.1 Gen 1, 2-USB 2.0, 1-Headphone/Microphone, 1-Micro SD card reader (SD/SDHC/SDXC)
Reviews
DTH
DO NOT PURCHASE
This product does not meet any expectation by any means. I am not a computer snob, but products lags so much that I can not surf the web, log in, type ANYTHING. And if I do write anything on it, It lags for 15 minutes and types out that one word. Thought I had a defective one, but when I tried contacting Walmart customer service, I have a very unpleasant experience. DELL Customer service was even worse!!!!! I was transferred 4 times, left in silence minimum of 15 minutes with no warning. Just be told its fine, and the agent even commented its super slow! Will not buy another product from Dell and almost done with Walmart
Avin
Good, but not the best.
I love this Laptop-computer/Tablet combo! Its sleek and Good looking and feels nice in hand. I love the fact that I can switch between a laptop and a tablet at any time. Now for the bad. The Inspiron only has about 32gb, which means not a lot of space for apps, games, and documents. I feel it should have At least 100gb. Also, a bunch of space is taken up by the built in apps. Plus having to update, the apps and the software, your lucky to get even ONE app. one thing I was disappointed about was that there was no windows hello facial recognition. There's a camera, and if you could add all that software, how long would it take to add that bit of software? Also, I don't know if its just mine but it loads video really slow and when it does, the highest resolution it goes to 360p. And websites take forever to load. Also, sometimes , it gets stuck on a black screen and I have to force restart it, causing me to lose my work TWICE! Good job dell, but theres plenty of room to improve. Please fix.
DCG
Cute but lags lack of ram hinders in useless.
Its cute and low cost but that's as far as it goes. Windows 10 kills this laptop. After talking a windows 10 rep I was informed for a pc or laptop to function or run smoothly with windows 10 it needs more than 4gb of ram. Sadly this pc came with just that 4 gbs. I can barely do a thing with it. Browsing the net is difficult and I most search up words synonyms for writing assignments. If I try to stream music while googling a topic it lags, it freezes it crashes. 4 gbs amd chip and 500 gb hard drive is not cutting it. I dislike it. I know I have a grace period to return it... debating if I should update its ram to 8gb (its max which is lame) and its hard drive to a 500gb solid drive or just go for another model. I do not understand why dell would sell a pc or laptop running windows 10 with just 4gbs and not 6 knowing window 10 needs more. In actuality the pc would have been great without windows 10 or if it started with 6gbs of ram and could handle more than 8 gbs of ram.
Les
Awesome little machine!
Bought the machine as an inexpensive, emergency replacement for my much larger laptop which died - I needed something to get me online, do presentations, and school papers via Google Docs for college. Handled everything like a pro! Now I've graduated, and am upgrading RAM and the drive for professional work. Already use this little baby for online gaming - handles things well out-of-the-box for low-tech online MMOs like Ultima Online and Runescape - if they are running off of an external drive. Marked down by 1-start from perfect for I had to reinitialize the little guy for Windows updates - the hard drive was just full of ghost images from school (mainly Microsoft Office). I strongly suggest this awesome machine to anyone on a tight budget willing to pay for the upgrades (RAM to 8GB and get an SSD hard drive). I got the Tango Red and I call it Deadpool... will be using this professionally (marketer and web developer) while on the road.
Chadi Affan
Occasional hardware issues that causes data loss
I get an occasional error where I go to start menu to shut down and the start menu freezes and beeps with every mouse click. In this instance I have to press Alt F4 to shut down but it doesn't shut down and stops trying to shut down and have to force it to shut down. Also I was using HDMI to TV and watched a YouTube video for 10 minutes and the computer froze completely. after forcing shut down and losing data that was copying files in the background it gives me error with the video card on windows start. Great to know it crashes to watches 10 minute youtube video, time for a refund.