Dell Inspiron 11 3000 2-in-1, i3185-A115WHT, 11.6-inch HD (1366 x 768), AMD A6-9220e, 4GB 2400MHz DDR4, 32GB eMMC Storage, Integrated Graphics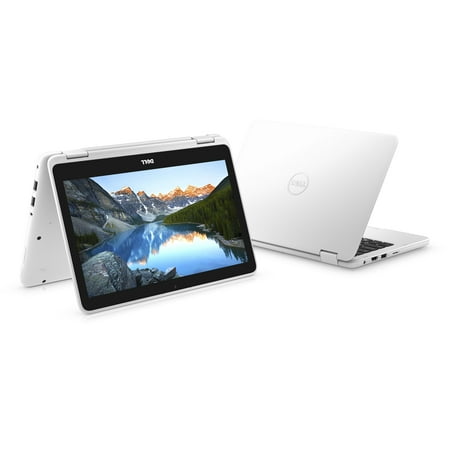 MSRP :

$229





Sale :

$169

Sold & shipped by Walmart
Product Description

Additional Information

Reviews
Product Description
Inspiron 11 3185, 11.6-inch HD (1366 x 768) LED-Backlit Touch Display, 7th Generation AMD A6-9220e Processor with Radeon™ R4 Graphics, 4GB 2400MHz DDR4,, 32 GB [eMMC] Storage, Integrated graphics, with AMD APU, No Optical Drive, 802.11bgn + Bluetooth 4.0, 2.4 GHz, 1x1, NA, 32 WHr Battery, 2-Cell (Integrated), 1 X HDMI, 2 X USB 2.0, 1 X USB 3.1 [1 x USB 3.1 Gen 1, 2 x USB 2.0], 1 x combo headphone / microphone Jack , Micro-SD Card Reader, NA, Height: 0.82" X Width: 11.48" X Depth: 7.95", Starting 3.22 lbs (TBC), Standard Keyboard, White, Integrated Widescreen HD 720P Webcam with Dual Digital Microphone Array, WinHome Entry Ntbk OneDrive 10, MaxxAudio (Windows), 45 Watt AC Adapter, Microsoft Office 30 Day Trial, McAfee LiveSafe 12 Month Subscription
Additional Information
Dell - Inspiron 11 3000 2-in-1, 11.6-inch HD, AMD A6-9220e, 4GB 2400MHz DDR4, 32GB eMMC Storage, Integrated Graphics AMD APU
Reviews
Les
Awesome little machine!
Bought the machine as an inexpensive, emergency replacement for my much larger laptop which died - I needed something to get me online, do presentations, and school papers via Google Docs for college. Handled everything like a pro! Now I've graduated, and am upgrading RAM and the drive for professional work. Already use this little baby for online gaming - handles things well out-of-the-box for low-tech online MMOs like Ultima Online and Runescape - if they are running off of an external drive. Marked down by 1-start from perfect for I had to reinitialize the little guy for Windows updates - the hard drive was just full of ghost images from school (mainly Microsoft Office). I strongly suggest this awesome machine to anyone on a tight budget willing to pay for the upgrades (RAM to 8GB and get an SSD hard drive). I got the Tango Red and I call it Deadpool... will be using this professionally (marketer and web developer) while on the road.
matty81401
BUYER BEWARE
I purchased this 2 in 1 as a travelling compliment to the 15" Inspiron 15 5000 Series (Intel) - 5567 that we have at home, and which is powerful, fast and does exactly what Dell says it should. With that in mind, this 2 in 1 that has "power to handle your everyday computing" definitely does NOT. Slow right out of the box, the poor processer whirs and whizzes from start up, and heaven help you if you try to do something as complex as close one window while another is open, or open a .pdf while Microsoft Edge is running - the lag is extraordinary. The most difficult thing I ask of this computer is to run Blackboard Learn, a commonly used application for online college courses; the Inspiron 300 fails miserably at this task, running slowly and occasionally deciding just to quit. While it's possible I got a "lemon", there are enough other poor reviews here that while I give Dell a thumbs up for transparency, this product is A W F U L.
Aftab
Dell Inspiron 3185
I have been a customer of Dell since 2015. I recently bought the DELL inspiron 2 in 1 3185 from the Dell website however Wsas disappointed with the quality of the product I received. I have bought Dell products earlier and the last time I bought a Dell Inspiron 11 3000 in 2015 was an amazing product with awesome build quality. it looked sturdy and really delivered the performance promised by dell. However my recent purchase which is a Dell inspiron 3185 2 in 1 was really disappointing. the build quality is worst I have ever experienced. The laptop looks more fragile than a chipped glass Jar. It is really frustrating to see how Dell has come down on its quality of products. Although the performance is good I still have atleast one episode a day where I turn on my laptop and something or the other isn't working and the laptop needs to be re-booted. Its sluggish when operating my MS office suite which is disappointing. This lag in the performance is happening after I have downloaded all the Dell updates and window updates. I don't think the performance of the product is even close to what was promised. This looks more like a refurbished laptop than a new brand piece. I don't think I would be thinking of Dell when I want to buy a product in the future.
Skulljockey
Do Yourself a Favor and buy a HP
I have gone through several Dell laptops including a 1700 series i7 16gb RAM 1 terabyte hard drive 3.2 min GHz backlit 2 in 1 supposedly top of the line. The key board went out before the first year as they do much more often than not but Dell either can't or won't fix this hardware problem that's been going 10 years. I will concede that once upon a time Dell laptops were on top but they seem to be resting on their laurels and riding out the Dell label for long as they can. Their is more to this but time and space are limited. I wouldn't take a Dell Laptop if it was given to me.
Fernando
Computer is working good, no disk space left since starting it up!!!
I bought this computer and works fine, but since I started it, it already didn't have disk space and I didn't load any programs, only google chrome and Acrobat reader, it is sending me warnings all the time. I bought this computer just to travel, instead of a tablet. I should have chosen the next computer with 500 Gigabytes, instead of this with 30 Gigabytes, it was a very small difference in price, but how could I know that it would be out of space just after starting it up? If it will give me problems I will have to stop using this new computer and buy another one or better go for a tablet, my last 2 computers have been Dell, this is a very bad experience and I don't know why Dell built it like this, if it doesn't have disk space when starting it up and using it for the first time..... If there is an opportunity, I would like to exchange it for the other one and forget about the problems that it is giving me.