Gotham: Gotham: The Complete Second Season (DVD)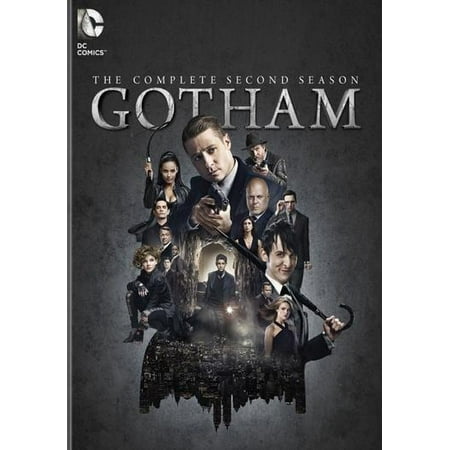 MSRP :

$24.98





Sale :

$16.47

Sold & shipped by Walmart
Product Description

Additional Information

Reviews
Product Description
The darkness grows on GOTHAM, as super villains more ambitious and depraved are introduced, and a realignment of alliances shakes up the fight for power in Gotham City. With Detectives Jim Gordon and Harvey Bullock at the forefront of the fight against crime in this dangerously corrupt city, Season Two witnesses Gordon's moral compass wavering, as he confronts Gotham's most notorious criminals. At the same time, he continues his quest to gain the trust of the young Bruce Wayne, who is now on a clear path towards the man he is destined to become, after discovering his father's deepest secrets. In the epic turf war that occurred at the conclusion of season one, The Penguin battled his way into power over Gotham's underworld. In Season Two, GOTHAM follows the evolving stories of Edward Nygma/The Riddler, and Selina Kyle/the future Catwoman as well as the origins of new villains, including The Joker and Mr. Freeze.
Additional Information
Gotham: 2015 Comic-Con Panel
Gotham by Noir Light featurette
Alfred: Batman's Greatest Ally featurette
Cold Hearted – The Tale of Victor Fries featurette
FOX network featurette pieces

Reviews
What2ThinkAboutIt
Gotham Season 2
I bought Gotham Season 2 as a gift for my husband, he likes the Gotham TV Series. It was on sale for only $19.98. I had bought him Gotham Season 1 last year when it came out and he loved it. There are a lot of interesting characters and some good plot lines. It is a little bit too "out there" and bit distasteful for me. But if you like a twisted villain, there are plenty of those to go around. It is not a show appropriate for children, unless you want to do a lot of explaining. It is a bit gory (shooting, stabbing, dismembering, etc.) and provocative (lots of seduction, two women french kissing, wearing lingerie, etc.). But if you like that sort of thing, this is right up your alley.
Elizabeth
Amazing
Great second season. Nice low price.
melittle
Gotham Season 2
Once you start watching it you can't stop. Can't wait for Season 3!!!!!!
WalmartBart
Batastic!!!
Didn't see all episodes but what I've seen is Lean & Mean!!!
Michael
Good series,waiting on the next one
Very good series, can't wait to get the next one