Warner Bros. LEGO Dimensions Starter Pack (PS4)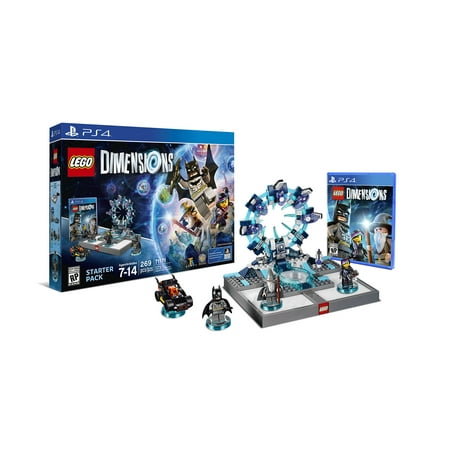 MSRP :

$41.99





Sale :

$46.89

Sold & shipped by West End Toys
Product Description

Additional Information

Reviews
Product Description
When a mysterious and powerful vortex suddenly appears in various LEGO worlds, different characters from DC Comics, Lord of the Rings and the LEGO Movie are swept away. To save their friends, Batman, Gandalf and Wyldstyle bravely jump into the vortex to rescue their friends and fight to save all of LEGO humanity. Let your creativity be your guide as you build the LEGO Gateway to adventure, journeying through unexpected worlds and teaming-up with unlikely allies on the quest to defeat the evil Lord Vortech. Play with characters you never thought you could see in a LEGO game together, using vehicles and weapons you never thought possible. LEGO Bad Cop driving the DeLorean Time Machine... why not?! The Ninjago Masters of Spinjitsu fighting alongside Wonder Woman... yes, please! Get ready to break the rules, because the only rule with LEGO Dimensions is that there are no rules.
Additional Information
An Extreme Cross-Over. For the first time in any LEGO videogame, characters from a mix of the best brands in the universe join forces and battle in worlds outside of their own. A Dark Knight, a Wizard, and a Master Builder traveling together down the Yellow Brick Road are just the beginning... Keep Expanding. By purchasing additional expansion packs, you can grow your collection with a variety of your favorite brands to create even more crazy combinations.More is Better. Bring up to 7 characters, vehicles and weapons into the game all at once by dropping them on the LEGO Gateway for the most exciting and action-filled game around.Play Alone or with a Friend. Let your imagination guide your solo journey or have a friend join the adventure with co-operative, drop-in/out play.The Starter Pack Will Last. One LEGO Toy Pad and the videogame found in the initial Starter Pack will offer continued compatibility with future Expansion Packs for years to come. No compatibility chart necessary - everything you buy today or expand with tomorrow will continue to work.The LEGO Dimensions Starter Pack is all you need to begin - build your base and embark on a fantastic quest. Included in the LEGO Dimensions Starter Pack: LEGO Dimensions videogame.LEGO Toy Pad.LEGO Gateway building bricks.3 LEGO minifigures (Batman, Gandalf, and Wyldstyle).LEGO Batmobile vehicle.Begin the experience by building the minifigure heroes and fire-up the game. Follow the in-game build instructions to assemble the loose bricks, creating the LEGO Gateway and place it on the LEGO Toy Pad to start the voyage. Continue to expand your adventure by collecting more characters, vehicles, weapons and new levels with the purchase of additional expansion packs. Use whatever item with whichever character, however you want - the rules are all yours to make and break!Level Pack: Want more to explore in game? Expand your experience with a level pack which contains a whole new mission-based game level along with a charact
Reviews
Perceptor2
Great
Enjoying the game and all its hidden areas.
BentWright
Money sink.
The set has a low game play time per price ratio. Even after I've spent more than a hundred dollars for additional figures and level packs, I still run up against content and challenges that are inaccessible. For example, there is a gold brick in a sunken city underneath The LEGO Movie world that is only accessible with a character that has both Dive AND Chima abilities, which is only one character: Croc. There is a gold brick in The Emerald City in Oz that is only accessible with a character with Stealth, Fix-it, AND Electricity, which is only one character: Jay. I keep running into more of these single character obstacles as I play. Also as of December 2015, there are no characters available with Drone, Atlantis or Ghost abilities. I have found many puzzles that need these abilities, so there is still plenty of content that can't be accessed. Also, wait for this to go on sale. I bought it for $60, and still feel there are many other video games that have much better play value for $60.
Silvia
So worth the price
Bought it for my 5 year old since he's into legos and he loved it. I was able to buy it online for $63 and it's so worth the price, yes you do have to buy characters separate but they rage from 15-30$ ands it's much better than buying a new game for 40-50$. Lego dimensions is basically a game with different worlds and like other similar games you go trough levels finding gold blocks but in this game every character opens up a new world! Not only a new world but the characters come with a vehicle which makes the game even more fun since each level has beat the clock race to add on top of everything. After collecting coins you are then able to upgrade the vehicles into 3 different options which maximizes coin collection. So far we gone trough ghostbusters, scoobydoo,the lego movie, the simpsons,chima, the wizard of oz, back to the future, Lord of the rings, DC comics, ninjago, and doctor who but we're collecting characters to enter jurassic world, midway arcade,and portal. Overall it's become the only game my son will play, he's moved aside super mario, yoshi whooland, and disney infinity to name a few. Would HIGHLY RECOMMENDED for hours of fun!!! On a side note you do have to put it all together, they are legos so give your kids a 30 minutes headsup to complete it so they don't get frustrated. Since my did but at the end it's totally worth it.
Zabch
Expensive, but loads of fun!
My entire family enjoys this game! While the extra characters and levels are not required, it does make game play easier. The playable boards are challenging and keeps your attention. The game will update with new boards, so only character packs are required instead of burying a whole new game. The legos are fun to build and rebuild during game play.
Nelson
Great item
The kids love it !!!