Warner Bros. The LEGO Movie Videogame (Xbox 360) Xbox 360, 883929375332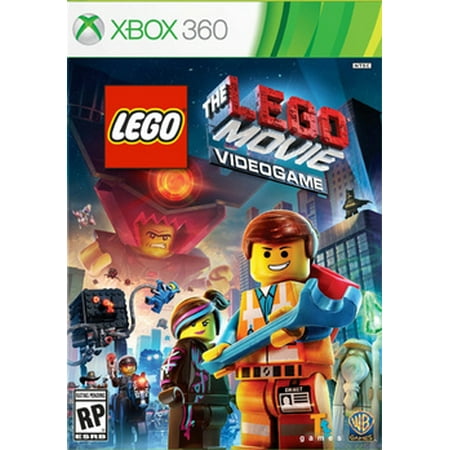 MSRP :

$19.99





Sale :

$19.71

Sold & shipped by DRMM INC
Product Description

Additional Information

Reviews
Product Description
The fate of the LEGO® world lies in your hands! Warner Bros. Interactive Entertainment and TT Games today announced that The LEGO Movie Videogame will be available in 2014 alongside the much-anticipated "The LEGO Movie," from Warner Bros. Pictures and Village Roadshow Pictures, and a toy collection of "The LEGO Movie" building sets. In The LEGO® Movie Videogame players will be able to collect and use LEGO instruction pages to build construction sets or harness the awesome power of the Master Builders to virtually build extraordinary LEGO creations along the way. With more than 90 characters inspired by the film and 15 exciting levels, kids can build and adventure like never before. NEW!! Environment made of LEGO bricks NEW!! New animation style extends the film experience NEW!! LEGO Builder Instruction puzzles unlock game progression Includes feature film footage and actors' voice-overs 90 playable characters with 15 exciting levels
Additional Information
LEGO Movie Videogame, WHV Games, XBOX 360, 883929375332
Reviews
KeiKei22
Of course he LOVES it!
My son loved the movie and is crazy about anything Video game and just plain Xbox related! He first played this game with his best friend one Sunday evening and couldn't stop talking about it. So of course mommy has to spring into action and come up with a special moment to purchase this for my seven year old. I created an Easter Basket with a Lego Movie theme. He LOVED IT!!! Hence the reason why I've purchased so many Lego items from Wal-Mart that I'm currently reviewing. :-)
rje007
Great game for kids
There are games for kids besides just a bunch of shooting games, and the Lego game is a great example. Yes, there is technically shooting in the game, but it is mild and very cartoon-y, and most of the time you are shooting at Lego robots. Most of the game actually involves problem-solving and even teamwork if your kids are playing together. My kids have had a blast playing this and I've enjoyed playing it with them. Definitely recommended.
chell28
great game
I bought this for my 8 year old son for Valentines day. We saw the movie the weekend it came out, and he had been seeing the commercial for the DS game. This game is awesome and he loves playing it.
Hank123456789
Older gamer, Most glitchy Lego game to date
I'll start by saying I'm out of college but don't have kids of my own (not a little kid or parent). This game has had a lot of issues. Levels that get stuck (cant trigger stage advance), characters that get stuck (have to dropout or restart level), and the worst moment was when the game lost all our progress since a level early in the game level. This really irked me. We had been saving, the save was still there, it just wasn't up to date. My gf and I play this to relax and spend some time together. I had to blast through the levels to get us back to where we were. Lego usually has a lot high quality easy going gameplay. This one is sometimes infuriating due to glitches. Lego marvel was great on Xbox one, maybe the Hobbit one will resume the quality I've seen in the past.
Jess
Excellent game
My daughters love it so much!!! We love all lego games